The 30 Best Face Sunscreens for Oily Skin
Full coverage, zero shine.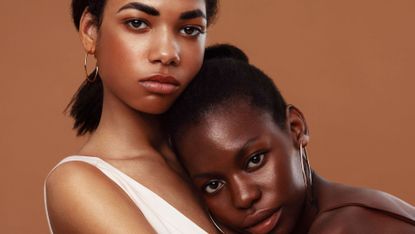 (Image credit: Artem Varnitsin / EyeEm / Getty Images)
Serums, toners, peels, sprays…the business of skincare is as vast as ever. And while many delight in creating a science out of their routine, others can benefit from just a few important products. Chief among them? Sunscreen. Whether your skincare arsenal is overflowing or barely there, sunscreen is a non-negotiable: a product that not only makes your skin look better, but also protects from skin cancer—the most common form of cancer in the U.S.—and other types of lasting sun damage.
Like with all products, however, it's important to consider your skin type before investing in skincare. For us oily-skinned folks, sunscreen can be a particularly tricky product to shop for, as its protective benefits can also create an undesirable greasiness. We know that the last thing you want is greasy, chalky, heavy sunscreens on your skin. Fortunately, the world of oil-free, mattifying sunscreens has evolved, offering feather-light formulas that feel like nothing on your skin.
"Oily skin is an extremely common problem with women," explains dermatologist Rachel Nazarian, M.D., at Schweiger Dermatology Group. "We can experience super oily times of the month, on our face and even in our scalp—making our hair look dirtier than normal." She adds: "I see many patients that don't realize the products they're putting on their skin can be making their oiliness worse. Avoiding heavier products allows your skin to continue getting feedback from its surroundings and in many ways 'breathe' more effectively, avoiding unnecessary excess oil production."
The sunscreens below, which were hand-picked by oily, acne-prone skin survivors, will give you all the protective benefits without disturbing your makeup, drying out your face, or leaving a greasy sheen as the day goes on. And since we know you're probably wondering: Many of the products below are also non-comedogenic, meaning they won't clog your pores or cause new breakouts.
This Fast-Absorbing Formula
La Roche Posay Anthelios Ultra Light Sunscreen Fluid SPF 60
This is an award-winning formula for a reason. The super-sheer, weightless formula dries down in literally seconds with a hefty amount of SPF 60. It's a very fluid formula, so you may need to double-up throughout the day for it to thoroughly hydrate and protect your skin. Pro tip: Shake up the bottle and apply it 15 minutes before you come in contact with the sun.
This Lightweight Serum
Supergoop City Serum SPF 30
Swap your heavy-duty moisturizer for a light and airy SPF. Supergoop!, one of the beauty industry's leading sun brands, now offers UV protection in the form of a serum. It's infused with key ingredients like lactic acid and vitamin E to protect against environmental stressors and keep your complexion nice and supple all throughout the day.
This Shine-Stopper
Cetaphil Dermacontrol Facial Moisturizer SPF 30
If you have acne-prone and sensitive skin, this dermatologist-approved SPF is for you. It's hypoallergenic and non-comedogenic, which means it won't add insult to injury and clog your poor pores anymore. The matte finish is actually made with a special Micropearl technology, which works to absorb excess oil and stop shine.
This Water-Resistant Winner
EltaMD UV Pure Broad-Spectrum SPF 47
If your skin can't stand chemical sunscreens, switch over to zinc-filled formulas instead, which are known for their more sheer and translucent undertone that doesn't leave behind a grayish reflection. This one is made with just enough zinc oxide, titanium dioxide, vitamin C, alpha hydroxy acids, to slip right into your skin without clogging your pores because its non-comedogenic. While it shields your skin from the skin, it can also resist water for up to 80 minutes—magic.
The All-In-One
Bliss Block Star Invisible Daily Sunscreen
If you're looking for an all-in-one sunscreen, this is for you. Titanium dioxide and zinc oxide join forces to create a broad spectrum formula that works hard to reflect UVA and UVB rays from the face, while the mineral formulation lends itself to easy blending that can be layered with makeup. Canina fruit oil prevents oil build up, while Blueberry acai and green tea extracts protect the skin against damaging free radicals.
The Dermatologist Go-To
Differin Oil Absorbing Moisturizer SPF 30
The brand that brought us some of the best over-the-counter acne treatments and moisturizers is also behind this dermatologist-approved sunscreen, which was developed specifically for acne-prone skin, absorbing surface face oil without sacrificing protection.
The Easy-To-Apply Powder
Colorescience Sunforgettable Total Protection Brush-On Shield SPF 50
A self-dispensing brush tip makes this mineral powder sunscreen a breeze to apply, but the ease of use doesn't come at the expense of coverage. Colorscience's award-winning sunscreen brush gets its first update, with a product that combines titanium dioxide and zinc oxide at SPF 50, defending against UVA, UVB, blue light, and pollution. The powder can be used on its own or over makeup, and absorbs oil for a more matte finish.
Sheer Genius
SkinCeuticals Physical Fusion UV Defense SPF 50
Thanks to the sheer, tinted formula, this SPF 50 sunscreen adapts to a range of skin tones without leaving a white cast behind. In addition to broad-spectrum protection and water-resistance, SkinCeuticals' sunscreen is enhanced by plankton extract Artemia Salina that boosts the skin's natural defenses to UV rays.
The Antioxidant Rich Formula
Origins A Perfect World SPF 40 Age-Defense Oil Free Moisturizer with White Tea
Plants and herbs are key to many of Origins' cult-favorite products, and this SPF relies on anti-aging and antioxidant rich white tea to create a multi-functional formula. Because the overproduction of oil can be linked to under-moisturized skin, this lightweight-yet-moisturizing product will keep your oiliness at bay.
The Drug Store Favorite
Neutrogena Hydro Boost Water Gel Lotion Sunscreen SPF 50
This oil-free, non-comedogenic formula is equally effective at reducing grease as it is at quenching the skin. While sun exposure can be drying, Neutrogena's Hydro Boost SPF has a water-light feel that won't weigh down your skin, clog your pours, or interfere with makeup.
The Natural Glow Choice
Daily UV Defense Sunscreen SPF 36
The mini perk of having oily skin is the natural glow that is always on our skin if in the right lighting. Innisfree wants to embrace that with this water-based sunscreen that nourishes and leaves skin looking radiant and glowy, not greasy.
This Ultra Hydrator
CeraVe Tinted Sunscreen SPF 30
It couldn't be easier to work this universally sheer tint into your skin, which indeed complements all complexions without an ashy cast (trust me!). Besides solely being a sun protectant, this product from CeraVe is made with ceramides, which work to strengthen the skin's barrier overtime. Other vitamins, like niacinamide and hyaluronic acid, can be found in this formula to equip the skin with extra hydration throughout the day if you're prone to dryness.
This Mattifying Formula
Murad Oil and Pore Control Mattifier SPF 45
Powerhouse ingredients avocado and African yellow wood bark extract work together to keep shine at bay and instantly minimize the appearance of pores. Whether you prefer to wear this sunscreen on a fresh face or under your makeup, you'll notice that, with continued use, your skin will take on a beautifully blurred, filtered-like finish.
This Acne-Fighter
Dermalogica Oil Free Matte Broad Spectrum SPF 30