Ditch the Cleanser: 6 Reasons to Make the Switch to Micellar Water
It's French beauty 101.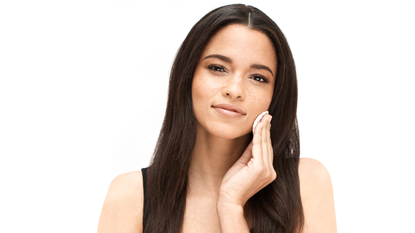 (Image credit: Stephania Stanley)
It's been a couple of years since micellar water AKA eau micellaire, the French woman's best kept secret since the '90s, finally became an American expat.
While it's since sent beauty's inner circle into a euphoric tizzy, its power has yet to really transcend the masses. And the hold up is lost on us because it's a lazy-girl's dream multi-tasking potion for cleansing, nourishing, purifying, and toning.
Beloved by makeup artists during fashion week as a soap-free, non-rinse method for giving models a quick cleanse in between shows, we think it's about time it became the HBIC of your medicine cabinet (or on-the-go skincare regimen) and here's why:
It's Not Like Other Cleansers
It's a unicorn as in *no* washing required—all you need are cotton pads for wiping. Plus, it's free of soap, fragrance, alcohol, and other abrasive chemicals that can wreak havoc on your complexion daily.
…Which Makes It Amazing for Sensitive Skin
Micellar water was created as a face-washing alternative to using the harsh French tap water. In order to get away with taking the sink out of the equation, the ingredients had to be mild so it wouldn't irritate, inflame, or strip the skin.
It Doubles As a Makeup Remover
As women, can we all agree that there's no bigger feat than motivating yourself to get up and wash off your makeup after you're already in, what I call, Netflix and Chill Mode. But it's much more realistic when you can wash your face and remove your makeup, foundation, eyeliner, and lip color, in one fell swoop.
Because this solution is made of a tiny micelles (oil molecules made of fatty-acid esters), it masterfully draws out makeup and sebum, for a clean, guilt-free visage. Though it should be noted that if you like to lay the pancake on thick like Kim K, you may need a few rounds.
It Can Cut Your "Wash Time" in Half
Perpetually rushing? Only always. Micellar water can help you streamline your routine, but not at the cost of denying your skin the TLC it so deserves. It's gentle and gets the job done, plain and simple.
Cotton Rounds Are Your Best Friend
Cotton rounds are micellar water's longtime sidekick as they're 1) Cheap and easy to use and 2) Hydrophilic, which means they attract fellow hydrophilic heads that contain oil and bacteria, drawing them out like a magnet.
It's the Best Face Wipe Substitute
While there are many pros to the ease of using a face wipe, they're often saturated with chemicals that can leave a harmful residue. Micellar water on the other hand is just as convenient for a swift cleanse, but is less stressful on the skin. And from an economic standpoint, it's a more cost-friendly option as a bottle will last you waaay longer than a package of makeup wipes.
1. Simple Cleansing Micellar Water, $7.99; ulta.com.
2. Caudalie Micellar Cleansing Water, $28; sephora.com.
3. Lancôme Eau Fraîche Douceur Micellar Cleansing Water, $38; sephora.com.
4. Bioderma Sensibio H2O, $19.99; beauylish.com.
5. Sephora Triple Action Cleansing Water, $12; sephora.com.
6. Boots No7 Botanics All Bright Micellar Cleanser, $7.49; target.com.
7. La Roche-Posay Effaclar Purifying Micellar Water, $28.73; amazon.com.
Lauren is the former beauty editor at Marie Claire. She love to while away the hours at coffee shops, hunt for vintage clothes, and bask in the rough-and-tumble beauty of NYC. She firmly believes that solitude can be a luxury if you've got the right soundtrack—that being the Rolling Stones, of course.