"Golden Barbie" on Curls, Fame, and Raiding Kylie Jenner's Wig Closet
Model Jasmine Sanders' hair is full of secrets.
Whether it's because she's played bikini-clad tennis with Kim Kardashian or is perpetually at the top of your Instagram Discover page, Jasmine Sanders—AKA Golden Barbie—is a very familiar face. This due in no small part to her signature cloud of blonde ringlet curls. So it's no surprise that when it came time to tap a fresh face for their new Curl Collection, Moroccanoil figuratively slid into the South Carolina native's DM.
On the first day of New York Fashion Week, we caught up with the up-and-coming model on her curl evolution, beauty lessons learned from her friends (ahem the Kardashian-Jenners ahem), the power of wigs, and more.
Marie Claire: Why is being a "curl ambassador" for Moroccanoil such an important role for you?
Jasmine Sanders: It's super exciting for me to be apart of the Moroccanoil family because I've had such a struggle with my curls for a long time. Being one of four, my mom did not know how to do our hair a lot of the time. She did cute braids and stuff like that, but when it came to curls it was all over the place.
So to finally find products that work, and don't weigh my curls down, is major. I like my hair to be bigger. I like a good bounce to my curls. A lot of products that I used to use when I was a kid had such a crunchy, weird feel to them.
MC: Like so many curly girls, you've learned to love your natural texture. Can you tell us about that evolution?
JS: I used to put my hair through so much. Between heat and the products, I would try everything. I'd go down the aisle and grab what I didn't last week to see if it helped. It was such a crazy struggle. Like, my hair photos—the throwbacks are kind of terrible. They should stay hidden. But now, I'm running around all the time and I don't have time to sit there and go through a three-hour process of changing my curls. I embrace it.
MC: Now that you're wearing your hair natural so often, what's your day-to-day curl regimen?
JS: Day-to-day, I don't wash my hair a lot. So I like to use different products that, like I said, aren't going to weigh my hair down. I love using Moroccanoil's cream. I warm it up in my hands a little bit and twirl the curls around. For a lot of curly girls, we like to work with our natural oils and use creams to bring back the curls without having to go through the full three-hour washing process.
There's also this lovely little tip I learned from a girlfriend of mine: Using a cotton T-shirt instead of towel to dry wet hair. It's a lot less harsh on your curls. My boyfriend thinks I'm crazy because I have T-shirts hanging next to the towels. He's like, "What are you doing with my T-shirt?!" And I'm like, "Trust me, I'll look better later." It's a good trick.
MC: The T-shirt trick is an editor favorite! So who are some of your curly-hair icons?
JS: Beyoncé is obviously my icon for everything, but her hairstyles are amazing. And then the first woman that I really looked at for curls and hair inspiration was Alicia Keys. From her braids to her curls, she really empowers women with different textures.
MC: You were rocking some *amazing* styles on your recent vacation with Kim Kardashian. What inspired your different looks, from the braids to the just-left-the-beach texture?
JS: I'm honestly all over the place. My hair inspiration can be pulled from the biggest female pop stars to male actors. I just like switching it up and getting people talking because you don't have to have either curly hair or straight hair. You can play with it any which way. Sometimes girls feel like they can't do certain things with their hair and I'm like you can do anything.
MC: So you were in Kylie's "Glosses" videos and have appeared on her app. What are some beauty tips and tricks you've picked up from her?
JS: Kylie is a little makeup guru. It's crazy especially because she's one of the youngest in the bunch. She picks it up from all of the sisters! She's taught me how to do some great brows. Plus, how to get a nice shine and contour. Honestly, she doesn't let me walk around looking crazy, so that's a good friend right there.
MC: Speaking of Kylie, we spotted you on Instagram rocking the chicest jet-black lob for a day or two. Do you wear wigs a lot?
JS: I embrace my curls, then the next thing I know, I get in Kylie's closet and we start playing with wigs. I think girls understand it. It's like when you put on lashes—it transforms you. Lashes or fake nails. They turn you into a whole other woman.
With wigs, it started as a joke when people started recognizing me on the street. I would tell my friends that if we want to go out and not be bothered, we should throw wigs on like Hannah Montana.
But now I just play up the characters. I have fun with it. I don't get to change my hair that often because of work and coloring can damage your hair so much. The best thing is that at Kylie's party, Kim walks up to me and she's like, "Oh, my God, I didn't even know that was you." And I was like "Good, that's what I was going for." But at the same time she was like "I love your short hair," and I looked at her and was like, "Wait that's a wig too!" [Laughs]
Follow Marie Claire on Facebook for the latest celeb news, beauty tips, fascinating reads, livestream video, and more.
Celebrity news, beauty, fashion advice, and fascinating features, delivered straight to your inbox!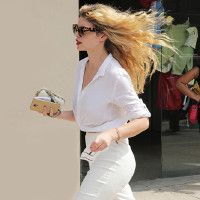 Lauren is the former beauty editor at Marie Claire. She love to while away the hours at coffee shops, hunt for vintage clothes, and bask in the rough-and-tumble beauty of NYC. She firmly believes that solitude can be a luxury if you've got the right soundtrack—that being the Rolling Stones, of course.