Angelina Jolie Takes Us Inside Her First International Beauty Campaign in a Decade
The actress and activist on her mother, her philanthropy, and becoming the face of Mon Guerlain perfume.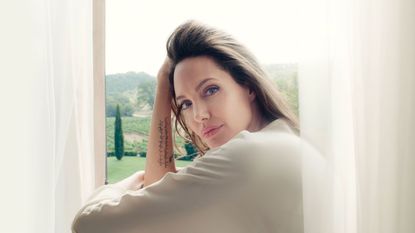 (Image credit: Courtesy of Guerlain)
The face of new fragrance Mon Guerlain (and humanitarian, mother, actress, director, the list goes on...) talks about her first international beauty campaign in ten years.
Marie Claire: Why did you decide to work with Guerlain?
Angelina Jolie: It was a brand my mother loved, so I knew it from my childhood. It spoke to her, as it does to me, of beauty, history, and quality; one of the oldest perfume houses in the world, from France, a country I love and feel connected to.
MC: Tell us about your mother, actress Marcheline Bertrand.
AJ: She was a very natural woman who never spoiled herself, never wore makeup, and wore modest jewelry, but she always had a few special items for when she wanted to feel like a lady. One of those— and I remember it because it seemed so elegant—was her Guerlain powder. I think all women have those few special things that make them feel feminine.
MC: What do you like about the new fragrance, Mon Guerlain?
AJ: I love the lavender and jasmine mixed with the sandalwood. I don't like perfumes that are too strong or sweet. This is a fragrance that is earthy and sensual, and can be worn at any time.
MC: The day after you shot the campaign in France, you flew to London to speak at the UN Peacekeeping Defence Ministerial, then to Jordan to visit refugee camps. How do you balance both parts of your career?
AJ: This has been my life for many years; one role feeds the other. It is a joy to be an artist, but it doesn't mean very much unless that work is somehow useful in some way and contributes to others.
MC: Is it important for you to work with brands that share similar values to yours?
AJ: Yes, of course! It matters very much and is something I discussed at length with Guerlain. I checked on their commitment to sustainable development and how they source their ingredients before agreeing to work with them. I was impressed by their strong sense of responsibility toward the people they work with and the environment.
MC: You donated your salary from this endorsement to charity. What does your foundation focus on?
AJ: The Maddox Jolie-Pitt Foundation's work is inspired by our children and their connections to particular countries. We visit the projects together, and it is growing with them. We started 13 years ago in Cambodia, and have since moved to Ethiopia and Namibia, too. It is dedicated to education, health, and the environment. We are gradually expanding, but our focus is still very much on enabling local people to develop their own communities and future, as well as rights for women and children.
This article appears in the May issue of Marie Claire, on newsstands April 18.
Celebrity news, beauty, fashion advice, and fascinating features, delivered straight to your inbox!