How Macadamia Nuts Became the Secret Ingredient in Your Sustainable Skincare Products
Beauty director Erin Flaherty travels to Kenya for a closer look.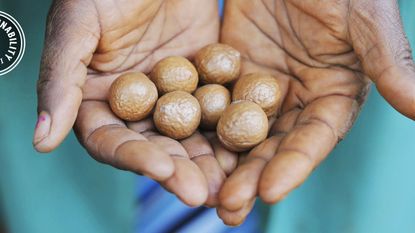 (Image credit: Getty Images)
Marie Claire Newsletter
Celebrity news, beauty, fashion advice, and fascinating features, delivered straight to your inbox!
Thank you for signing up to Marie Claire. You will receive a verification email shortly.
There was a problem. Please refresh the page and try again.
I am standing in the middle of an organic farm in Kenya, caught in a gloriously turbulent rainfall, clothes soaked, inspecting a macadamia seedling. When most people think of this continent, the visual references that come to mind are normally the wildlife that roams the savanna or the raw power of Victoria Falls. But here in Embu, a rural region about a four-hour drive from Kenya's capital, Nairobi, the epic landscape teems with stunning emerald-green palms and exotic tropical flowers. While it has long been a personal dream of mine to see this part of Africa, I'm not here for the bucket-list safari. Instead, I'm on a beauty treasure hunt to track down an ingredient that represents how sustainability is revolutionizing the area.
This humble seedling in front of me is its source: At some point, it will mature to produce nuts that may just end up in German skincare products that Americans can purchase at, say, their neighborhood Whole Foods. The mud that the storm is churning up does not bode well for my crisp white Stan Smiths, but for the local organic farmers of Embu, precipitation is always welcome.
This farm works with Limbua Group, a German-Kenyan partnership that encourages and provides resources to locals to develop sustainable agricultural projects, and connects them with international partners. One happens to be Wala, the parent company of the crunchy- meets-luxury German skincare line Dr. Hauschka. Between the increasing global demand for natural beauty products and an insistence on ticking boxes like "sustainable," "vegan," "fair trade," and "organic," it's a good deal for all involved. Anthony Ngondi Kabui, founder and director of Limbua, tells me that back when the partnership was formed in 2006, it wasn't always easy persuading farmers to ditch pesticides for organic techniques. That's because chemicals can initially produce higher yields. But ultimately, the land must go fallow. Organic farming grows fewer crops in the short term, but in the long run, it's more sustainable, and the produce fetches higher market prices—ah, yes, the $4 tomato!—making it a win-win in terms of earning profits and creating food security at home. Today, Limbua works with 5,000 small-scale farmers and currently has a waiting list owing to the skyrocketing demand to join the network.
[image id='5891a316-1829-49ce-a943-7f492421ca95' mediaId='4b2ab738-08b2-4ce5-9b60-1bdea41d4740' caption='Macadamia nuts prior to cracking.' loc='C' share='true' expand='true' size='M'][/image]
After exploring the macadamia-tree farm, I visit one of Limbua's production facilities where the nuts are painstakingly processed. (They are sorted, washed, and dried, and their exterior shells cracked to reveal the precious kernels inside.) Then, batches reserved for Dr. Hauschka set sail to Germany, where the oil is extracted and eventually shows up in your very own products. The rich oil is an elegant ingredient—it's a lightweight moisturizer filled with antiaging antioxidants like palmitoleic acid, vitamins, and omega fatty acids. Dr. Hauschka has also incorporated it into its new makeup range, which comes out in September, in addition to much of its existing skincare lineup. On the long flight home, I rely on the creamy new concealer to remedy my jet-lag-induced under-eye circles. One thing's for sure: Sustainability has never looked better.
1. Dr. Hauschka Foundation, $38
BUY IT: Dermstore.com
2. Dr. Hauschka Daily Hydrating Eye Cream, $55
BUY IT: Jet.com
3. Dr. Hauschka Light Reflecting Concealer, $26
BUY IT: www.dr.hauschka.com
This article appears in the August 2017 issue of Marie Claire, on newsstands now.
Celebrity news, beauty, fashion advice, and fascinating features, delivered straight to your inbox!
Erin Flaherty is a beauty journalist and consultant who has contributed to numerous publications including the Wall Street Journal and Domino, among many others. She is a board member of the Women's Global Empowerment Fund and especially passionate about worldwide beauty anthropology and women's issues. She lives in Woodstock, NY with her husband and dog.