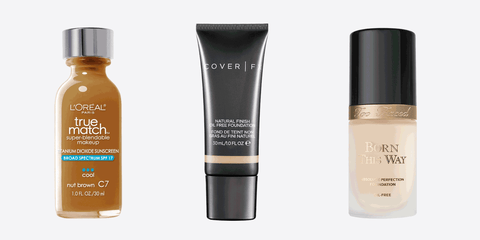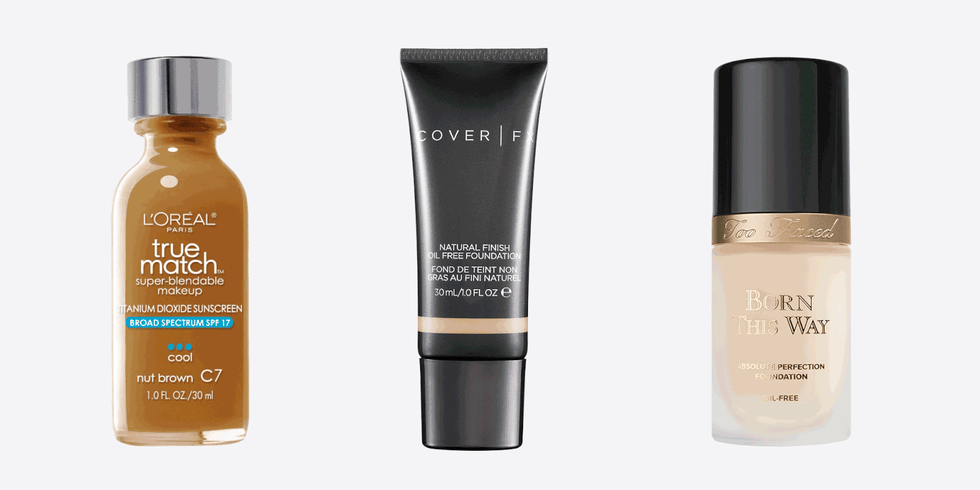 When water-based foundations first hit the market after World War II, women went crazy for the stuff as they provided a less cakey, more natural-looking alternative to the oil-based or powder options of the decades prior. Equal parts weightless and buildable, these formulas are just as beloved to this day and keep getting better, especially if you're oil prone. From the drugstore hero to the most luxurious formulas in the game, ward off a shiny forehead with these H20-happy foundations.
1
Too Faced Born This Way Foundation
The brand's most natural-looking foundation, this sheer, easy-to-blend cream will give you medium to full coverage depending on how you layer it. Oil-free and formulated with coconut water and hyaluronic acid to keep your skin moisturized, just be wary that it's not too too dewy or hydrating if you have suuuper oily skin.
$39
BUY IT: ulta.com.
2
Bobbi Brown Skin Foundation SPF 15
The mixture of hydrating and light-reflective elements in this Bobbi Brown formula will make your skin look especially dewy, plump, and radiant in the morning. It's a favorite of beauty fiends who want more of a lightweight, sheer finish.
$50
BUY IT: sephora.com.
3
Milk Makeup Blur Liquid Matte Foundation
Milk Makeup's easy applicator uses a tip that minimizes any exposure to air (meaning your foundation will stay fresher than ever) and eliminates drips that waste your precious money. Making the K-beauty blurring trend easier than ever, the product uses light-diffusing technology to create a poreless, airbrushed effect.
$40
BUY IT: sephora.com.
4
Koh Gen Do Aqua Foundation SPF 15
This formula is expensive, but not for nothing as it really does deliver on its "post-facial glow" promise. Made with mineral from the deep waters of Bretagne (fancy!), it brightens the skin by reflecting light to eradicate facial shadows, resulting in a glowy soft focus finish.
$62
BUY IT: sephora.com.
5
Burberry Fresh Flow Luminous Fluid Base
Burberry's illuminating pearlescent primer can be worn on its own or mixed with foundation to create a dewy glow that never reads too shiny or sparkly. If you're looking to add radiance to a dull winterized complexion before summer, this is your stuff.
$48
BUY IT: sephora.com.
6
MAC Studio Waterweight SPF 30 Foundation
Finding that happy medium between providing soft, yet solid coverage without drying out the skin, this water-like, gel-serum foundation works on ALL skin types and provides SPF 30 protection. Plus, it comes in a cool dropper bottle.
$33
BUY IT: macys.com.
7
Cover FX Natural Finish Oil-Free Foundation
In more than 20 shades, you're bound to find your perfect match with this super-blendable, long-wearing formula. It's also very concentrated, so a little bit of product goes a long way, ensuring you get all the bank for you buck.
$40
BUY IT: sephora.com.
8
Make Up For Ever Face & Body Liquid Makeup Foundation
A beauty editor favorite, if you're in the market for au naturale day-to-day coverage, this is your stuff. It has that "your skin, but better" look down to a science with a water-based gel formula that blurs away imperfections while delivering sheer to medium matte coverage.
$43
BUY IT: makeupforever.com.
9
L'Oréal Paris True Match Super-Blendable Makeup
This drugstore steal is notorious for being *amazing* for normal to very oily skin. Its fluid, silk-like texture goes on smoothly and will let your natural complexion show through while still diffusing uneven skin tone, blemishes, and T-zone shine. It also comes complete with SPF 17.
$7
BUY IT: target.com.