Editors handpick every product that we feature. We may earn commission from the links on this page.
11 SPF Sprays That Make Applying Sunscreen Easy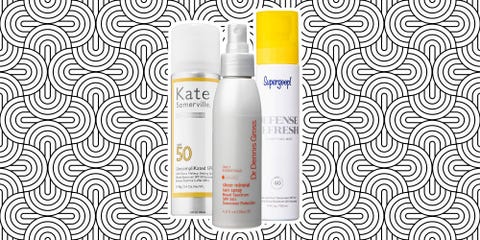 One of the catch-22s when it comes to wearing sunscreen: Applying it and then reapplying it throughout the day can feel like a chore. Plus, the wrong formula can turn your deft second-skin makeup application into a cakey, pastey nightmare. If you're like us, you're looking for an SPF that won't disrupt the skincare or makeup products already layered onto your skin and provides a quick refresh. Which is where SPF sprays come into play. Sprays act as invisible protective shield over your skin for a necessary dose of sun protection. Even when you're chilling inside on sweltering afternoons, you'll want to be sure to apply and reapply SPF throughout the day—especially if you sit near a window while working from home, or like to drive from place to place.
Thankfully, a slew of innovative SPF sprays are solving this conundrum, with many even doubling as setting sprays. Some offer antioxidant defense against invisible pollution, and some even hydrate the skin as it protects it. From ultra-lightweight formulas with an invisible finish, to oil-free, mattifying setting sprays, to cooling mists that'll make you let out one big ahhh—these are what you call sunscreen made easy. We've rounded up the absolute best SPF facial sprays to ensure that your skin is well taken care of with warmer months upon us Ahead, stock up on one of these protective mists, made for every preference and skin tone.
For A Cooling Boost
Face Mist SPF 45
You know those super-fine water misters that cool you off while you wait on line for a roller coaster? Remember how cooling and light it feels? Same vibes here. This mist is easy to reapply all day long, and it smells like bananas to boot.
This Oil-Free Formula
Ultra Sheer Face Mist Sunscree
Neutrogena
ulta.com
$17.49
This ultra-lightweight formula is the perfect for every skin tone with its invisible finish that doesn't leave an ashy residue behind. Plus, the formula is oil-free so it won't give you an extra shiny T-zone.
This Skin Refreshing Spray
Defense Refresh (Re)Setting Mist SPF 40
Supergoop
supergoop.com
$30.00
This 3-in-1, non-greasy SPF 40 spray sets makeup without disturbing it, controls shine, and shields the skin against photo-aging with SPF 40.
This Soothing Sun Mist
Sun Mist
Pixi
pixibeauty.com
$18.00
This refreshing SPF is packed with aloe and chamomile to soothe sensitive and irritated skin. If you're dealing with inflamed rough patches or severe dryness, reach for this calming sun mist.
This Double-Duty Formula
UncompliKated SPF 50 Soft Focus Makeup Setting Spray
Kate Somerville
sephora.com
$38.00
If you're looking for a 2-in-1, this double-duty formula acts as a SPF and matte-finishing makeup spray. That's right—this spray will keep your makeup in place and add a soft blurred finish for a long-lasting lewk.
This Matte Finish Formula
Makeup Setting Spray Organic Sunscreen SPF 30
This SPF 30 formula is 70% certified organic (AKA great for sensitive skin) and will seal your face beat in with a lightweight matte-finish.
For A Night Out
Facial Setting Spray Sunscreen SPF 50
A spray with SPF 50 will keep you covered on days you've got a full face might forget to reapply over your makeup, sweat be damned.
This Vitamin-Rich Mist
Hampton Sun SPF 50 Continuous Mist
Hampton Sun
revolve.com
$32.00
If you'll be out in the sun or on the beach, this formula uses a special emollient, Polycrylene, for water-resistance. Plus, it's also got a slew of skin-fortifying vitamins and calming aloe vera extract.
This K-Beauty Favorite
Resort Collection Sun Protection Mist Broad Spectrum SPF 30 Sunscreen
AMOREPACIFIC
sephora.com
$32.00
This ultra-lightweight sun protection is infused with two powerful K-beauty ingredients: Soothing Matsutake mushroom and hydrating bamboo sap that also cools the skin.
This Moisturizing Mist
Ultimate Sun Protection Spray SPF 50+ Sunscreen
shiseido
shiseido.com
$40.00
This whisper-light, non-sticky veil provides broad spectrum UV protection with xylitol, which helps the skin retain its natural moisture and boosts levels of hyaluronic acid.
For A Fast Fix
Face UV Protection Mist SPF 50
Ultrasun
beautybay.com
$21.00
If the thought of spraying yourself in the face calls thick, oily formulas of the past to mind, this one will change your perspective. It dries down quick and contains an antioxidant blend to protect you from both SPF and environmental aggresors.
This content is created and maintained by a third party, and imported onto this page to help users provide their email addresses. You may be able to find more information about this and similar content at piano.io