Another Win From the SAG-AFTRA Agreement: Proper Hair and Makeup For All
The new policy tackles the lack of Black beauty expertise available on some sets.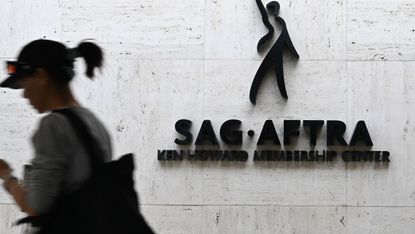 (Image credit: Getty)
After 118 days of deliberation, the SAG-AFTRA strike has come to a tentative end, potentially marking some major changes to Hollywood's inner workings. While some of these are obvious (hi, Timothee Chalamet promoting his new projects on SNL), other effects are more behind-the-scenes, such as new rules that support the makeup artists and hairstylists that work on set—as well as the talent in the glam chair.
Under the Equity & Inclusion section of the new SAG-AFTRA agreement, a "Hair and Makeup" policy is set to (finally) bring necessary change to the world of film and television beauty.
"Each principal performer shall be given the opportunity to meaningfully consult regarding any hair and makeup needs so that production is prepared to work with the performer, including having appropriate hair and makeup products and equipment," reads the new rule. "If the producer is unable to provide qualified hair and/or makeup personnel to work with the performer, production shall reimburse the performer for the pre-approved cost of obtaining such services. The performer will also be entitled to no less than two hours of compensation for the time spent in such services."
While its not explicitly stated, this update is more than likely a direct response to the lack of Black beauty expertise available on some sets. In the past, many Black actors and have noted that the stylists they've worked with don't have experience with textured hair, not to mention lack makeup products for a range of skin tones. Often, these professionals have to take glam into their own hands—or pay someone out of their own pocket to help them.
Gabrielle Union is one of the many SAG-AFTRA members who have spoken openly about the biases—and beauty-related micro-aggressions—they've seen at work over the years.
"These racist institutions and systems have done an amazing job at keeping us very fearful of speaking up, asking for equality, and asking for accountability, because they have shown us time and time again that we are disposable," the actress told Marie Claire in 2020 after discussing the "excessive notes" about her appearance she received while on America's Got Talent.
The agreement also states that the Alliance of Motion Picture and Television Producers (AMPTP) will work with the International Alliance of Theatrical Stage Employees (IATSE) to "expand and maintain the pool of hair stylist and makeup artists who are qualified and available to work with people of all races and ethnicities." This means funding training "to acquire the skills necessary to work with all hair textures and skin tones."
"I went to school to be an actress, not a hairstylist," actress and hair designer Nikiya Mathis told us earlier this week while discussing the new Broadway show JaJa's African Hair Braiding. "Styling hair just happened for me because no one on set could style Black hair."
Votes to ratify the contract are due December 5.
Marie Claire email subscribers get intel on fashion and beauty trends, hot-off-the-press celebrity news, and more. Sign up here.