Worth It: Shani Darden Triple Acid Signature Peel
It's a Hollywood-level facial—at home.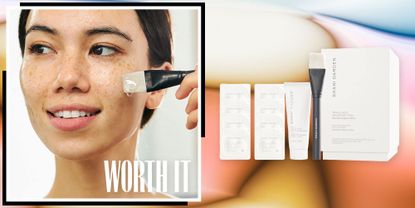 (Image credit: Future)
Marie Claire Newsletter
Celebrity news, beauty, fashion advice, and fascinating features, delivered straight to your inbox!
Thank you for signing up to Marie Claire. You will receive a verification email shortly.
There was a problem. Please refresh the page and try again.
Welcome back to Worth It, our weekly seal of approval on noteworthy launches and bespoke collaborations in the worlds of beauty and fashion. If it's featured here, consider these investments worthwhile.
The Promise
If you're not familiar with Shani Darden's skincare line, I promise you: You're familiar with her work. She's the esthetician behind the glowing complexions of Shay Mitchell, Kelly Rowland, Jessica Alba—I could go on. Her magic treatments were under lock and key for years, but circa 2013, she decided to launch her namesake brand. Over time, she's introduced cleansers, serums, and of course, her cult-favorite Retinol Reform, which in my opinion, is the best retinol on the market. Her latest and greatest? The Triple Acid Signature Peel, which is quite literally the closest you can get to receiving a Hollywood facial in the comfort of your own home.
It's obviously a bit less active than a professional-grade treatment (safety first, people), but the two-step resurfacing peel is the real deal. First up is the physical peel—it's formulated with glycolic acid, lactic acid, and mandelic acid. The trio's sole focus is to draw out gunk from your pores and brighten your complexion. The second step is the neutralizer, which comes complete with kaolin and bentonite clays. Shani warns that it can feel "spicy" upon application. But fear not: It's just doing its job destroying dead skin cells.
The little kit rings up at $125 and comes with enough materials for eight treatments. Do the math and you're paying about $16 for each session. It's steeper than a peel pad or a serum that comes with enough product for months, but if it's really capable of going head-to-head with in-office treatments, it's a steal. As such, I tried it so you don't have to.
Why I'm Obsessed
I approach "at home" services with a hefty dose of skepticism. If something was designed to be done by the pros, I'm a big believer that we should let them do their job. There's no denying the power behind a (gentle) chemical peel—and I always look forward to paying my dermatologist a visit when I need one. At home kits? Run for the hills—risky business I won't go near with a ten foot pole. Alas, I trust Shani Darden with my life. If she's attaching her name to an at-home chemical peel, I can breathe a *smidge* easier about putting intense actives on my face.
So, here goes nothing. My original thoughts: The packaging is stunning (chef's kiss) and the instructions are crystal clear. No confusion possible whatsoever. It's dummy-proof, which is exactly the way any kind of at-home process should be. Step one, aka the lactic, glycolic, and mandelic blend, comes labeled in a little pouch. I peeled open the lid, dipped the accompanying brush into the solution, and applied a thin layer to my clean face, sans my eyes and lips. The smell wasn't overly chemical-y, and while I felt a tingle (think: little shocks), it wasn't painful or unbearable. As soon as that was on, I set my timer for one minute and started unwrapping the neutralizing mask. (Note: The peel can be left on for two minutes, but because I have very sensitive skin, I decided to start off slow. Always set a timer—you can overdo it, so make sure you adhere to the schedule.)
Step two, which is formulated with bentonite and kaolin clay, is the neutralizer. It basically readjusts your skin's pH (remember, you just put acid on) and stops the peel from going too deep. I started by applying it on my skin with the brush and within seconds I understood Shani's definition of "spicy" all too well. There's a strong tingle that strikes the skin. Alas, I persisted. I coated my face and massaged the white liquid further into the skin with my hands. Per the instructions, this concoction can be left on for 10 minutes. I set my timer for five minutes (don't! forget! the! timer!), but it was feeling a bit too tingly for my liking at the one-minute mark, so I washed it off early.
I'm not going to lie, my face was a bit flush. I have red undertones to begin with and looked a little like a cherry tomato—but that lasted all of 15 minutes. I put on a calming serum and soothing moisturizer and gave my skin a beat to breathe. Fast forward through a good night's sleep and I woke up to an amazing post-facial glow—the kind where you can see your own reflection on your forehead. My skin felt soft as a baby, all irritation had subsided, and my face was reflecting light in the best way possible. Historically, that's an outcome I've only ever experienced via in-office treatments. Shani Darden: This may be the only at-home treatment I can get behind. Just don't get it twisted—I'll always be neurotic about setting my alarm.
Celebrity news, beauty, fashion advice, and fascinating features, delivered straight to your inbox!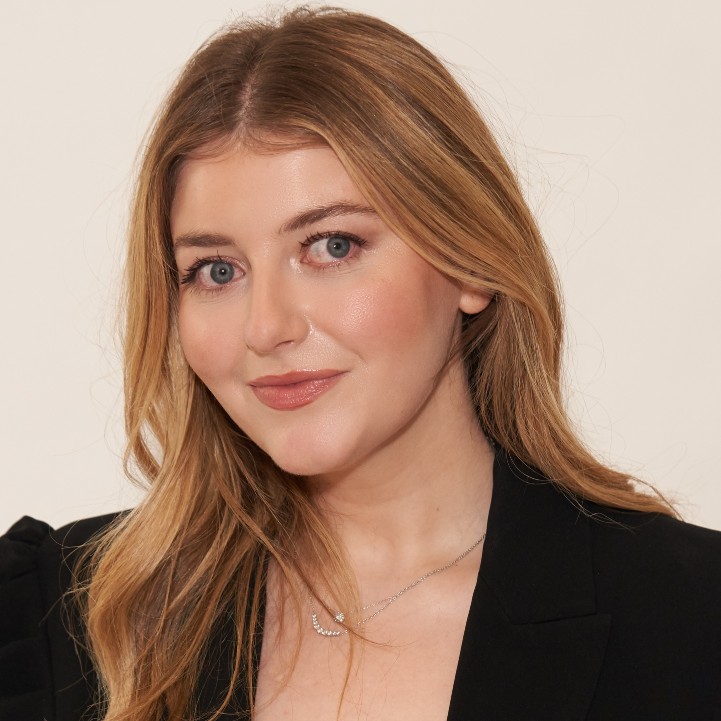 Samantha Holender is the Beauty Editor at Marie Claire, where she reports on the best new launches, dives into the science behind skincare, and keeps up with the latest trends in the beauty space. She has previously written for Us Weekly, Popsugar, Makeup.com, Skincare.com, and Philadelphia Wedding. Follow her on Instagram @samholender.