Beauty Inside & Out: Sydney Sweeney
The Euphoria actress on her favorite flavored water, pilates, and the oil she swears by for hair growth.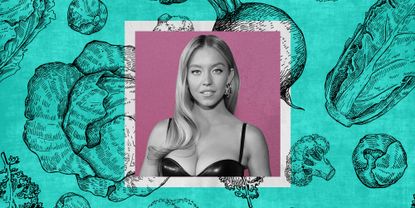 (Image credit: Future)
In the ultimate quest for inner beauty and outer glow, Marie Claire asks our favorite trailblazers to share intel on finding balance in their busy lives. Read it all here, in Beauty Inside & Out.
Sydney Sweeney finds comfort in juxtapositions. She can play a beauty-obsessed Cassie Howard on Euphoria, while keeping her personal makeup routine to four steps or less. She can turn it on for a red carpet, but she's happiest at home with her rescue dog, Tank, and some ice cream. Striking balance has become her prerogative. "Being in my mid-20s, I'm just figuring out who I am and what makes me feel the most calm, confident, and level-minded," the White Lotus star exclusively tells Marie Claire. "I'm slowly learning different methods for myself that help me feel at peace."
She takes an inside-out approach to strike balance. Hydration and healthy foods take precedence, but are evened out by the occasional homemade rice krispie treat (peep her secret recipe below). She winds down by taking an ice roller to her face and sets aside an hour for a pilates reformer class. Of course, Sweeney also makes sure to give her go-to beauty products (read: Laneige and Armani) the use they deserve. To get the full breakdown on the actress' routine, read ahead.
Inner Beauty
Ample Hydration
When I was 12, I randomly decided that I was going to drink water for the rest of my life. I was addicted to shirley temples at the time, but I gave up all sodas and I only drank water after that point. I needed to add some flavor into my life because it was getting pretty, pretty boring there. That's when I found Bai. I love my flavors. They're fun. There's such a variety and I love feeling hydrated. I'm really into the pineapple mango flavor; I probably drink two to three a day.
Bai Flavored Water, Rainforest Variety Pack, Antioxidant Infused Drinks, 18 Fluid Ounce Bottles, 12 Count, 3 Each of Brasilia Blueberry, Costa Rica Clementine, Malawi Mango, Sumatra Dragonfruit
Daily Movement
I'm a really active person. I love to work out. Anytime I get to go on a run or to a Pilates class, I feel really good. It's a great way to start my day—even if it's just a 15 minute circuit workout. Whenever I'm back home, I'm on the lake, I'm always either swimming or skiing or I'm hiking. If I can just find something that gets me on my feet and gets my body and my heart pumping, then it helps me. I think I just grew up always being outside. My parents would always want us to be playing outside and never wanted us sitting inside watching tv.
Puppy Play Time
I rescued my dog, Tank, when I was 17. She's my best friend. She's also my big form of self care. I love just zoning out and eating ice cream with her. That's not everyday though.
Outer Glow
Skincare Situation
I am a huge water person, so in the morning I just splash my face to freshen up. I use the Laneige blue hyaluronic cream and eye cream. I love them. They sit well under makeup. Of course, I use their lip sleeping mask, too. I'm partial to the strawberry, but I also like the vanilla one.
I try to stay super simple if possible because I have really, really sensitive skin and I'm prone to like cystic acne. I break out really easily, so simpler is better and easier for me. I also love rolling my face. It depuffs me, wakes my face up—there are so many added benefits.
Makeup Routine
It depends on how my skin is that day, but I'll either do a light light layer of the Armani Luminous Silk Foundation or I'll just do their concealer and spot coverup. I'll use their Luminous Silk blush and a little mascara. Sometimes I get my eyelashes tinted and lifted, so I don't really use mascara too much. Other than that, I'm pretty simple.
I have learned everything I know from my makeup artist, Melissa Hernandez. She introduced me to Armani makeup. I owe anything I know to her. Honestly, the number one thing that she is always super adamant about is sunscreen.
Hair Help
I'm just now starting my haircare journey. It's been a road. My hair just goes through so much coloring. In the last two years, I went from growing my hair out completely, to dyeing it blonde, and then red. A month later I had to go blonde again and my hair started falling out. It's been absolutely terrible. I'm trying to let it grow out as much as possible and find treatments that help it become healthy again. I started using the Kerastase Elixir Oil and I'm really loving it.
Recipe for Success: Sydney's Homemade Rice Krispie Treats
Whenever my friends or family come over, they'll all be like, Please, please, please make rice krispie treats. I am known to make really incredible rice krispie treats. That's always my go-to recipe. I don't know if I'm ready to share my secret ingredient, but I'll just say this: Add a little vanilla. It adds a beautiful sweetness. I eye it, but I use a little more than a dash.
Marie Claire email subscribers get intel on fashion and beauty trends, hot-off-the-press celebrity news, and more. Sign up here.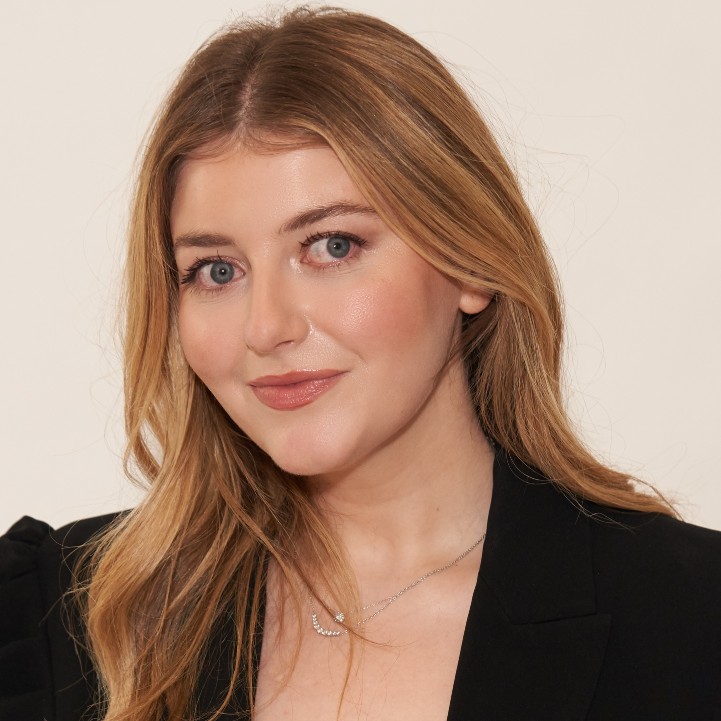 Samantha Holender is the Beauty Editor at Marie Claire, where she reports on the best new launches, dives into the science behind skincare, and keeps up with the latest trends in the beauty space. She has previously written for Us Weekly, Popsugar, Makeup.com, Skincare.com, and Philadelphia Wedding. Follow her on Instagram @samholender.