George Clooney Is Getting Married This Weekend, Details
He couldn't stay a bachelor forever.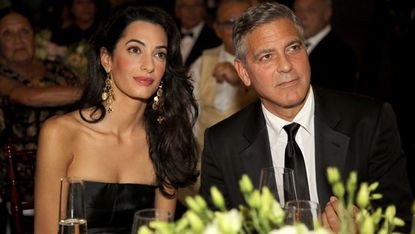 (Image credit: Archives)
Single (and married) ladies everywhere are weeping. The time has finally come for eternal bachelor George Clooney to tie the knot. Although we're (understandably) devastated to lose Clooney in the round-up of eligible men in Hollywood, we can take comfort in that Amal Alamuddin is a worthy opponent. While her name may not have been known by millions before her engagement to one of the world's most sought-after men, she's been a star in her own right for years: She's an international law and human rights attorney with an accomplished career record.
that Alamuddin arrived at the Milan airport today with her mother by her side and no shortage of luggage. The duo will wed this weekend in Venice, Italy, with a ceremony officiated by Walter Veltroni, Rome's former mayor. Swoon.
UPDATE: Us Weekly reports that the couple's rehearsal dinner will be taking place at the lavish Hotel Cipriani, where the Alamuddin clan is residing for the duration of the nupitals. The ceremony is rumored to be packed with A-List celebrities, as well as the reception and after-party. The best part? The bride won't arrive by car, but rather by boat. Chic!
What we know so far:
1. Amal Alamuddin wore custom Alexander McQueen to the rehearsal dinner
2. George Clooney invited his water taxi driver to the wedding. Umm George, where is our invite?
3. Bono has arrived!
More details (and pics!) to come.
Related:

Celebrities That Are Best Friends IRL

Photo via Getty Images