Editors handpick every product that we feature. We may earn commission from the links on this page.
Scary Good Makeup Ideas From Instagram to Try This Halloween
Neck-up Halloween masterpieces for pandemic parties.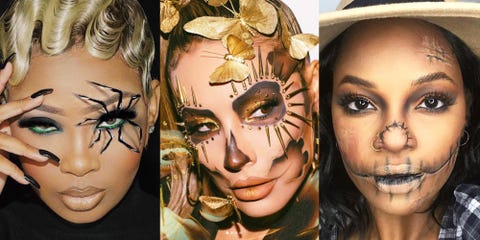 Halloween, like, um, literally everything else in this country, is going to look a little different this year. Chances are you won't be crammed shoulder-to-shoulder, jamming out to Monster Mash with your nearest and dearest, bobbing for apples (eek!), or playing that pre-pandemic party game where someone hangs donuts on a string. (Please, no.) So what does that mean for those of us who live for the annual spook-fest? It's a virtual feeding frenzy, honey. Only not the candy kind, the Instagram kind. Our prediction is that this year, all the pageantry heads online. The good news for you is that costumes only need to be neck-up! No overnight shipping charges from Spirit Halloween, just break out your go-to sweats, and get ready to make mischief...on your face.
We've gathered all the inspiration you need to push the limits and rock the most over-the-top looks without being judged. You've got the time and the makeup brushes, and we've got 79 breathtaking spectacles, whether the category is gruesome-but-gorgeous, startling-but-stunning, or creepy-chic. Halloween 2020 is all about Instagram and here's all the inspiration you need to rake in those likes.

This content is created and maintained by a third party, and imported onto this page to help users provide their email addresses. You may be able to find more information about this and similar content at piano.io