100 Scary Good Makeup Ideas From Instagram to Try This Halloween
Neck-up Halloween masterpieces for pandemic parties.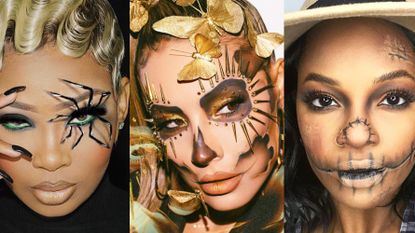 (Image credit: Instagram)
Halloween is going to look a little different in 2021. Chances are, you won't be crammed shoulder to shoulder, jamming out to Monster Mash with your nearest and dearest, bobbing for apples (eek!), or playing that pre-pandemic party game where someone hangs donuts on a string. (Please, no.) So what does that mean for those of us who live for Halloween and the incredible makeup opportunities it brings? It's a virtual feeding frenzy, honey. Last year, the creatives fled to Instagram to share their spooky glams and amazing FX makeup looks, and this year will go the same way.

We've gathered all the inspiration you need to push the limits and rock the most over-the-top looks without being judged. You've got the time and the makeup brushes, and we've got 100 breathtaking spectacles, whether the category is gruesome-but-gorgeous, startling-but-stunning, or creepy-chic. Halloween 2021 is all about Instagram, and here's all the beauty inspo you need to rake in those likes.
1. The Poison Ivy
Fake vines are essential to this costume, but what makes this makeup look stand out from the others is the bedazzled red lip. Sure, it's not practical from an IRL party aspect, but that's why Zoom calls are reigning supreme this year.
2. A Demonic Fright
Here's your chance to watch a marathon of scary movies while looking like a demonic creature from Lucifer!
3. The "Rain On Me" Inspired
Translate the Grammy Award-winning song to your face as we enter the Dawn of Chromatica and literally "cry" tears of jewels! For a sparkle that'll last even in the rain, try the Mehron Gem adhesive (and yes, it's safe for the face!).
4. The Powerpuff Girls Villian
HIM! The Lobster-clawed Villian of Powerpuff Girls has always been a beauty icon, if we're being honest. Remember, beauty has no rules, and this character's glam will surely get you major swipe-ups.
5. The Trixie Mattell
Oh, honey! What's not to love about the real-life Barbie doll re-imagined that is Trixie Mattel? Winner of RuPaul's Drag Race All Stars Season 3, this Drag Queens look can be recreated with big lashes, a lot of white makeup, and all the glitter.
6. The "Wash Your Hands" Inspired
At the start of the pandemic, it was all about the 20-second hands rule and washing them constantly. If you're up for the challenge, be the walking sign at any socially distanced party and offer up the soap.
7. The Lydia Deetz
Avoid being the 10th Beetlejuice this year and opt for the iconic and OG Goth Queen, Lydia Deetz. *Real ghosts and possessions not necessary, but a spooky addition*
8. The Ouija Board
Do you think the ouija board will still work if it's technically makeup? Here's hoping no one accidentally invites any ghosts in—and if they do, maybe they'll have makeup remover.
9. The Drip
Confuse your friends with this optical illusion look that may or may not give you a headache! At least you have the chance to perfect your brow game with these duplicates.
10. The Queen of the Damned
Nothing says Halloween like a bloody fanged-out vampire look! For this sharp look, pair fluttery lashes to lure in any prey and a glossy lip that may need to be reapplied post-bloody snack.
11. The Spoiled Wonka Child
Time to whip out that blue eyeshadow, or more specifically a violet shade. Embrace your inner spoiled child, get your favorite pack of gum, and glam up Miss Violet Beauregarde!
12. The Jack O'Lantern
Remember when you were a kid and would get your face painted at carnivals or festivals? Well—envision that and then go way bigger! This isn't your average Jack o' lantern makeup look, but it's a creepy glam that will leave you mesmerized and very on theme.
13. The Witches Brew
Something wicked this way comes. If body paint isn't your thing, then a green smokey eye will still make an impression on your feed. Just don't forget the hat!
14. Gaga's Applause Era
Artpop is arguably one of Lady Gaga's best albums, and if there's one thing Gaga will do, it's pull out all the stops for a good look. No need to fear messing up when disorder is exactly what you need to recreate this watercolor makeup.
15. The Euphoria-Inspired
Remind your followers of the stunning makeup from HBO's Euphoria with an inspired blue eyeshadow dream, popularized by Alexa Demie's character, Maddy Perez.
16. The Bejeweled Carrie
Don't let a little blood ruin your night! Drip red jewels and glam with Stephen King's reinvented Carrie. If glitter isn't your thing, then Juvia's Place The Berry Palette ($14) has all the shades you need for a more user-friendly version of this look.
17. The Halsey "IICHLIWP" Era
In the words of Halsey, "I am not a Woman, I'm a God." Inspired by their new album and film experience, these looks are endless and perfect for a royal glam that even Halsey herself will be jealous of.
18. The Glam Zombie
Glam Zombie is a thing, and I personally think Walking Dead should take notes. Embracing the once human side, a two-faced zombie look gives you the ghoulish nature of Halloween with the glam of a party look.
19. The Harley Quinn
This Margot Robbie character from Suicide Squad is a fan favorite Halloween look, and let's face it—"if it ain't broke, don't fix it." If you're wig or hair dye shy, Good Dye Young's Poser Paste will give you this split dye hair that washes out in the shower.
20. Mother Nature
Celebrate Mother Nature (again) with a Halloween makeup look that shows your love for the earth, and also serves as an excuse to wear a flower/plant crown.
21. Rocky Horror Picture Show
It's hard to pick just one iconic makeup moment from this cult classic film, so don't! Whether you go for Frank N Furtner or Magenta, you'll be ready for the Time Warp with one swipe of a black liner.
22. The Simple Sally
The Nightmare Before Christmas is a Halloween movie, and Sally is the iconic ragdoll of our childhoods. If you're feeling especially inspired, deepen the ashy blue paint for an even bolder take.
23. The Upside Down
You probably don't want to visit the Upside Down, but while we wait for a new season of Netflix's Stranger Things, this on-point homage is a good start.
24. The Lisa Frank Look
Venture out of your comfort zone and take inspiration from our colorful childhood favorite, Lisa Frank!.Take face painting one step further with an all-out makeup look that will leave everyone envious and wondering how you did it. Hint: Use the Makeup Forever Flash Color Palette.
25. Joaquin Phoneix's Joker
Cue the TikTok sound: I'm a lot like joker...from the movie Joker.
26. The Captain America
You might not be able to invite Chris Evans to your Halloween festivities, but you can certainly paint the costume right onto your skin.
27. The "Two Faced" Luca
If you're feeling extra fishy, go full aquatic Luca and then cry watching the movie—it's okay, we cried too—but only if you trust your setting spray.
28. The Carved Pumpkin
A sinister twist on a favorite Halloween tradition, pumpkin carving just got a whole lot more...bloody.
29. The Out of This World Butterfly
Halloween means pulling out all the stops, so bust out those neons to create this intergalactic butterfly. Bonus points if you add a couple of stick-on gems.
30. The Red Riding Hood
Who's afraid of the big bad wolf? All right, maybe you aren't anymore, but after spending some quality time in front of your mirror recreating this look, your friends will be.
31. The House of Slytherin
Maybe in your dreams, the sorting hat put you in Slytherin, or you're feeling extra scaly, but you can't go wrong with this serpentine makeup concept.
32. The Haunting Ghost
The best ghost costumes aren't ones that involve a white bed sheet with two holes poked through it. Instead, take some white face paint and create this masterpiece that will have you saying, "Boo!"
33. The Glitch
Here's a futuristic look that doesn't require serious skills. It'll look as if you spent hours on it, but if you're like me, you probably did because #perfectionist. Grab some black, red, teal, and white face paint and get to work.
34. The Cheetah-licious
Make yourself the fifth member of the iconic all-girl band from Disney, the Cheetah Girls, with this creation. While the spots might take the spotlight, what you do with the subtle touch of white eyeliner is key.
35. The Angel
Sadly the halo isn't included, but we didn't say anything about wings! This dramatic angelic look rules thanks to winged eyeliner that will have the compliments rolling in all night.
36. The Button Eyed Coraline
Always wanted to channel Coraline, but didn't want to deal with the task of creating button eyes? Here you go! Don't forget to use a lip pencil to extend that smile. You'll thank us later
37. The Bat Queen
"It's frickin bats!" Vine quoting-jokes-aside, instead of opting for the predictable bat ears headband look, get cozy with your black eyeliner and create some wings of your own.
38. The Starry-Eyed
You can use this versatile makeup idea for so many costumes! If you're having trouble landing on a character, might we suggest a circus performer, an alien, or a greek goddess?
39. The Wednesday Addams
Pay homage to the princess of Hallow's Eve with this all-black makeup idea. We recommend opting for a matte dark lipstick instead of a gloss to really up the drama.
40. Cruella de Vil
If she doesn't scare you, no evil thing will. Please note the genius of using a makeup brush as an opera-length cigarette holder.
41. The Bride of Chucky
The world's scariest doll is all grown up! Kinda. Not only is this idea totally do-able, but, if you missed the '90s, you'll finally be able to see what you would look like with those super-thin eyebrows. A win-win, right?
42. The Head in the Clouds
K, so there's a little going on in post with this image but the basics still stand: A simple (yes simple) streak of rainbow shades across the center of the face, topped off with a dabbing of fluffy clouds.
43. The Spa Day
Make your friends (and yourself) feel all kinds of zen by mimicking this pampered makeup idea. BTW: If drawing the cucumbers on seems intimidating, slide on over to your fridge and feel free to cut up some real ones.
44. The Sunburnt Pool Day
Pool days, we miss you, just minus the sunburn. Serve up some nostalgia for longer days with this look. All you need to win the at-home costume contest is some red body makeup, shades, and a bikini top.
45. The Pearled Perfection
How to go over-the-top without, like, going over the top? Exaggerated gold cat-eye silhouettes topped off with tiny pearl gems, of course.
46. The Electric Storm
🎵Ooh girl, shock me like an electric eel. 🎵Then halo zags of highlighter yellow with pink and blue. Throw on a black hoodie for an electrifying costume.
47. The Autumnal Snow
Real talk: One of the spookiest notions around is what on earth happens to our country this fall and winter. This meeting of the seasons is a cheeky—see what we did there—way to express your solidarity.
48. The Stitched Side Profile
No one is saying this is easy. What we are saying? It's rather genius and also legit scary. Please be aware no skin was punctured in the creation of this illusion.
49. The Alien Invasion
An alien takeover sounds so much less scary after the 2020 we've had, no? Host this little bb on your face for a extraterrestrial experience.
50. The Red Hot Chili Pepper
Don't dress up like a bottle of sriracha, embody the essence of a bottle of sriracha.
51. The Flower Child
She loves you, she loves you not. A scattering of daisies, black-eyed Susans, and buttercups drift across the bridge of the nose, while a yellow-rimmed cat-eye holds things down.
52. The Lady Leopard
Meow. One of the easiest looks in the batch: Smoke taupe eyes and plenty of leopard spots make a neutral canvas for fiery red lips.
53. The Metallic Medusa
Iridescent snake-scales and delicately placed gems and glitter create a strangely ethereal, endlessly appealing serpentine glow.
54. The Deer
Let's say you're Halloween agnostic, but always end up throwing on some kind of kitty cat costume last-minute. Here's your upgrade: A freckled little fawn.
55. The Plastic Surgery Doll
Add a simple, surgical twist to a glamorous look by sketching out pen markings along your face. To set it off, add a gauze as a head wrap, then head out looking like a doll ready her next cosmetic procedure.
56. The Butterfly Eyes
Here's a dreamy eye that won't take hours to achieve. Instead of opting for the last-minute cat eye and cat ear combo, switch things up with this dreamy exaggerated winged liner look reminiscent of a beautiful butterfly.
57. The Studded Skull Candy
Here's a cheat code: You won't need a costume with a look this stunning. Throw on an all black outfit and let your makeup skills shine through with a rhinestone studded skull candy look.
58. The Under-Eye Designer Bags
The only acceptable under-eye bags are designer bags, of course. Take this phrase up a notch by playing up your eyes with drawings of your favorite accessories.
59. The Wonder Woman Comic
If you really want to get creative, add 2D comic-book details to your 3D costume with pop-art lines, dots, and, of course, a hand-drawn tiara.
60. Lola from Sharktale
Transforming into Angelina Jolie for Halloween may be a bit of a challenge. But you can at least recreate her sultry and seductive Lionfish character from the animated film Shark Tale.
61. The Queen of Hearts
This spooky season, try channeling the larger than life Queen of Hearts character from Disney classic Alice and Wonderland. Go bold with your makeup by creating the Queen's signature blue monolid and red heart-shaped lip.
62. The Glam Scarecrow
Show up as a scarecrow, but don't forget to make it glam. Beautify your spooky look with a glitzy smoky eye, fluttery lashes and a carved-out brow.
63. The Devilish Diva
Warning! This smokin' hot red hot look may seduce instead of scaring off bystanders. The sparkly eye is what really sets this look off.
64. The Half-Glam, Half-Skeleton
This skeleton is so fierce. Go half-and-half with your creepy look with a glamorous and skull side.
65. The Ice Princess
Disclaimer: This look requires lots of body paint, but the results are dreamy. After your ice blue paint job is done, handcraft your own crown using Christmas ornaments and complete the makeup look with a silver wig.
66. The Spider Eye
The key to a memorable Halloween look is creativity and the use of illusions. Serve face while creeping everyone out at the same time with a 3D spider eye look like this.
67. The Pop-Art Character
Be your own work of art this halloween season by showing up to the party as a pop art character. Those glitter tears, though.
68. The Bronzed Corpse
Trust us, with this masterpiece everyone will be too shook by your amazing look to be creeped out. Or, even notice that you showed up as a chic corpse.
69. The Tall Glass of Rosé
Summer might be over by Halloween, but that doesn't mean you can't pour yourself a tall glass of Rosé, or simply remember the good times. Make everyone around you tipsy by being a bubbly glass of happy this Halloween.
70. The Spider Woman
If you also can't figure out if these spiders are actually crawling off of her face, you aren't alone. Freak everyone out this season with this badass beauty look that'll give onlookers the jitters.
71. The Fall Foliage
If fall is your favorite time of the year, try this nature-inspired look that represents the earth-tone leaves of the season.
72. The Lava Girl
Feeling like this is your hottest year yet? Same. Take your fierceness to the next level and literally embody lava by striking up your chest, neck, and face with a volcanic eruption that'll have everyone shook.
73. All the Likes
Forget about the validation of others and literally give yourself all the likes this year with red and white-painted hearts, crimson brows, and fire-red hair to match. You know what they say: self-love is the best love.
74. The Ice Cream Cone
If you want to drool over your damn self this halloween, please your sweet tooth by being your favorite dessert. Bright pink face makeup, sprinkles, and a glossy fuchsia lip will make you look like the most delectable ice cream cone.
75. Maleficent
You can make your favorite childhood movie villain, Maleficent, look super-chic with ultra-violet eyes, bold brows, iridescent highlighter, and berry lips.
76. The Wakanda Forever
The world will be transformed into a living, breathing Wakanda on Halloween night, thanks to the brilliance that was Black Panther. Recreate the vibes with white dots lining your forehead and eyes, along with a white stripe down the middle of your lip.
(Important side note: Before you attempt this look, please make sure that you're not a culturally appropriating jerk this Halloween.)
77. The Joker
Heath Ledger Joker will always be the one-and-only Joker in our hearts, but we're still feelin' this glamorized version of the villain with its bouffant-level wig and huge smoky eye.
78. The Hot Girl Summer
We fully support the Hot Girl Summer movement at Marie Claire, and if you haven't heard yet: it's a Hot Girl Year. This October, channel your inner-Hot Girl with flaming eyes and a fiery red lip.
79. The Candy Cane
Christmas is right around the corner, and even though you might not be able to eat a candy cane right now, you can surely pretend to be one. Deck-out your face with red-and-white makeup to get you in the holiday spirit.
80. The "I'm Tired of This Shit"
Because your voice most definitely hasn't been heard enough this year, please take this moment to emblazon the word "NO" across your face in protest of, well, pretty much all of 2020.
81. The Pennywise Inspired
We're still having nightmares from the one time we saw It, but that doesn't mean you can't put your own spin on the creepy clown trope with some smeared eyeliner and overdrawn lipstick.
82. The Raver
A sentient rainbow or a lost Burning Man attendee—you decide.
83. The Edward Scissorhands
Channel Hollywood's most lovable and most terrifying character with a tousled black wig, a belt choker, and some bleached (i.e. foundation-covered) eyebrows. To recreate the scars, try eyelash-gluing strips of rolled-up tissue all over your face before covering them with concealer and foundation.
84. The Pinocchio
Needed: a very steady hand for the drawn-on wood patterns and the décolletage details.
85. The Oompa Loompa
We're not sure what the highlight of this costume is—the green and yellow eyeshadow, the white eyebrows, or the tangerine skin? Regardless, make sure you have some good makeup-removing face wash on hand when the night ends.
86. The Unicorn
Just accept it: Unicorns will never not be a Halloween staple. Luckily, this lowkey look is way less heavy-handed than the usual glitter-soaked variety, making it perfect for beginners (or tipsy pre-gamers).
87. The Ink Blot
Like something straight out of American Horror Story (or your worst Rorschach test nightmare), this runny, inky, spotted look stays elevated with a white lace choker.
88. The Exxagerated Doll
Live your best fairy life with penciled-on freckles, ultra-long falsies, and an intense, full-face contour using only blush.
89. The Mermaid
Even though it feels like we've hit peak mermaid and unicorn everything, please feel free to indulge one more time with all of the sparkles and glitter in the world. I mean, it looks damn pretty, amirite?
90. The Bowie
Because, let's be honest, our fascination with Ziggy Stardust-era Bowie will never die.
91. The Mad Hatter
Bold orange hair, brilliant white lashes, and a matte red lip are your keys to re-creating Johnny Depp's iconic Mad Hatter. Try contouring with violet blush for a ghastlier take on the Alice and Wonderland character.
92. The Pop-Art Marilyn
Forget her looks from The Seven Year Itch or Gentlemen Prefer Blondes—if you're going to portray Marilyn Monroe this year, take a graphic, pop-art approach instead. Just don't forget the iconic red lips, okay?
93. The Unattainable Woman
Halloween is the one time of year to really show how you feel inside, right? (Ideally, this would be every day of the year, but hey.) And this look is less costume and more political statement, using the misogynistic labels often thrust upon women in society.
94. The Contour Craze
If you, too, are wondering if society has reached peak contour yet, try asking the world with this exaggerated take on the look. (The answer: Probably not.)
95. The #LoveisLove
Every single day should be a celebration of equal rights, but feel free to show your full support of free love on Halloween with this watercolor rainbow look.
96. The Oil Slick
Please name one thing that's cooler than this neon, oil-slicked rainbow face? Exactly nothing (but it's okay—you tried). Give the look a realistic feel by fading the hues into your hairline with temporary hair paint.
97. The AHS Mattress Lady
If you're an American Horror Story mega-fan, please get inspired by this intricate mattress-lady costume that is fully terrifying and unattainable by anyone outside of a special FX makeup team.
98. The Skull Face
Two things that will never go out of style: a little black dress and some skull makeup. If you're out for scares, throw on your LBD and paint on this hyper-realistic skull.
99. The Sailor Moon
Sailor Moon shall live inside all of us forever. Honor your childhood love with this take on the youngest Ayakashi sister, painting on a crescent moon, magenta eyeliner, and a gothy plum lip.
100. The Human Mosiac
If you're not exactly a makeup whiz, try piecing together a mosaic neckpiece made from magazine cut-outs. Pair it with a deep lip, a thick cat-eye, and a rich contour for a ridiculously pretty Halloween look.
Marie Claire email subscribers get intel on fashion and beauty trends, hot-off-the-press celebrity news, and more. Sign up here.
Hannah Morrill is a writer and editor based in Portland, Maine. She's an avid reader, an indifferent face-washer and a sunscreen/retinol evangelist.