Editors handpick every product that we feature. We may earn commission from the links on this page.
27 Classic Halloween Movies That'll Give You a Real Fright
Get ready to sleep with the lights on.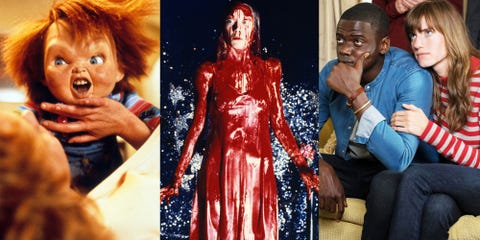 Halloween is perhaps the only time of year when watching someone get stabbed in the back is considered top-tier entertainment. (I'm convinced the "H" in Halloween stands for horror.) Masked figures? Bring them on. Haunted houses? Prime real estate. Dolls that come alive in the night? Already on my wish list. Women doing some serious witchcraft? Icons in my eyes. It's safe to say a scary movie and October 31 go together—like a scary PB&J. (If you're in the mood for something more family-friendly, check out our list of Halloween films that aren't too scary.)
There are tons and tons of horror flicks to choose from, but where do you begin this Halloween? With the classics, duh. They're the OGs, the ones that started all the trends. Whether it's little kids haunted by demonic spirits to stories of what goes bump in the night, these films have paved the way for the next generation of spooky storytellers.
Perhaps you're planning on staying in with friends this All Hallow's Eve and need a movie rec or you're looking for some seriously creepy makeup inspo. Maybe you need some costume inspiration—that's not a cat—this year or you just want to be scared by something that isn't your Twitter timeline. Then you've hit the jackpot with this list, my friend. Get ready to sleep with one eye open.
This content is created and maintained by a third party, and imported onto this page to help users provide their email addresses. You may be able to find more information about this and similar content at piano.io