35 Classic Halloween Movies That'll Give You a Real Fright
Get ready to sleep with the lights on.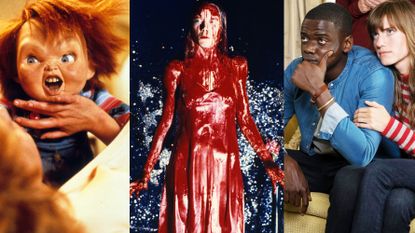 (Image credit: Getty/Universal)
Halloween is perhaps the only time of year when watching someone get stabbed in the back is considered top-tier entertainment. (I'm convinced the "H" in Halloween stands for horror.) Masked figures? Bring them on. Haunted houses? Prime real estate. Dolls that come alive in the night? Already on my wish list. Women doing some serious witchcraft? Icons in my eyes. It's safe to say a scary movie and October 31 go together—like a scary PB&J. (If you're in the mood for something more family-friendly, check out our list of Halloween films that aren't too scary.)
There are tons and tons of horror flicks to choose from, but where do you begin this Halloween? With the classics, duh. They're the OGs, the ones that started all the trends. Whether it's little kids haunted by demonic spirits to stories of what goes bump in the night, these films have paved the way for the next generation of spooky storytellers.
Perhaps you're planning on staying in with friends this All Hallow's Eve and need a movie rec or you're looking for some seriously creepy makeup inspo. Maybe you need some costume inspiration—that's not a cat—this year or you just want to be scared by something that isn't your newsfeed. Then you've hit the jackpot with this list, my friend. Get ready to sleep with one eye open.
'Scream' (1996)
In a small California town lives Sidney Prescott (Neve Campbell). Just a year ago, the teenager lost her mother in a tragic murder. As she attempts to pick up her life, she and her friends soon become the target of a crazed serial killer.
'Beetlejuice' (1988)
Meet Adam and Barbara. They're just like any normal couple, except they're dead. When a very-much-alive family plans to move into their house, they seek help from Beetlejuice, a malicious spirit who ends up causing more harm than good.
'Halloween' (1978)
A Halloween movie list is incomplete without this classic. On October 31, 1963, 6-year-old Michael Myers murdered his sister. Fifteen years later, he's escaped his mental hospital, trying to finish what he started more than a decade prior.
Ghostbusters (1984)
New York suddenly becomes raided by tons of ghosts. It's up to three spirit exterminators to save the city from mean spirits, a possessed woman, and a really gigantic Stay Puft Marshmallow Man.
'Carrie' (1976)
Carrie White (Sissy Spacek) is an outcast. She doesn't fit in at school, and at home she's sheltered beyond belief by her crazy religious mother. When she finally has a moment of happiness, it's ruined by her classmates...and Carrie is left wanting revenge.
'Hocus Pocus' (1993)
A fan favorite for a million and one reasons! Three witch sisters, who died in 17th century Salem, are awakened by a teenage boy and are ready to do some serious damage. It's up to the boy, his friends, and a 300-year-old black cat to save the day.
'The Exorcist' (1973)
Two Washington D.C. priests are called on by a famous actress. When there, they find her 12-year-old daughter possessed by a seriously mean demon and have no other choice but to get it out. The suspense will eat you alive.
'The Addams Family' (1991)
Who said all Halloween movies had to be scary? The Addams Family is a dark comedy about an abnormal family who tries to bring back the dead after their uncle, who was missing for 25 years, suddenly arrives on their doorstep.
'Child's Play' (1988)
A single mother gives her young son the doll he's been wanting for ages, but playtime takes a bloody turn when the family realizes the doll is possessed by the soul of a serial killer.
'Rocky Horror Picture Show' (1975)
This cult musical details the bizarre events one conservative married couple faces while spending a night at the creepy isolated castle of Dr. Frank-n-Furter.
'The Blair Witch Project' (1999)
Found footage shows how three film students vanished after they traveled into a Maryland forest in an attempt to document the truth about the infamous Blair Witch.
'The Craft' (1996)
Outcasts at their high school, four friends decide to embrace witchcraft in hopes of turning their popularity around. As they cast spells on their classmates, they soon realize that their dark magic comes at a price.
Paranormal Activity (2007)
After moving into their new home a couple starts to experience some seriously supernatural things. To make sure they aren't crazy, they set up hidden cameras around the house, discovering they aren't exactly alone.
'Practical Magic' (1998)
If you're looking for more of a lighthearted flick, Practical Magic has you covered. Two witch sisters, played by Sandra Bullock and Nicole Kidman, are stuck with a terrible curse that makes long-term relationships impossible. Will they be the generation that breaks the curse?
'The Conjuring' (2013)
Based on a true story, The Conjuring tells the tale of paranormal investigators Ed and Lorraine Warren and an evil house call they have to make. The film later went on to inspire the Annabelle franchise.
The Sixth Sense (1999)
Child psychologist Dr. Malcolm Crowe (Bruce Willis) thinks he can crack anything. But when an ex-patient comes to see him in rage, claiming he never helped him, he falters. Believing he can reverse his luck, Dr. Crowe takes on a patient who has similar qualities to the one he couldn't help before. Only this time, the doctor wants to set things right.
'The Nightmare Before Christmas' (1993)
Whether you call it a Halloween movie or a Christmas classic, it works. The animated film is about the King of Halloween Town, Jack Skellington, discovering the wonders of Christmas Town. (I'm still scared of the Boogeyman, TBH.)
'Hereditary' (2018)
Each member of a family that's going through the loss of a loved one deals with the subject of grief differently. You just wouldn't expect some members to go the supernatural route. Get ready to have your mind blown.
'Sleepy Hollow' (1999)
Constable Ichabod Crane (Johnny Depp) from New York is sent to a small town to investigate the mysterious decapitations of three people, only to find the culprit is none other than the legendary, Headless Horseman.
'The Silence of the Lambs' (1991)
This winner of five Academy Awards, including Best Picture, is a must-see. Anthony Hopkins's portrayal of a manipulative cannibal serial killer who helps an FBI Cadet catch another serial killer will give you major goosebumps.
The Shining (1980)
A family heads to an isolated ski resort to watch over the property, but not without a warning of the resort's previous scary incidents. Husband, Jack Torrance (Jack Nicholson), says they'll be fine but soon finds himself heading off the deep end, becoming a person his loved ones don't recognize.
Psycho (1960)
On the run after embezzling a good chunk of change from her boss, Lila Crane is looking for a place to stay. Luckily for her, she finds the Bates Motel. Unfortunately for Lila, her luck is about to run out.
A Nightmare on Elm Street (1984)
You may end up pulling an all-nighter after watching this '80s classic that tells the story of a terrifying spirit who seeks revenge on teenagers when they're at their most vulnerable: asleep. Also, give it up for young Johnny Depp in a crop top.
'Coraline' (2009)
An 11-year-old girl discovers her new house has a hidden door leading to her dream world...but it'll come at a price. Kid movie or not, Coraline isn't the usual stop-motion film; it's waaaay better.
'Get Out' (2017)
A meet-the-parents weekend visit doesn't turn out to be what it seems as Chris (Daniel Kaluuya) realizes his girlfriend's parents are more sinister than sweet. This mind-bending flick earned Jordan Peele an Oscar for Best Original Screenplay.
'Jeepers Creepers' (2001)
While driving back from spring break, two siblings see a random man throwing wrapped objects down a sewer tunnel. Concerned from what they saw, the pair set out to see what lies at the bottom. But their curiosity puts them in some serious danger.
Friday the 13th (1980)
The beginning of this iconic slasher franchise will kill any fond memories of summer camp. In it, a group of teenage camp counselors struggle to survive against a masked assailant.
Halloween (2018)
Forty years after the original, the Halloween franchise brought Laurie Strode back with a reboot continuing from the events of the 1978 movie. Michael Myers escapes from his psychiatric institution and sets out to finish what he started. Only this time, Laurie's ready for him.
The Witches (1990)
A young boy on vacation with his grandmother encounters a convention of children-hating witches, who plan to turn the world's kids into mice. (Come for the premise, stay for Anjelica Houston being fabulous).
Halloweentown (1998)
Watching Halloweentown and its many sequels was a rite of passage for a generation of Disney Channel kids. Marine's everyday life is interrupted on Halloween when her grandmother Aggie—who's secretly a witch—comes to visit.
Us (2019)
If you love Get Out, make sure to watch Jordan Peele's just-as-spooky follow-up. A family beach vacation is interrupted by a murderous group of doppelgängers who call themselves "the tethered."
A Quiet Place (2018)
In the near future, a family of four struggle to survive and avoid alien creatures that hunt by sound. Though they've outlasted the end of civilization, they face a new threat when Evelyn (Emily Blunt) becomes pregnant.
The Cabin in the Woods (2012)
You've heard the story before: A group of college students partying at a cabin in the woods fall victim to killers or monsters. The Cabin in the Woods turns classic horror tropes on their heads, with a group of mysterious technicians manipulating the horror from afar.
Night of the Living Dead (1968)
See the classic flick that influenced countless horror films and introduced the modern zombie. A group of strangers trapped in a Pennsylvania farmhouse must defend themselves from reanimated corpses who feed on human flesh.
Rosemary's Baby (1968)
Rosemary (Mia Farrow) is delighted to discover that she's pregnant soon after moving into a New York apartment with her actor husband. However, she eventually begins to suspect that he and her odd neighbors have sinister plans for her unborn child.
Celebrity news, beauty, fashion advice, and fascinating features, delivered straight to your inbox!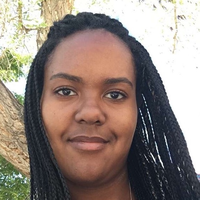 Contributing Culture Editor
Quinci LeGardye is a Contributing Culture Editor who covers TV, movies, Korean entertainment, books, and pop culture. When she isn't writing or checking Twitter, she's probably watching the latest K-drama or giving a concert performance in her car.