The 2020 Halloween Costume Trends You're Going to See Everywhere
Show off your costume via FaceTime or Zoom.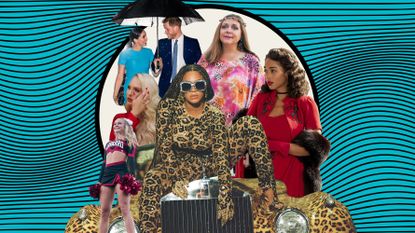 (Image credit: Design by Morgan McMullen)
Halloween will look a bit different this year, due to the COVID-19 pandemic. Though the majority of us won't be throwing big parties, if you're hoping to still celebrate October 31, there are ways to make Halloween feel festive in 2020. Dressing up, for one, is an easy way to channel your Halloween spirit, whether you're hosting a virtual costume contest over Zoom or showing off your homemade spooky cocktails over FaceTime. (We recommend making these drinks even when it isn't Halloween.)
You can dress up in the comfort of your own home and not leave the house at all, if you so choose. Unless you're on trick-or-treat duty, slip on your face mask (perhaps it is part of your costume already?) and properly social distance. Ahead, our predictions on the trendiest Halloween costumes to wear for 2020—all of which you can DIY yourself, no matter how you choose to spend the night.
Hilary Swank in Away
The best way to describe the first episode of Away is intense; it also made me realize I can never be an astronaut IRL (it's difficult to even become one!). For those who feel the same, you can tap into your inner space nerd or astronomy prowess in costume form for Halloween. Luckily you can snag a spacesuit from Amazon and all the accompanying attire, so this makes for a great last-minute costume too. Plus, it's super timely given the popularity of this show. BRB, I'm going to watch the last few episodes.
Leslie Jones in Supermarket Sweep
I admit, when I first watched a preview for this show, I was intrigued and wanted to know how I can participate. (Fun fact: The original Supermarket Sweep aired in 1965!). Leslie Jones is the host of the 2020 version, and this outfit is easy to replicate and iconic if you're into variety shows. The premise is this: There are three teams of two who have to run through a supermarket in search of specific products and go on one big shopping trip. The team that accumulates the biggest shopping bill at the end wins and gets the chance to win $100,000.
Ratched
Sarah Paulson fans have to watch her latest show on Netflix in which she plays an asylum nurse named Mildred Ratched. Spoiler alert: her character is up to no good. The thriller is based off a character of the same name from Ken Kesey's 1962 novel One Flew Over the Cuckoo's Nest and was created by Evan Romansky and developed by Ryan Murphy. On Oct. 31, tap into your more sinister side and slip into a nurse costume or a '50s style gown. We won't reveal what this scene with Cynthia Nixon is about—you'll just have to watch the show yourself.
Schitt's Creek
You may have found yourself inspired to dress up as one of your favorite characters from Schitt's Creek for Halloween, especially after the cast swept the comedy awards at the Emmys. My pick is the always animated Moira Rose, of course, because her outfits are truly worthy of replicating. On the flip side, you could channel Dan Levy's energy at the Emmys when he wore a Dior single-breasted suit complete with a skirt. Now that's a look.
The Marvelous Mrs. Maisel
Though the show has been on for several seasons now, it's still worth mentioning as a top contender for those who are seeking for cool Halloween costumes. This show will appeal to those who yearn for the '50s and '60s fashion. One of our favorite looks is when Rachel Brosnahan's character, Miriam "Midge" Maisel, dresses up in this classic black dress with bows on the shoulders and a double strand of pearls. A swipe of red lipstick pulls the entire look together.
Enola Holmes
Remember when it seemed like the entire world dressed up as Eleven from Stranger Things? Now Millie Bobby Brown is in a new role as Enola Holmes, and you'll want to check out some of her victorian-inspired outfits from the Netflix show. The series is based on the first book of the same name by Nancy Springer and follows the life of Sherlock Holmes' teenager sister Enola who is searching for her missing mother. Leave the waffles in the fridge and pick up a bow and arrow instead as the accessory piece to your outfit.
Tiger King's Carole Baskin
Netflix's Tiger King gave us plenty of fodder to talk about while being quarantined for the first few months. The show inspired memes, TikTok dances, and even a song about the drama surrounding Carole Baskin and her missing husband. As much as we were captivated by the show's petty drama, what was more intriguing (or in my case, mind boggling) was the fashion. I will never be able to erase Baskin's flower crown and pink animal? floral? shirt out of mind. With Nicholas Cage set to play Baskin's arch nemesis Joe Exotic in a scripted series, the fervor Tiger King unleashed will live on.
Mia From Little Fires Everywhere
Channel Mia's artsy side from Little Fires Everywhere. Kerry Washington's character always dressed casual and low-key compared to her counterpart Elena (played by Reese Witherspoon). You likely have most of Mia's pieces hanging in your closet, from her printed boho pants to a black rib tank and a bandana. Washington has earned an Emmy nomination for lead actress in this role, so if you're a fan of the actress, dressing up as Mia is not even a question this season, whether you're hosting a Halloween gathering or not.
Navarro Cheer Team
Who else had sweaty palms and shed some tears while binge-watching Cheer? The Navarro cheerleading team kept us throughly entertained during quarantine and we fell in love with everyone on the show. In fact, who isn't following Monica on Instagram and watching her on Dancing With the Stars? To show your appreciation for the team and convince Netflix it definitely deserves a second season, dress up as your favorite Navarro cheer member on Oct. 31. No back handspring or round-off movements required.
Beyoncé's Looks In Black Is King
During this time of social and political unrest, Beyoncé shared her commentary through her visual album titled Black Is King, which reimagines the story of The Lion King through human characters. (If you recall, Bey starred in the live-action remake as the voice of Nala.) The visual album celebrates Black culture and its people, and features those close to Bey's life from her children to mother. The style is not to be missed in the 90-minute long film—the artist wore over 60 looks, ranging from designers like Balmain to Givenchy. Stans will want to recreate some of Bey's looks for Halloween, like this cheetah print ensemble. Though hers was custom created by Valentino and took 10 people over 300 hundred hours to create, you can use it as inspiration for your own look.
Netflix's Hollywood
Ryan Murphy's Hollywood takes place in the 1940s and follows a cast of diverse dreamers trying to make it big in Los Angeles. The group attempts to create a film with a Black lead and screenwriter at a time when this idea wasn't easily accepted by Hollywood. Set in the '40s, the golden age of Tinseltown, the fashion plays a large role in the show, and cast members were decked out in glamorous period pieces. Costume designers Sarah Evelyn and Lou Eyrich lead the charge on creating a story within a story through clothes, with many of the costumes being custom made. Ready to turn back time? Copy Laura Harrier's outfit, below.
Cardigan From Taylor Swift's folklore
Fans of Taylor Swift will want to channel the singer's energy and re-create some looks from her newest album folklore. The most obvious outfit choice is her white dress and cardigan look in the song "Cardigan," which was not only the first single off the album but also the first music video. The singer made it easy for us to copy her style, since she sells the exact cardigan she wore in the music video online (and it's not yet sold out!). Swift makes the case for having a chunky knit in your closet for fall, as the cardigan can be re-worn after Oct. 31 with your everyday looks.
Yoon Se-Ri From Crash Landing on You
If you haven't seen Crash Landing on You, please do yourself a favor and watch it this weekend. The show was one of South Korea's most popular series in 2020 and features two beautiful Hallyu stars—Hyun Bin and Son Ye-Jin—as the main characters/lovers. K-dramas are known for dressing their characters in expensive designer clothing, so you'll spot Son Ye-Jin's alter ego Yoon Se-Ri in pieces from the likes of Bottega Veneta, Dolce & Gabbana, Off-White, Chanel, and Gentle Monster. Grab your SO and have him dress as Captain Ri while you deck yourself out in similar items spotted on Se-Ri.
Normal People
Try to rope your partner into dressing as Connell while you channel your inner Marianne from Normal People. The Sally Rooney novel-turned-show explores themes such as perception, status, love, and identity mainly through the two characters. The no-frills costumes on the show (the characters are still in school, after all) were put together by costume designer Lorna Mugan, with most pieces being sourced in Ireland or from online. All the outfits felt natural, like something you'd wear IRL. If you're wondering how obsessed people are with the style in the show—there's an Instagram account dedicated to Connell's chain necklace.
Meghan Markle and Prince Harry's Rain Moment
This photo of Meghan and Harry is so beautiful, I want to frame it. The duo had attended the Endeavour Fund Awards back in March after a brief hiatus from their royal duties and this was one of the final events they'd carry out as royals. (The two are currently living on the West Coast and no longer active royals.) Aside from that significance, everything Meghan wears is tracked and dissected by the media and her fans, so dressing up as her, if you're a true stan, on Oct. 31 is a no-brainer.
Christine From Selling Sunset
Addicted to Selling Sunset and spent the last hour reading up on Chrishell Stause's divorce drama? Same. Though there's no wrong answer to which lady you should dress up as for Halloween, Christine immediately stands out because of her bold, in-your-face-and-not-sorry-about-it fashion sense. Channel her real estate boss lady attitude in all red, below, and don't forget about copying her signature platinum blonde ponytail. As Christine once said, "Every time I have a high ponytail, I always feel like I'm ready to stir up some shit, like I'm ready for the day."
Marina Liao is the former fashion news editor at MarieClaire.com, where she covered celebrity style (from Meghan Markle to Katie Holmes), fashion trends, and shopping advice, plus conducted original interviews with industry insiders. She's also had many opportunities to write content in other areas such as beauty, food, tech, and even home. Her previous fashion stints include POPSUGAR and Cosmopolitan.