The 2020 Halloween Costume Trends You're Going to See Everywhere
Show off your costume via FaceTime or Zoom.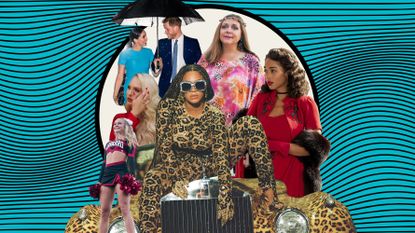 (Image credit: Design by Morgan McMullen)
Halloween will look a bit different this year, due to the COVID-19 pandemic. Though the majority of us won't be throwing big parties, if you're hoping to still celebrate October 31, there are ways to make Halloween feel festive in 2020. Dressing up, for one, is an easy way to channel your Halloween spirit, whether you're hosting a virtual costume contest over Zoom or showing off your homemade spooky cocktails over FaceTime. (We recommend making these drinks even when it isn't Halloween.)
You can dress up in the comfort of your own home and not leave the house at all, if you so choose. Unless you're on trick-or-treat duty, slip on your face mask (perhaps it is part of your costume already?) and properly social distance. Ahead, our predictions on the trendiest Halloween costumes to wear for 2020—all of which you can DIY yourself, no matter how you choose to spend the night.
Hilary Swank in Away
The best way to describe the first episode of Away is intense; it also made me realize I can never be an astronaut IRL (it's difficult to even become one!). For those who feel the same, you can tap into your inner space nerd or astronomy prowess in costume form for Halloween. Luckily you can snag a spacesuit from Amazon and all the accompanying attire, so this makes for a great last-minute costume too. Plus, it's super timely given the popularity of this show. BRB, I'm going to watch the last few episodes.
Leslie Jones in Supermarket Sweep
I admit, when I first watched a preview for this show, I was intrigued and wanted to know how I can participate. (Fun fact: The original Supermarket Sweep aired in 1965!). Leslie Jones is the host of the 2020 version, and this outfit is easy to replicate and iconic if you're into variety shows. The premise is this: There are three teams of two who have to run through a supermarket in search of specific products and go on one big shopping trip. The team that accumulates the biggest shopping bill at the end wins and gets the chance to win $100,000.
Ratched
Sarah Paulson fans have to watch her latest show on Netflix in which she plays an asylum nurse named Mildred Ratched. Spoiler alert: her character is up to no good. The thriller is based off a character of the same name from Ken Kesey's 1962 novel One Flew Over the Cuckoo's Nest and was created by Evan Romansky and developed by Ryan Murphy. On Oct. 31, tap into your more sinister side and slip into a nurse costume or a '50s style gown. We won't reveal what this scene with Cynthia Nixon is about—you'll just have to watch the show yourself.
Schitt's Creek
You may have found yourself inspired to dress up as one of your favorite characters from Schitt's Creek for Halloween, especially after the cast swept the comedy awards at the Emmys. My pick is the always animated Moira Rose, of course, because her outfits are truly worthy of replicating. On the flip side, you could channel Dan Levy's energy at the Emmys when he wore a Dior single-breasted suit complete with a skirt. Now that's a look.
The Marvelous Mrs. Maisel
Though the show has been on for several seasons now, it's still worth mentioning as a top contender for those who are seeking for cool Halloween costumes. This show will appeal to those who yearn for the '50s and '60s fashion. One of our favorite looks is when Rachel Brosnahan's character, Miriam "Midge" Maisel, dresses up in this classic black dress with bows on the shoulders and a double strand of pearls. A swipe of red lipstick pulls the entire look together.