The Actor's Actor: Jennifer Connelly
With Blood Diamond, the latest in a long line of harrowing movies, Jennifer Connelly proves she isn't afraid of the dark.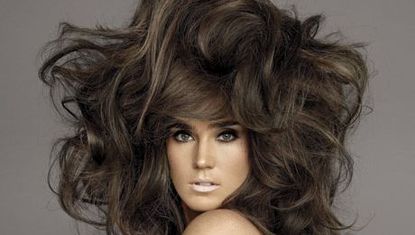 (Image credit: Ruven Afanador)
"Are you listening to this? The world's falling apart, and all we hear about is Blowjobgate." That's Jennifer Connelly, not the beautiful and seemingly demure woman sipping tea with skim milk across from me, but as Maddy Bowen, a journalist in this month's Blood Diamond, about the illegal gem trade. She delivers that zinger with admirable verve the very first time she encounters Leonardo DiCaprio as a smooth-talking smuggler in war-ravaged Sierra Leone.
Connelly didn't think twice about taking the part. "Maddy is a great character," she says. "She's about as fiery and feisty as they come. She has a passion for life, drinks her minibar, flirts a lot. But she's striving to do some thing good — she's sort of frustrated by herself and her limitations. She wants to be a toughie, but she's not."
At first glance Connelly, elegant but dressed down in tight jeans and a sweater, seems to have little in common with tousled, tell-it-like-it-is, in-your-face Maddy. Here she is, once again gracing the screen with messy hair, no makeup, and zero wardrobe, and still looking like a total babe.
Despite her almost prim style off-screen, Connelly clearly likes getting down and dirty in her film roles. Think of the dissipated junkie who performs raunchy sex acts for a fix in Requiem for a Dream, the homeless loser in House of Sand and Fog, or the despairing divorcee in Dark Water — in which, frequently drenched, she competes for screen time with torrents of murky water. (At least the recent Little Children, in which she plays a workaholic filmmaker with a straying, stay-at-home husband, takes some advantage of her ravishing looks). OK, so Connelly's not going the Monster route la Charlize Theron, but what is this penchant for grit when she could be glamming it up?
Blood Diamond director Ed Zwick says he never considered anyone else for the part. "Jennifer has a fierce intelligence, and she also has great lightness and buoyancy, not all of which I'd seen in some of her other parts," he says. "The camera can always tell whether someone knows what they are saying in its deepest meanings, and she inhabits the lines. In addition to which, I wanted someone who could give Leo a run for his money, who was confident and would not be overawed and would help him raise the level of his game. There are any number of actors who are perfectly talented who wouldn't have had that effect on him. He sensed that from the beginning, and I saw him sit up straighter in his chair."
Shunning the Limelight
Beneath her polite veneer, Connelly displays a disarming lack of pretense. Hollywood primps and perks are not her thing. She may be a movie star, but she once trekked through Tibet for three weeks without a shower and would rather be jogging around a neighborhood park (a daily ritual) than sitting in Manhattan's posh Soho House talking about herself. She spent her days off from Blood Diamond, which was shot mostly in Mozambique, at a local orphanage. But unlike some celebrities, whose appearances at African orphanages make tabloid headlines, this one didn't seek a single word of press. In fact, she doesn't bring up the subject at all; it's Zwick who mentions it.
Connelly's slightly stern face — with those jet-black eyebrows — visibly melts when I ask her about the children she spent time with. "I went with Judy, a makeup artist I've done a few films with, one evening when they were getting ready to put the kids to bed," she says. "There were maybe 40 or 50 kids in one room, and there were just, like, little gym mats on the floor with nothing over them, and a whole row of babies ranging from newborns to 3-year-olds. One of them was premature, and they were just lying there crying. It was horrendous. So we started doing as much as we could, but it was difficult."
She pauses. "We had a party for them, and we brought them school supplies and stuff, and we started to feel close to some of these kids after that period of time, and I thought, Is it actually sort of selfish of me? Is it self-serving to go and feel like I'm doing something good for a month, two months, and then be just another person who disappoints them and leaves?"
Connelly is surprisingly underwhelming in person. If anything, she seems intensely down-to-earth — "the girl next door," as Walter Salles, who directed her in Dark Water, puts it. Today she is wearing little or no makeup or jewelry, and that shiny mane is pulled back into a bun. Certainly she is strikingly pretty — Shoreh Aghdashloo, her costar in House of Sand and Fog, describes her as looking like a Persian miniature — but there is nothing about her initially to elicit a "wow."
And that's exactly how Connelly wants it. She doesn't aspire to fame or its trappings — a Beverly Hills mansion just isn't her style. Instead, she lives in a Brooklyn brownstone with her husband, Paul Bettany, a well-known but unostentatious actor, and sons Stellan, 3, and Kai, 9 (the latter with photographer David Dugan). Connelly seems to have little interest in even the most glamorous celebrity rites of passage. Indeed, when the camera panned to her after she'd picked up an Oscar for her work in A Beautiful Mind, she looked as bored and restless as a 6-year-old at a black-tie dinner.
"I was in such a fog," she admits. "It was just such a big whirlwind of traveling and press. I've worked for a long time, and before that movie, this wasn't the kind of thing that I did. I didn't get invited to awards shows. So it was really a whole different world for me. I was just stunned by the whole experience."
Says Ron Howard, who directed her in A Beautiful Mind, "With Jennifer, there's a sense of a person who's not a joiner, who follows her own path. It's not aloofness — that implies a kind of disdain, which I don't think she has. It's sort of a singular perspective on the world."
An introvert in an extrovert's profession, Connelly has spent 26 years in the camera's doting eye while simultaneously trying to shun the limelight. She claims to be unaware of her reputation for being reserved, but she readily admits she's a perfectionist. "I guess what comes across is that I take my work really seriously. It's good that my jobs come in few-month intervals, because when I'm working, I can't put it down — I'm thinking about it all the time, and I'm sort of a nitpicker in that way." Or as her agent, Risa Shapiro, puts it, "Jennifer is in fierce competition with herself."
But the suggestion that she can at times be a bit severe evokes an unusually hearty chortle for such a slender woman. "When I'm just home with family and friends, I think I am a lot less solemn and contained than I get pegged. My kids don't take me that seriously. But I'm not saying that I'm not compulsive and I won't be found tidying up the house at two in the morning, because I have been known to do such weird things."