Exclusive Sneak Peek: Marie Claire April Cover Star Kerry Washington
What if you could hang with Kerry Washington, the star of hit show Scandal, and ask her to hook you up with advice from killing it on the red carpet to dealing with public backlash (hint: Twitter's block button is your friend)? Girls creator Lena Dunham did just that.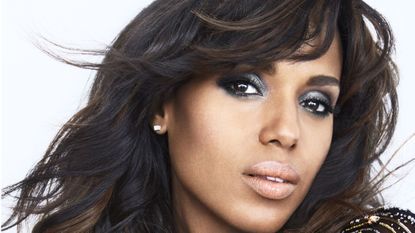 (Image credit: TESH)
It's no scandalous secret: I worship Kerry Washington. It's no secret I am an obsessive Scandal fan (and an early adopter to boot), but I am also an obsessive fan of Kerry the woman. From her passion for politics to her playful yet thoroughly on-point red-carpet fashion, from her ability to maintain a very private life to the way she has redefined identity and visibility for so many women—she is my ideal gal.
If I believed in the term girl crush, I would use it on her, and if I needed advice on how to stay classy, strong, and honest in the public eye, she is who I would consult. And now I got that chance. I decided to forgo a traditional profile structure and simply ask Kerry the questions I have long craved answers to. Not only did she respond with kindness and candor, she actually brought me a gift (chocolate and a candle that smelled like alpine heaven), proving that she is, in fact, the 24-hour woman. (I have never showed up with a gift, unless you count an empty Dr. Pepper bottle to recycle.) I hope her humor, wisdom, and chic-attack style can rub off on me. I hope I asked the right questions, so we can all benefit from Kerry's magic.
Here, highlights from our conversation:
Kerry Washington on privacy: "Earlier in my career I was much more super-sharey. There were moments when I wanted to process things that were happening to me more privately, and I didn't have the space to do it, because once you let people in, they're in and you don't get to say, 'Oh, I want this for myself.'"
On collaborating with Scandal creator Shonda Rhimes: "I'm very respectful of Shonda's vision of who Olivia [Pope] is, but she has said that she is informed by the choices I make. If we were waltzing, she's definitely leading. And she picked the song, and she probably dressed us, but it is a waltz."
On fashion: "I just put myself in a boot camp of figuring it out—and realized that I really loved it. I guess because I came to it later in life, I realized, 'Oh, going to a fashion show is like going to the opening of Degas at the Met or going to see Swan Lake.'"
On growing up: "I didn't grow up thinking I was pretty; there was always a prettier girl than me. So I learned to be smart and tried to be funny and develop the inside of me, because I felt like that's what I had."
On family: "I just want [daughter Isabelle] to know that she's heard. Really heard, because I feel like that is what we all really want. When I think about any of the missteps in my life that I've made, all of which I'm grateful for, it's because I just so wanted to be truly seen and heard for who I am and was afraid I wasn't or wouldn't be. I see you, I hear you, I'm with you as you are."
On Olivia Pope: "I don't think I consciously say, 'What would Olivia Pope do?' but there's a new thread of belief in my own capacity that I think comes from her. She makes it happen. She figures it out. She fixes it."
Read the full conversation between Kerry and Lena in the April issue of Marie Claire, on newsstands March 24. And check out Lena's guest starring role on Scandal on March 19!
Need more to hold you over? Go behind the scenes of our cover shoot right here:
Celebrity news, beauty, fashion advice, and fascinating features, delivered straight to your inbox!