Self-Proclaimed "Very, Very Short" Person Sarah Jessica Parker Has a Secret for Looking Tall in Jeans
A PSA for petite girls everywhere.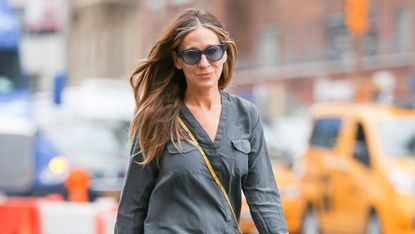 (Image credit: Getty Images)
Sarah Jessica Parker has a trademark tactic for lengthening her legs in jeans, and it's one that she's employed for years.
Understanding the struggle of being "very, very short," the five-foot-three-inch-tall Parker has mastered the art of making herself look and feel her most model-esque—particularly when styling denim. And now she's finally revealed her secret.
"I've been doing cuffing for a long time," she tells People. "I feel like I'm taller when I cuff my jeans and it makes me look taller, because I get a little bit more leg-action."
Below, her signature fashion trick displayed in an array of chic street style:
"And I'm like 'See? I've got a little bit more skin there.' It's like a weird thing. It's nonsense and it's ridiculous, but it's just how I feel," she adds, before admitting, "But also I'm very, very short. And it's a little bit of a psychological thing."
Hey, whatever works!