Karlie Kloss Was Bullied in High School for Being a "Weird Tall Alien"
"My peers didn't read Vogue or care about fashion."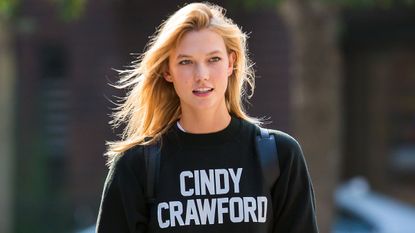 (Image credit: Getty Images)
Update, 9/19: It's hard to imagine that Karlie Kloss (the girl who walked in 64 runway shows before her 16th birthday) wasn't the girl everyone else wanted to be during her high school days. But she wasn't, and she's here to explain.
"There was a lot of material for kids at home to tease me about," the Missouri native explained to the Sunday Times.
While catwalking through New York, Paris, and Milan may sound like a teenage dream, the model reveals achieving super status didn't make her any more popular with her classmates. In fact, it had the opposite effect.
"I'd go back to high school from Paris with bleached brows —my peers didn't read Vogue or care about fashion; they would think, 'weird tall alien'," the 6-foot-1 stunner said.
Now, at 23 years old, Kloss has given her former bullies better understanding of what bleached brows can lead to. In her case, that's been countless magazine covers, major campaigns (Chanel, Victoria's Secret, L'Oreal, just to name a few) and even a place in T. Swift's world-famous girl squad.
If that's what being a "weird tall alien" is all about, who wants to be an earthling?
Original story, 9/5: Karlie Kloss is pretty much all the #LifeGoals inspo you'll ever need. At just 23 years old, she's one of the most sought after faces in the fashion industry, she heads up her own scholarship program for young women called "Kode With Karlie" and she's even secured a spot in Taylor Swift's enviable "Bad Blood" squad. This is a girl who's got it *all.*
So her self-esteem must be through the roof, right? Well, not exactly. The supermodel admits confidence hasn't always been her forte.
"As a kid, I was really tall and skinny and awkward and gangly—and I wasn't confident," she reveals in a new video on her YouTube channel Klossy. "I've always been very open with my friends and family, but when it came to getting in front of a crowd, I always used to be very self-conscious and shy. I would go into a shell and just be very quiet."
Below, photographic evidence of those "awkward" times—although we think the term adorkable is much more suiting:
Since then, Kloss has conquered her fears and transformed herself from a timid teen to a fashion week favorite. For that, she credits her background in ballet.
"One of the first ballet recitals that I danced in pointe shoes, I was so nervous. I didn't want to let [my family] down. I didn't want to let myself down!" she says. "I learned to cope [by taking] that anxiety—that adrenaline—and [pouring] it into something productive. What can you do to best prepare for that moment? So when it came to showtime…I knew that I did everything I possibly could to feel amazing and just perform."
Still, she knows mistakes (as she mentions, that time she tripped on the Fendi runway in 2010) are bound to happen. The only difference now? They don't bother her.
"All you can do is do your best," she adds. "Even when you make mistakes, sometimes those can be the most important experiences to learn from."
Watch below:
Follow Marie Claire on Instagram for the latest celeb news, pretty pics, funny stuff, and an insider POV.