Rita Ora on the Least Sexy Thing About Making 'Fifty Shades Freed'
The singer shared some of her behind-the-scenes secrets with MaireClaire.com.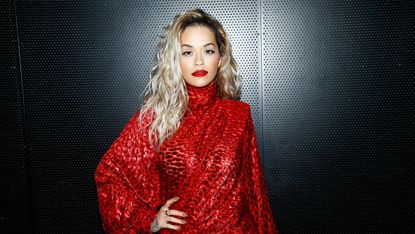 (Image credit: Getty Images)
Rita Ora has had a dual role throughout the Fifty Shades of Grey franchise—recording multiple songs for the movies' soundtracks, and also taking on a starring role as Christian Grey's adoptive younger sister Mia.
Aside from the intensity of getting kidnapped on screen during Fifty Shades Freed *and* releasing a duet for the film with Liam Payne, Ora just released a new song called "Proud"—with lyrics that hit close to home. Using her own personal story about being accepted as a refugee, she created a platform with Absolut for other people to share similar stories.
MarieClaire.com spoke to the actress about her new music, what it was like working with such an intimate cast in her first big role, and the least sexy things that happened while making Fifty Shades Freed.
On Fifty Shades finally coming to an end:
"Everyone was super lovable and I learned a lot from the cast. I had the best time just learning the craft and I guess the experience of being in such a big movie was super amazing. I'm kind of sad it's over, but I'm also really excited that I get to venture out to different things."
On her mistakes and fails while shooting scenes:
"Everybody messes up a little bit, it's just the way it goes. But I just prepared very well and had my training. I definitely wanted to enjoy myself. It was such an enjoyable experience."
On what it was like to make a "sexy movie":
"I think it's a figure of speech. There's a lot of opinions of this movie, but of course it's done so well. And I think that there is 'proof in the pudding.' I guess people really like it and I just am very happy to be a part of it."
On preparing for her intense scenes in Freed:
"You just have to really be calm, know what you're doing, be able to commit to your scenes, be professional, and know your lines. And you should be fine."
On the least sexy thing about making a sexy movie:
"I think it was the hours. They were definitely pretty long. I think that has a toll on anybody. There were really long days."
On how the cast spent their downtime in between scenes:
"We just hung out, worked out, and got really healthy. The hours were long, so you want to keep your body moving."
On how the cast celebrated the end of the franchise:
"We all had a wrap party. It was awesome, in Vancouver. Then everybody had to go and finish the movie. But yeah, we had a great time."
On the meaning behind the lyrics of her new single "Proud":
"This song was all about the idea of acceptance and having the ability to put a platform out there with Absolut to really take people's stories that haven't really got a voice to the next level. 'Proud' was inspired by dozens of stories that I had shared with me over this journey. The stories are definitely a lot to do with the LGBT community and with people just having the ability to be honest and open. But acceptance can be about anything and anyone, whether it was race, or sexuality. It's always been about just being able to accept anything from anywhere from anyone."
RELATED STORY
I'm currently working at Dotdash Meredith as the Celeb & Entertainment E-Commerce Lead contributing affiliate content for People.com and InStyle.com. I'm basically like your personal shopper, from writing about that cozy loungewear set you didn't know you needed to keeping tabs on the best sales and deals on the internet. I'm also a pro at finding affordable dupes for celebrity looks and I love to dig into the data to strategize content opportunities.