Kylie Jenner's Long Fingernails Are Causing Controversy
And she's getting mommy-shamed on Twitter as a result.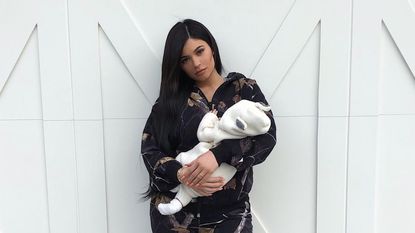 (Image credit: Instagram)
Another day, another Kardashian-Jenner controversy. Following the first full photo of Stormi Webster being posted on Instagram, Kylie Jenner has been receiving backlash over something completely unexpected—the length of her fingernails.
In the mother-daughter photo, Jenner has visibly long, manicured nails, and *some people* on the internet have decided that this is unacceptable for a new mom. Basically, because her fingernails are soooo long, a number of critics have decided that Jenner can't possibly change diapers. Rolls eyes.
While most of the world will probably agree that it's totally fine for a new mom to get a manicure if she wants to, a select few are claiming that this is not the case:
I want to know how Kylie Jenner changes her babes diaper with two inch nails and I struggle with not getting poo under my millimeter nails.March 2, 2018
See more
How the eff does @KylieJenner wear such long nails with a new born? I can't even go long without scratching my own face!March 2, 2018
See more
How does Kylie wipe Stormi's ass with those longass nails, I'm shookFebruary 25, 2018
See more
On another note.. How the hell does Kylie Jenner have the time to do her makeup & hair?! When I had a 1 month old I so did not even once put makeup on or comb my hair 😩😐March 2, 2018
See more
Not everyone is as unsupportive though, with a lot of fans coming to Jenner's defence:
All these people up in arms about Kylie's nails drive me nuts. Why you mom shaming???March 3, 2018
See more
I can't believe Kylie Jenner is being slammed for having long nails as a mom to a newborn. That doesn't mean she's less of a mom for getting a manicure!March 3, 2018
See more
Kylie Jenner got hate Bc her nails are "too long to be caring for a newborn" WHAT ? I know plenty of mamas that have long nails and parent just fineMarch 3, 2018
See more
Whichever side you fall on when it comes to Jenner's manicure, it's clear that the new mom is completely besotted with baby Stormi. A source revealed to People, "She's an incredibly doting and hands-on as a mom. She's always been very maternal."
RELATED STORY
Allegedly, Jenner had originally planned to care for baby Stormi without any outside help, but has since had to reassess. According to People, "With the support and abilities she has to hire nannies and assistants, she's been a really, really great mom."
And per Us Weekly, Jenner has been relying on advice from her mom during the first few weeks of Stormi's life: "Kris has been spending a lot of time at Kylie's house since she came home with Stormi... Kylie has been a natural at being a mother. However, it has been overwhelming, and Kylie has relied on Kris during these first days."
Amy Mackelden is a freelance writer, editor, and disability activist. Her bylines include Harper's BAZAAR, Nicki Swift, Cosmopolitan, Marie Claire, ELLE, The Independent, Bustle, Healthline, and HelloGiggles. She co-edited The Emma Press Anthology of Illness, and previously spent all of her money on Kylie Cosmetics.