The Internet Is Shading Kim Kardashian's New "Cheetos" Orange Concealer
"TF we supposed to do with that orange-ass setting powder?"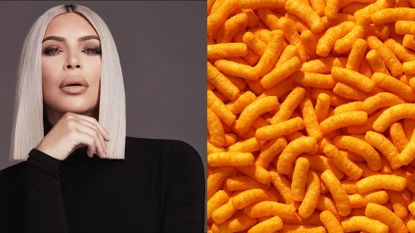 (Image credit: Getty/Instagram)
Imagine scarfing down an entire bag of Cheetos, and then rubbing your dust-caked fingers under your eyes. Great image, right? Welp, apparently that's the look you might get if you try one of the darkest concealer shades in Kim Kardashian's new three-step concealer kits.
The beauty mogul revealed a photo of her new campaign #ConcealBakeBrighten—meant to be an easy process that even beginners can follow—on her Instagram story (opens in new tab) yesterday. "I felt like the three-step process was really strong, and it's what Mario and I have really perfected for all these years," Kim said in an interview with Allure (opens in new tab).

But with only 16 concealers (a noticeably small range of shades for the zillions of skin tones in the world) KKW Beauty fans are wondering if the new launch is truly that inclusive, especially when the darkest shades in the line look Cheetos-level orange.
So after @trendmood1 (opens in new tab) posted a first look of the KKW concealers to Instagram, the shade gate was officially opened. "Nothing inclusive about this collection, only a brand that's quick to slap a name on a product," commented one user, while another user questioned, "TF we supposed to do with that orange ass setting powder?"
The controversy quickly jumped to Twitter too.
I just saw the dark end of these KKW concealers...who told white people we want to look like fucking pumpkins?March 14, 2018
See more
Kim tried to explain her shade-range thought process in the interview (opens in new tab), noting, "I see everything that's out there, and then we start testing it on a bunch of different people, which includes models and everyday people. We try them on so many different skin tones, take pictures, and see what people are liking, and do so many focus groups."
Clearly, her focus groups missed the mark. The concealers don't officially launch until March 23, but maybe she'll reconsider and give the range another shot? Probably not. But hey, we can hope, right?
I'm currently working at Dotdash Meredith as the Celeb & Entertainment E-Commerce Lead contributing affiliate content for People.com and InStyle.com. I'm basically like your personal shopper, from writing about that cozy loungewear set you didn't know you needed to keeping tabs on the best sales and deals on the internet. I'm also a pro at finding affordable dupes for celebrity looks and I love to dig into the data to strategize content opportunities.