A Timeline of Khloé Kardashian and Tristan Thompson's Relationship
From how and when the expecting couple met to the latest drama.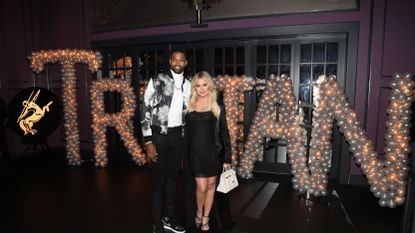 (Image credit: Getty Images)
In the last 24 hours there have been a ton of rumors and reports from unconfirmed sources about Khloe Kardashian's boyfriend Tristan Thompson, the NBA star she's expecting a child with at any moment, who allegedly cheated on her multiple times. There was questionable video footage released, a cryptic response from Thompson's ex, and, now, fans are questioning the future of their relationship. Reps for Thompson and Kardashian have yet to release any kind of statement. In fact, Kardashian's last Instagram post (from two days ago) is a shot of the very pregnant couple sharing a sweet kiss.
Here, a short timeline of Khloe and Tristan's relationship, from how and when the expecting couple met to the latest drama.
The two meet on a blind date and later go public with their relationship
Kardashian and Thompson started dating sometime in August 2016 after meeting on a blind date. They officially confirmed their relationship with an Instagram photo posted on December 18, 2016. When they met, Thompson's ex, lifestyle blogger Jordan Craig, was pregnant with their child.
Kardashian talks about her new boyfriend's "morals and ethics" in a magazine interview
In April 2017, Kardashian told ES Magazine that Thompson's "morals and ethics are everything I've wanted and need in my life." She said that when she first met Thompson they both "felt this strong energy. I was like, oh this is such a nice, normal man. The normalcy is what I was craving."
The couple confirms pregnancy rumors
After months of rumors in tabloid publications, Kardashian confirmed her pregnancy news and debuted her baby bump on Instagram in December 2017.
Three months later, on the March Season 14 finale of Keeping Up With the Kardashians it was revealed that Kardashian and Thompson are having a baby girl. "I am now so excited my daughter will have forever best friends with Chicago and Stormi," Tweeted Kardashian. "God is great!!! Thank you Lord for our princess."
I am now so excited my daughter will have forever best friends with Chicago and Stormi!! God is great!!! Thank you Lord for our princess 👑 👶🏽💗March 5, 2018
See more
Thomspon is caught kissing a woman who is not Khloe Kardashian
On Tuesday, DailyMail released video footage of Thompson, 27, locking lips with a brunette woman at New York's exclusive rooftop PH-D Lounge in Manhattan captured this past weekend. The Cleveland Cavaliers player, wearing a white hoodie, chatted closely with the unidentified woman before she leaned her head in for a kiss from the star.
Is it really him?
Many media outlets were hesitant to report the shocking news, because in the DailyMail shots, there are two guys in identical clothing standing near each other. Because of the angle and quality of the photos, it's hard to say whether the man in question is actually even kissing the woman he's with.
It's definitely him
TMZ tracked down video footage of Thompson (wearing that identifiable white hoodie) walking into the Four Seasons in Manhattan around 5 a.m. on Sunday with the very same woman from PH-D.
Jordan Craig weighs in
Craig, whose son with Thompson is now 15 months old, posted her thoughts on the cheating scandal to Instagram story, writing: "If you respect yourself and you respect others, you would never make light of the misfortune of anyone, nor would you feel indemnified when it comes at the expense of others," she wrote.
More video of Thompson surfaces
Seems like Thompson has, unfortunately, been unfaithful before. On Tuesday, after the Daily Mail story broke, TMZ obtained surveillance video footage from October 7, 2017 — the night before the Cavaliers played the Washington Wizards — that shows Thompson with three women at a hookah lounge outside of Washington D.C. He can clearly be seen making out with one woman, while another touches his nether regions. Then, he motorboats her.
Sources say Khloe is distraught and stuck in Cleveland
According to E! Khloe is "in complete disbelief": "Her entire world has been turned upside down. She cried hysterically all night. She begged to come back to L.A. and tried to find any way to make it work, but her doctor wouldn't let her. She just wants to be with her family and leave as soon as possible. Kris is there and completely supporting her."
The Kardashian-Jenner sisters are rallying around her
Rose is a Staff Writer at ELLE covering culture, news, and women's issues. She is an accomplished and compassionate storyteller who excels in obtaining exclusive interviews and unearthing compelling features.