My Life as a Spice Girl: Geri "Ginger Spice" Halliwell (Now Horner) Looks Back at the Beginnings of a Pop Culture Phenomenon
Exactly two decades ago, five girls from London exploded onto the global pop-music scene in platform shoes.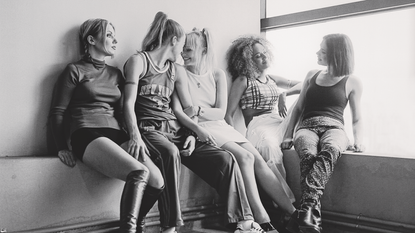 (Image credit: Harry Borden/Getty Images)
Inside every short girl is a statuesque woman waiting to confidently strut her stuff around the outside world. I discovered my sky-high alter ego when I was 17, strutting down the street in a pair of shiny maroon Mary Quant platform shoes, which I bought from the Notting Hill vintage market in London. I could hardly walk in them, but I loved them. As I am only 5'2 1/2" (all vertically challenged women claim the half ), they gave me the confidence that anything was possible now that I was shoulder to shoulder with the best of them. There I was, in my denim hot pants, walking down the street on my way to an English literature class at Cassio College in Watford, just north of London, thinking, Yeah, I'm a somebody. I imagined all eyes were on me as I passed people sitting in cars, faces glazed over, staring and sighing at the red stoplight. That is, until I tripped and my books went flying, my cheeks flushed, and they all actually did stare at me. I quickly scooped up my books and carried on strutting, pretending nothing had happened. Because once you find that confidence, nothing can keep you down. I wore those same Mary Quant heels in the Spice Girls' first-ever music video, for our debut single, "Wannabe," just a few years later in 1996.
Music, along with fashion, is an expression: a way to explore my identity and communicate a sense of power. Yes, I'm worth it. Yes, I want to be somebody. And two decades ago, I found four like-minded girls. I was 22 years old, trying to make ends meet by juggling various side gigs—at one point, I was working five jobs a week: two housekeeping assignments, bartending, babysitting, teaching aerobics at a local gym—to fund studio sessions to record an album, when I came across an ad in a trade newspaper called The Stage looking for "streetwise" girls to audition for a pop band. I actually missed the first round of auditions because I was visiting my grandmother in Spain, but something told me to ring the managers behind the ad, Chris and Bob Herbert from Heart Management, to ask if they were still looking. They were. "Come down to the London audition," Chris said. "We are down to 12 girls."
Looking back, I wonder if I would've made it if I'd been in line with all the hundreds of girls who initially auditioned. Before I went into the audition room, six weeks after that first open-audition date—I'd kept the ad stuck on my mirror the whole time—I made sure I was as prepared as I could be. I knew it would take more than the right vocal technique to nail it, so I tried to make sure I projected a lot of confidence and brought lots of energy, which thankfully (and maybe owing to my trusted Mary Quants) worked. The girls who'd made the final round were split into two groups of four. Each group sang Stevie Wonder's "Signed, Sealed, Delivered (I'm Yours)" and performed a dance we'd learned for the audition. Before I left, one of the guys came over and told me I'd made it: I was elated! A month later, I picked up Mel B from the train station—I remember thinking, Oh, my God! I'm picking up this girl I don't know at all!—in my car, which would soon become the band's wheels that I'd go on to crash, often with them in it. It's difficult to drive a car with five girls chatting inside, you know.
And so, just like that, we were a band: Emma, Mel B, Melanie C, Victoria, and myself. Roommates, too. Five girls living together in a small three-bedroom house in Maidenhead, just outside London, was lots of fun, albeit at times tricky. I was the oldest at 22 and had already experienced living away from home, so the other girls probably found me to be quite bossy. Emma was the youngest at 18; she was like the little sister I never had, and I adored her immediately. Mel B and I became partners in crime, always getting into trouble together. Victoria and I had an equal, quite adult relationship. And Melanie C and I shared a childlike fascination for pop music and had big dreams of making it.
We came from all sorts of performing-arts backgrounds, and we all had different musical tastes. Most of the girls liked R&B groups like Zhané and En Vogue, and all of them liked the English boy band Take That. I was more into dance and house music, and pop music like early Madonna and Michael Jackson. Our sound had a very hoppy melody, and the beats chosen were not heavy R&B ones that dominated the song, which kept it very mainstream. It was a melding of ideas, and that was the beauty of it: the compromise in music taste.
Ideas for band names were kicked around. "Touch" was suggested by our management team. (It didn't stick, obviously.) We were so different and our name had to feel like us, so we asked ourselves: What could fit all of us and show that diversity? I was in an aerobics class, and as I was stepping from side to side, "Spice" popped into my head. I ran back to our house, and as the girls stood at the top of the stairs peering down at me, I called out, "What about Spice?" They all looked at one another and nodded in agreement. The "Girls" in Spice Girls came later, as whenever we showed up somewhere, people would refer to us as the Spice girls.
Every day, the five of us would pile into my little Fiat Uno and go to the British Council–run rehearsal studio to work on our vocals and dance routines and write songs for our debut album together. We'd talk about what was going on in our lives and that would go onto paper and into the studio booth. That's when I first learned the power of "we" instead of "I."
During our first year together as the Spice Girls, on a weekend when Emma and Victoria went home to visit their families, Mel B, Melanie C, and I went to Camden Market, a popular open-air market in London. We weren't famous yet, but we strutted like we were (well, Melanie C was a little shy). We bought tight white vintage Adidas T-shirts for everyone in the band to wear, because when you're in a band, you should all look the same, right? We wore them at our first-ever performance for our family and friends in a community center in Finchley, a neighborhood in North London. It was a small gathering—around 40 people—but we'd been rehearsing all summer for that one night. It quickly became obvious that Victoria and Emma weren't exactly comfortable in the T-shirts we'd picked out. It was also obvious that the only way forward was to celebrate our individuality and let everyone be herself. So we did. How you saw us in public was very much our own individual style: Mel B was street and funky; Emma was sweet and baby doll; Victoria was minimalist but designer-driven (I remember Victoria coming into the studio one day wearing Manolo Blahnik shoes, and I was mesmerized); Melanie C rocked the sneakers and tracksuits; as for me, I was a mix of everything vintage, sassy, and expressive (depending on what day it was!).
We applied the same philosophy to our songwriting. Our music was our mouthpiece, our way of communicating with the world. We'd bounce ideas and talk about how we felt, and it would fall onto the page. It didn't take any longer than a day to write "Wannabe." Mel B came up with the "zig-a-zig-ahh" line—she'd often add flair to our songwriting with crazy words, while the rest of us would contribute our own theme, melody, and lyric ideas. We wanted our songs to tell you how we felt. And "Wannabe" was catching a moment and sharing it. From the minute I met the other girls, I knew I had found my tribe. My passion for music and success was ignited and amplified; it was unified and strengthened with four other girls into world domination. We all had different strong points and personalities, yet we were so similar. This must be what girl power feels like.
But there were always challenges along the way, testing our confidence in our music and ourselves. I remember walking into our manager Simon Fuller's office in Chelsea and finding a room full of executives from Virgin Records discussing what they thought our first single should be. (For the record, most of them wanted the safer R&B sound that was popular at the time. I remember telling them, "We can't give the Americans what they're already so brilliant at doing. We should just be ourselves and see if they like it.") I was the only female there. Alarmed, I phoned Emma as backup, and together we insisted that "Wannabe" be our first single, for one reason: because we, as a group, liked it.
With the battle for "Wannabe" won, then came the now-famous music video for the single. Before the shoot, I went back to Notting Hill market to find my outfit. I wanted something different but with an old-school glamour. I was looking for my first statement piece. It was raining when I bought that tiny sequined leotard. Oh, and I ended up wearing it backward in the video for some reason, teamed up with my trusted Mary Quant heels.
We were buzzing with excitement on the day of the shoot. I was clunking along in my big shoes as we rehearsed running through the building, which the director hoped to shoot in one take. There was a lot of laughing as we filmed well into the night at the historic St. Pancras hotel and a nearby railway station in central London. We worked with a director named Johan Camitz, who was more used to filming commercials—this was his first music video. We shot "Wannabe" seamlessly, without any edits (well, there was one sneaky cut made where Mel B moved around a pillar). You can see us bumping into furniture and looking behind us occasionally. We didn't want to do something too choreographed or too controlled; we wanted the camera to capture the madness. The record execs were probably a bit horrified when they saw the video. They even wanted us to shoot a separate video for the American market, but we refused. This was our video, and this was what we wanted.
And so it was done: We released the single, shot our first music video, and finished our album. Then we got our Spice nicknames: Top of the Pops, a teen pop magazine, playfully labeled us "Scary," "Baby," "Sporty," "Posh," and "Ginger," based on our appearances. I got "Ginger" because of the color of my hair. At first I thought, OK, being ginger can be made fun of, but it felt a little more glamorous when I got to the States, and I thought, Hey, cool ... Ginger like Ginger Rogers!
In July 1996, long after we had moved out of the three-bedroom house where we'd lived for nearly six months, the five of us were in my back garden listening to the U.K. singles chart countdown on the radio when we heard: "Wannabe" had entered at No. 3. We jumped and screamed with excitement, and popped open a bottle of bubbly. The following week, the song went to No. 1 and stayed there for seven weeks. Next, we flew to Japan to promote the record and, very quickly after, America.
I was in a surge of emotion during that time, but there wasn't much of a chance to celebrate. We were constantly on to the next thing; there was always another mountain to climb. We were never home, always traveling together as a group. When we first saw our advance check before the album dropped, we jumped around like mad. My first wow-we-did-it purchase: a 1965 MGB Roadster for £15,000 [about $17,000].
Our first experience in the U.S. was Los Angeles in September 1996. We went to the Mojave Desert in California to shoot the video for our second single, "Say You'll Be There." The hairstylist on set gave me a wig to wear, which he said he had previously only used on Dolly Parton. It was mind-blowing to think that, in a span of a few short months, we had gone from shooting our first video at a run-down old building in London wearing clothes I had bought from a market to doing a big production in a California desert with sexy costumes and a male model. Between takes, Mel B and I ran around at dusk looking at the beautiful sunset.
By the end of that year, "Wannabe" had hit No. 1 in 22 countries. We released the single stateside in January 1997, and it stayed at No. 1 on the U.S. Billboard Hot 100 for four weeks. We performed it on The Oprah Winfrey Show, Saturday Night Live, and Live with Regis and Kathie Lee. Having success in America, reaching the top of the charts, for us was monumental. We were told, at the time, that we were in the same league as The Beatles. By the end of 1997, "Wannabe" had become the best- selling single by a girl band, with over 7 million copies sold worldwide.
The best part of life is the journey—that's a cliché, but it's true. Traveling in a minibus together, jet-lagged, laughing and cracking jokes, those are the bits that stay with you more than anything else.
Fast-forward to today: After 85 million records sold worldwide, three world tours, three studio albums, one movie, one departure (me in 1998), 11 solo albums collectively, four marriages, 11 children—all with the continued support of the best fans in the world—I am proud to say we are still friends. When we reunited to perform at the London Olympics closing ceremony in 2012, it was amazing. Like family coming home for Christmas. Or maybe a bit like National Lampoon's Christmas Vacation. I got everyone into a huddle—I've always been sort of a cheerleader—and was like, "We've got four minutes to unite the world! Come on!"
Girl power, for me, was a voice for the voiceless, screamed from a megaphone and kicked out hard: ANYTHING IS POSSIBLE.
I felt so proud watching Adele on James Corden's "Carpool Karaoke" segment gone viral video saying she loved the Spice Girls. She connected with us, she says, because we were just five ordinary girls who "got out." "I didn't know what I wanted to get out of, but I wanted to get out," she explains. It's something that we—and many other girls, too—felt: We all wanted to get out, stand up and be heard, be counted and have a voice that mattered. And there we were in those platform shoes! Our message screamed it for every girl. We all felt it, and as sisters all around the world connected through our music and songs, we shared that feeling. Suddenly, we weren't alone. Real girl power says you don't have to be perfect, you just have to be united.
The Spice Girls is bigger than one, two, three, four, or five members. It belongs to us all. Whatever your height, platforms or otherwise.
This article appears in the August issue of Marie Claire, on newsstands July 19.
Celebrity news, beauty, fashion advice, and fascinating features, delivered straight to your inbox!