Priyanka Chopra's Teenage Wardrobe Was Every Bit as Horrifying as Yours
"I was that girl in the '90s."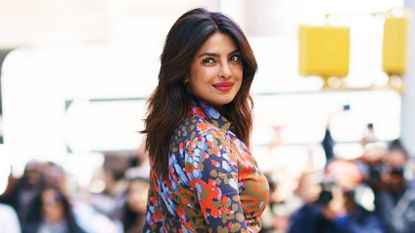 (Image credit: Getty images)
When you're scrolling through shiny photos of gorgeous female celebrities, it's easy to feel like they've forever been the goddess you see before you today. And, sigh, it's kind of unfair. Which is why it's so important that we have women like Priyanka Chopra, a woman who is more than happy to reassure us all that actually, she's made some pretty terrible fashion decisions before reaching her current A+ wardrobe.
Priyanka, who regularly tops Best Dressed lists and can go through four flawless outfit changes a day, has admitted that it definitely hasn't always been this way. God bless.
"My teens were a little bit more tight pants, ponytails, hoops, puffy jackets," she tells Harper's Bazaar. "I was that girl in the '90s."
SAME. Cycle shorts and body glitter too, right, Priyanka? And don't worry, she was still very much right there with you through the '00s too—a.k.a. the decade that style completely forgot to show up for."Then came the 2000s and me becoming an actress, and I stared wearing everything," she recalled.
"Jewelry, clothes, hair makeup! And then I realized that I looked like a Christmas tree going forward."
"I think I've finally found my feet in my 30s, as a woman and as a fashionista."
So hey, don't panic. You've still got plenty of time to become a world famous actress, find your A-list worthy personal style and date arguably the hottest Jonas Brother. There's no rushing these things.
READ NEXT
Lucy Wood spends most of her time writing about celebrity news, reading books, and waiting for the glorious day that she have enough millions for a pet sloth. She also has a YouTube channel on the go where she pretends to know things about fashion and life advice.