Forbes Called Kylie Jenner a 'Self-Made' Multimillionaire, and Twitter Has Concerns
Even Dictionary.com got shady about it.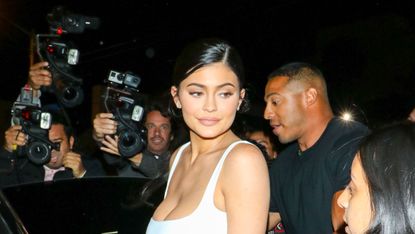 (Image credit: gotpap/Bauer-Griffin)
Kylie Jenner is on the cover of Forbes, with the magazine proclaiming (opens in new tab) she's on track to become America's youngest-ever self-made billionaire. (Take that, Mark Zuckerberg.) Now, there's no doubt that Kylie is incredibly, obscenely rich, with a net worth of $900 million, mostly thanks to Kylie Cosmetics. But is "self-made" really the right term?
Business Insider points out that some critics on Twitter argue that Kylie might not fit all definitions of "self-made." After all, she comes from a wealthy family, and that family made her a celebrity when she was just a preteen thanks to Keeping Up With the Kardashians.
calling kylie jenner a 'self-made billionaire' is like claiming you made soup from scratch because you opened a can and reheated it.July 11, 2018
See more
kylie jenner's "self-made" empire is almost as funny as donald trump's "small loan of 1 million dollars"July 11, 2018
See more
erm. being born into extreme wealth & instant fame is the exact opposite of "self made" https://t.co/c9rZyx03AlJuly 11, 2018
See more
Calling Kylie Jenner self-made without acknowledging anywhere the incredible headstart she had is what allows people to turn around and look at poor people and ask them why they haven't become billionaires yet. Her story is not inspiring or motivating for anyone https://t.co/YMnTSzHlKPJuly 11, 2018
See more
Even Dictionary.com got involved, defining "self-made" as "having succeeded in life unaided."
Self-made means having succeeded in life unaided. Used in a sentence: Forbes says that Kylie Jenner is a self-made woman. https://t.co/sr8Ncd7s5A https://t.co/ehEL7Cf6KVJuly 11, 2018
See more
But that's not how Forbes is defining "self-made." Instead, they are using the term to distinguish people who built their own businesses from people who inherited wealth or their family businesses. "We consider any person who built her own fortune, and didn't inherit the money, to be self-made," Forbes notes. "So top executives at tech firms who are compensated for helping significantly grow companies make the ranks but not second generation women running family businesses."
Kylie Jenner thus fits Forbes' definition of "self-made," because her fortune comes from Kylie Cosmetics, a company she started and owns. Kylie ranks at number 27 on Forbes' list of "America's Richest Self-Made Women," and Kim Kardashian also appears on the list at number 54. Other beauty moguls like Huda Kattan (Huda Beauty) and Jamie Kern Lima (It Cosmetics) also appear on the list.
RELATED STORY
Megan Friedman is the former managing editor of the Newsroom at Hearst. She's worked at NBC and Time, and is a graduate of Northwestern's Medill School of Journalism.