Here's Why Meghan Markle Wears So Many Dresses with Pockets
Meghan Markle has been wearing a lot of dresses with pockets lately. One royal expert speculates it may be a way for the duchess to subtly shape the fashion industry.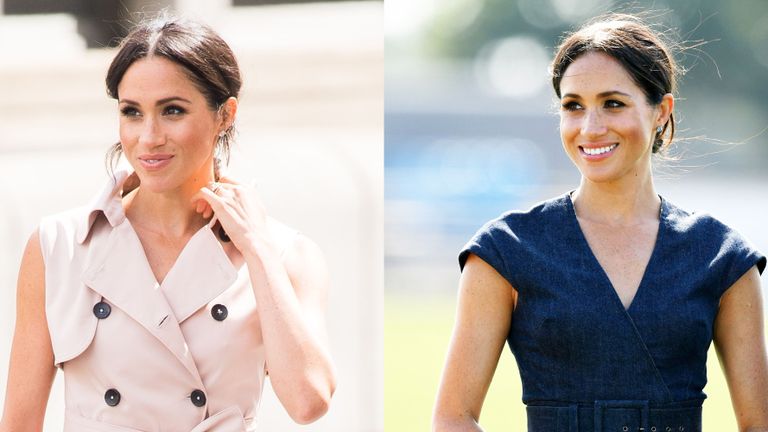 (Image credit: Getty Images)
There are few things in life that equal the pure joy of trying on a dress that you did not realize had pockets and then realizing that it does, in fact, have pockets. It's possible I'm alone in this, but I really doubt it and it looks like, at very least, Meghan Markle is with me. The Duchess of Sussex has been photographed in several dresses with pockets in recent weeks. More than that, she's been snapped using the pockets, because functionality is so important.
Here she is during her royal tour of Ireland with Prince Harry in July, wearing a green dress with bold, statement pockets:
And in a sleeveless trench dress with functional pockets at The Nelson Mandela Centenary Exhibition at the Queen Elizabeth Hall:
And, most recently, in a perfectly casual-chic blue dress at the Sentebale ISPS Handa Polo Cup at the Royal County of Berkshire Polo Club in Windsor:
But what's up with Meghan's obsession with pockets (except for the fact that they are amazing and make every dress better)? According to Express, this might be a case of Meghan using her fashion clout to encourage change in the fashion industry, and we couldn't be more here for the feminist use of the Meghan Markle effect, if the reports are true.
"Today, there is increased demand for functional pockets in women's clothes today as women also would like to be able to carry their phone or keys or other items in their pockets and not always have to rely on handbags," Dr. Carolyn Harris, a Royal historian based in Toronto, Canada, told Express. "By wearing dresses with pockets frequently, the Duchess of Sussex may be exerting subtle pressure on the fashion industry to create more dresses with pockets, allowing women to have the option of fashion that is functional as well as decorative."
Yes. To. That.