Cardi B Says Motherhood Won't Stop Her From Winning
"I had a baby, I carried the baby, and now I'm still winning awards!"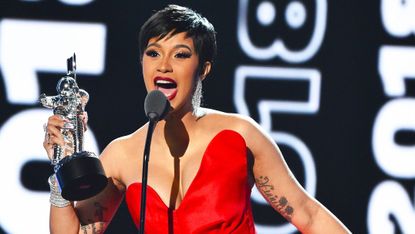 (Image credit: Getty images)
In case you've been living under a rock, Cardi B has had a fabulous 2018. Her album, Invasion of Privacy, debuted at #1 on the Billboard 200 after its April release; she is the first female rapper to have multiple number-one singles on the Billboard Hot 100; and she gave birth to a baby girl in June. Her Best New Artist win at last night's MTV Video Music Awards just solidified that Cardi B's hard work has paid off exponentially, and she's here to stay. In classic Cardi fashion, she used her acceptance speech to shine a light on an important message about being a working mother.
Never at a loss for words, Cardi threw some shade to anyone who doubted her: "A couple of months ago, a lot of people were saying 'you know, you're gambling your career. You're about to have a baby. What are you doing?' And you know, I had a baby, I carried the baby, and now I'm still winning awards!"
Cardi's right. The idea that motherhood and a career cannot coexist is one that should have been left in the dusk a long time ago, and yet we still judge women for every single choice made during their pregnancy. If a woman works, she's sacrificing her both career and the happiness of her child. If she's at home, she must be bored and unambitious. If she's young, she's too young to be having a baby; if she's old, there's the stigma of risk.
Cardi B is a successful, married, 25-year-old who just gave birth to her first child. On paper, she's in the ideal scenario to bring a child into the world. But it doesn't always work like that, and I'm happy to see Cardi B refuse to sacrifice anything in the pursuit of her own take on motherhood.
In July, she announced she will not be joining Bruno Mars on his "Finesse" World Tour, since she didn't feel like she was ready to take on such a massive endeavor only a few months after giving birth as well as the logistical problems of bringing baby Kulture on tour—and she deserves applause for her honesty about prioritizing her mental and physical labor as a new mom and for not selling herself (or her fans) short.
She's the Best New Artist for a reason, and it's not just because her music is great and she's fashionable and her nails are an art form and she's funny and everything else we love about her.
Cardi B makes no apologies about the kind of mother she wants to be—and she knows she can win awards while doing it.
RELATED STORIES
Celebrity news, beauty, fashion advice, and fascinating features, delivered straight to your inbox!
Amanda Mitchell is a writer and podcaster with bylines at Marie Claire, OprahMag, Allure, Byrdie, Stylecaster, Bon Appetit, and more. Her work exists at the apex of beauty, pop culture, and absurdity. A human Funfetti cake, she watches too much television, and her favorite season is awards season. You can read more of her work at amandaelizabethmitchell.com or follow her on Instagram and Twitter @lochnessmanda.