Veronica Mars Is Returning to Television, and I Never Knew I Needed This Until It Happened
This is not a drill, Marshmallows.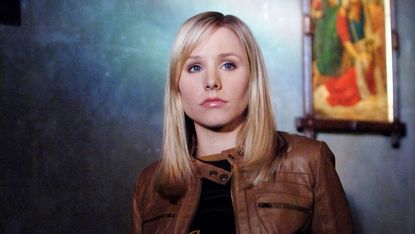 (Image credit: CBS Photo Archive)
Your favorite teen detective is back. No, not Nancy Drew. An eight-episode revival of cult-favorite TV series Veronica Mars is reportedly in the works at Hulu, with series creator Rob Thomas and series star Kristen Bell set to return.
ALERT: This is not a drill, Marshmallows. This one's for real this time.
The original Veronica Mars aired for two seasons on UPN and one season on The CW from 2004—2008 and followed the saga of a California teen detective and her quest for answers after the murder of her best friend. The show's legacy is likely what caused this project to secretly be in the works—both Kristen Bell and Rob Thomas have mentioned a desire to bring the show back to television as far back as 2016. Surprisingly, Veronica Mars is likely one of the catalysts of the recent reboot boom, with their successful Kickstarter campaign in 2013 netting $5.7 million on a $2 million goal for the Veronica Mars movie.
Per Variety, the revival will return for eight episodes in 2019, and Hulu will also acquire the SVOD rights to the original series' three seasons, as well as the 2014 feature, so you'll have plenty of time to get your friends hooked, if you haven't done so yet.
The new series returns to Neptune, where teenagers on spring break keep turning up murdered. Not so great for the West Coast version of Daytona Beach, which depends on the tourism industry to keep the seaside town afloat. Mars Investigations is hired by the parents of one of the victims to find the killer, and Veronica finds herself deep into a mystery involving Neptune's wealthy elites who want the spring break trashiness reputation gone, and the working class who relies on the income from the tourists.
Veronica Mars herslf, Kristen Bell, confirmed the good news today on Instagram:
More details are to come—mostly who from the original cast is returning and the expected airdate, but.. a long time ago, we used to be friends. And now we are again!
RELATED STORY
Celebrity news, beauty, fashion advice, and fascinating features, delivered straight to your inbox!
Amanda Mitchell is a writer and podcaster with bylines at Marie Claire, OprahMag, Allure, Byrdie, Stylecaster, Bon Appetit, and more. Her work exists at the apex of beauty, pop culture, and absurdity. A human Funfetti cake, she watches too much television, and her favorite season is awards season. You can read more of her work at amandaelizabethmitchell.com or follow her on Instagram and Twitter @lochnessmanda.