This Week in Timothée Chalamet, September 7 Edition
In which Timmy makes the bowl-cut high fashion.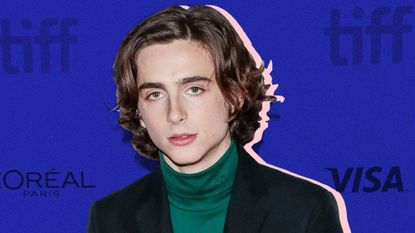 (Image credit: Getty Images/Morgan McMullen)
Marie Claire Newsletter
Celebrity news, beauty, fashion advice, and fascinating features, delivered straight to your inbox!
Thank you for signing up to Marie Claire. You will receive a verification email shortly.
There was a problem. Please refresh the page and try again.
Because being a person in the world is hard and you deserve something nice, this is MarieClaire.com's semiregular column on everything talented young man Timothée Chalamet did that week. You can catch up on last week's column here.
Hello glossy starlings and welcome back to another edition of This Week in Timothée Chalamet. And what a week it was, don't you think? As our democracy crumbles, I would just like to take a moment to reiterate my thesis and reassure everyone—including our supportive but bemused compatriots over in the Marie Claire France bureau—that this column is less about obsessing over a well-bone-structured and promising young actor and more about finding something (or someone) nice to briefly meditate on during trying times.
Timothée Chalamet is not just a person on whom we are keeping career tabs, but a symbol of the ways in which we can stay positive when the rest of the news cycle devolves into extreme chaos. We can know that, say, Timothée Chalamet debuted a new haircut at the Toronto International Film Festival and still not lose sight of the fact that Brett Kavanaugh's confirmation to the Supreme Court would be a huge blow to women's reproductive rights. These thoughts can complement each other, they do not need to cancel each other out.
(Seriously, consider calling your Senator and telling them not to confirm Kavanaugh's nomination. Here's a number you can call.)
Anyway, this week Superstorm Timmy made landfall at TIFF and I've been getting a lot of Twitter DMs from readers about it so let's see what he was up to.
Hére ya go:
He emerges!
After several silent weeks in which this column became an excruciating exercise in content alchemy, TimCha has appeared at the Toronto International Film Festival in promotion of his much-hyped new film Beautiful Boy. The sightings are everywhere on Twitter, with some more accurate than others:
Spotted during the Suspiria world premiere in Venice Film Festival. Is this Timothèe Chalamet? @RealChalamet #Suspiria #TimotheeChalamet pic.twitter.com/qoogyndh2HSeptember 2, 2018
See more
Alas, it is not.
But my personal favorite is this one, where he and his ol' buddy Armie Hammer walk into a scrum and Armie totally blows up Timmy's spot:
Their relationship is so pure.
Anyway, The Hollywood Reporter talked to the cast about the movie and TimCha gave some insight into his audition:
#THRatTIFf: @RealChalamet reveals what it was like having @SteveCarell play his dad in @beautifulboymov. #TIFF18 pic.twitter.com/rMbVi1ofexSeptember 7, 2018
See more
What a charmer. There's some talk that this might be the flick that gets Timmy the Oscar he was robbed of (in my opinion) last year. No pressure, but we're all rooting for you, Timmy.
And he emerged sporting his haircut from The King!
Reactions were...mixed. I got a few panicked DMs from people who don't read the column enough to know that I choose to remain wholly ignorant about his upcoming Netflix film The King, a send-up of Shakespeare's Henry IV co-starring Robert Pattinson and Lily-Rose Depp. What I do know about it is that he got his hair cut for the role and it's a lot. It's kind of the zenith of the gas station attendant lewk he's flirted with in the past.
But I like to think of it the way that Fabiana on Twitter put it:
She's right! If anyone could, it would be him.
This viral tweet appeared, delivering several years' worth of therapy for zero dollars!
As a person of [*muffled*] years, I was a big fan of the Disney Channel original series Lizzie McGuire. Hilary Duff's icon status has not diminished to this day and, no joke, why is Lalaine not one of the biggest stars in the world? We're going to look back at her portrayal of Miranda the way we do Cynthia Nixon's Miranda and think, "Wow, she was so ahead of her time, why was I too busy relating to Lizzie to cherish her?" Lalaine for New York Governor!
But this is a long-winded way of saying that this tweet was so frightfully spot-on that it immediately whipped me into an existential crisis.
Fuuuuuu—. Gordo is dead, long live Timmy.
And that's the week! Have a great weekend, roseate spoonbills.
RELATED STORIES
Celebrity news, beauty, fashion advice, and fascinating features, delivered straight to your inbox!
Cady Drell is a writer, editor, researcher and pet enthusiast from Brooklyn.