This Week in Timothée Chalamet, August 17 Edition
Timmy lurks on fan accounts, is just one-degree separated from Laura Dern, and appears on Netflix with a French accent.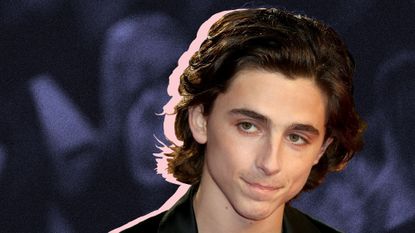 (Image credit: Getty/Morgan McMullen)
Because being a person in the world is hard and you deserve something nice, this is MarieClaire.com's semiregular column on everything talented young man Timothée Chalamet did that week. You can catch up on last week's column here.
Welcome back, loved ones, to another weekly edition of This Week in Timothée Chalamet. You know, when I first started this column all those two months ago, I worried that there would come a week when Timothée Chalamet did not do anything of note. What will I write about then?, I feared. I even included the caveat "semiregular" in the recurring column lead-in, just so an element of potential flakiness could be built in.
But if the last few weeks of Timmy's silence have taught us anything, it's that, when it comes to fandom, no news doesn't equal no news. Yes, like the oil lighting the menorah in the story of Hanukkah, we managed to take what should have only been enough stories for half of one column—tops—and make it last through two entire columns. Truly a miracle.

And this week—praise be!—some Timmy and Timmy-adjacent news has actually occurred.
Réad all about it below.
He expressed sadness over the shuttering of a fan account.
The person behind big Timothée fan account @dreamytimmy got uncomfortable with the amount of attention their Instagram was garnering and decided to retire the handle. It's a sweet little goodbye post, and even Timmy broke a weeks-long social media silence to pay tribute to the account.
Here's a tweet that sums it all up nicely:
Cute! Much thanks owed to eagle-eyed sleuth @ZhenZhen, who spotted the post on Instagram and reported it to me at once.
So does this mean Timmy is lurking on fan posts? Is he aware of what we're saying? Do you think he knows about the vaguely creepy column a grown-ass woman at MarieClaire.com writes about him every week?!
Let's hope not! Moving on...
He appeared in the film Hostiles, now on Netflix.
I knew nothing about this movie until I got an alert for it, but, yes, there exists a Western on Netflix that Timmy is in and you can watch it right now if you want.
In it, he plays a trés petit French soldier in the Wild West, complete with very cute accent. But without spoiling too much let me just say that he is, uh, not in it for very long. Plus, the time he spends on screen mostly consists of him moving furniture around the frame.
The movie as a whole is brutal—sad and violent and gory and, again, don't get too attached to any of the characters—but Rosamund Pike gives a powerful performance and Jesse Plemons is reliably captivating as well.
And if you watch it, at least no one can accuse you of not being a Timothée Chalamet completist.
We got more Little Women casting news.
About...Laura Dern. My god, could this movie get anymore stacked? To recap, we already knew that the Greta Gerwig–helmed take on the classic novel about why the olden days were shitty stars Meryl Streep, Emma Stone, Soairse Ronan, James Norton (who I cannot recommend enough as the smoldering, crime-solving clergyman on Grantchester), and, of course, Timmy. Already, what an embarrassment of riches. It's like a cavalcade of cheekbones set to the dulcet tones of Louisa May Alcott.
And now we're getting word that our Lord and Savior, Laura Dern, is in talks to join the project, at the urging of Meryl no less (they star together on the upcoming second season of Big Little Lies).
I'm not articulate enough to express how excited I am for this movie. Like, sometimes I'm afraid I'll wake up to find that a Greta Gerwig-ian Little Women was just something I dreamed up as a response to immense external stress?
Shameless plug: We have a new column on the site and Timmy is in it this week!
Speaking of horny reboots: Today on MarieClaire.com, hilarious writer and vocal proponent of autumnal outerwear, Danny Murphy, kicks off Recasted, a recurring feature in which he'll explore which classic movies should be remade and which stars of today should be in them.
This week he revisits the 1997 drama/iceberg porn flick Titanic, and guess who he thinks would make a great ringer for 2018 Jack? It's ya boi, Timmy Tim!
Go check out his reasoning here.
And then go have a blesséd weekend.
RELATED STORY
RELATED STORY
Celebrity news, beauty, fashion advice, and fascinating features, delivered straight to your inbox!
Cady Drell is a writer, editor, researcher and pet enthusiast from Brooklyn.