This Week in Timothée Chalamet, August 10 Edition
A guided meditation set to pictures of Timothée Chalamet.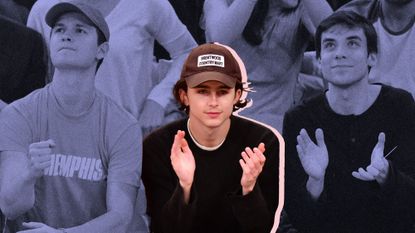 (Image credit: Getty Images)
Because being a person in the world is hard and you deserve something nice, this is MarieClaire.com's semiregular column on everything talented young man Timothée Chalamet did that week. You can catch up on last week's column here.

Hey dream team! Another week has passed and you know what that means: Another This Week in Timothée Chalamet. Isn't linear time delightfully reliable?
If last week's edition was quiet (and I admit that it was), this week was so silent it's like the Langoliers got to it. The only item was this piece from Harvard Press saying that Greta Gerwig might film some scenes of the new Little Women at the hallowed Cambridge institution, and that is Timothée Chalamet–adjacent news at best. Where is he? Did he fall through a rift in space-time? Was Timothée Chalamet just a beautiful dream we all shared?
Fortunately, I recently went down a long and winding Instagram vortex full of glamour shots of TimCha's hairline and I am now convinced that the algorithm works. I am refreshed. Reborn. Zen, dare I say.
And in that spirit, please join me in taking some deep and mindful breaths as we meditate on the following blessed images.
Inhalé...and éxhale…
If it's comfortable for you, breathe in through your nose and out through your nose. Hold for a moment between inhale and exhale.
Focus on your breath. Be present in the current moment.
As you breathe deeply, try to think about where your body is holding the tension of the week. Then relax those muscles.
Breathe in and out for counts of three. In: Tim-o-thée. Out: Cha-la-met.
If your mind wanders, let it wander. But then slowly bring it back to Timothée Chalamet.
As you inhale, try to picture the worries of your week rising, and as you exhale imagine them leaving your body.
Keep breathing, and imagine a warm light moving throughout your entire being. Inhale...and exhale.
Well I don't know about you but I'm feeling better already.

Namaste, friends, and have a relaxing weekénd.
RELATED STORIES
Cady Drell is a writer, editor, researcher and pet enthusiast from Brooklyn.