This Week in Timothée Chalamet, August 31 Edition
The battle for the title of Ultimate Internet Heartthrob rages on.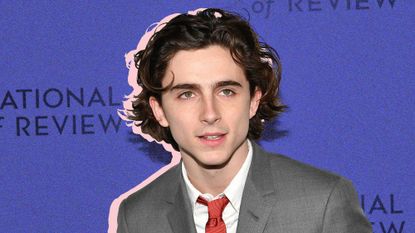 (Image credit: Getty Images/Morgan McMullen)
Because being a person in the world is hard and you deserve something nice, this is MarieClaire.com's semiregular column on everything talented young man Timothée Chalamet did that week. You can catch up on last week's column here (opens in new tab).
Hello, you vermilion flycatchers, and welcome back to another edition of This Week in Timothée Chalamet. Are you drinking enough water? Got any fun plans for Labor Day?
Personally, I find Labor Day a little bittersweet. On the one hand, it's a three-day weekend at the best time of the year, when the weather is still hot enough that you can go swimming but it's not the summer dregs where you know it's going to go on forever. On the other, it means that autumn (which always seems too short) is right around the corner, and then winter after that (which always seems too long).
Fortunately, there's plenty of Timothée Chalamet content to keep us going through those long months. Beautiful Boy is going to get its Toronto International Film Festival screening in a few weeks (and both Steve Carrell and Timmy are going to be at the fest), plus the Netflix flick The King that I refuse to learn anything about will be out...sometime in 2019? Hope!
Here's what élse is goin' on:
Amazon shelved a starring-Timmy movie directed by Woody Allen
Speaking of bittersweet, Woody Allen announced a "career break" and won't make any new films until 2019. Allen is the subject of sexual abuse allegations put forth by his adopted daughter Dylan Farrow years ago, though he's never really had to answer for them somehow and has been allowed to carry on with his career as usual. That he may now face consequences is not the bittersweet part.
The "break" comes alongside the announcement that Amazon, with which Allen has a production deal, announced it would be shelving A Rainy Day in New York, the film starring Timmy, Elle Fanning, and Selena Gomez. (Remember those scenes of Timmy and Selena making out? I ship it so, so hard, tbh!) So this means that the movie prominently featuring rain, Timothée Chalamet, Selena Gomez, and New York—some of my favorite things—may never actually come out.
For his part, TimCha seems to regret agreeing to the project in the first place in light of the allegations. In January, after fielding questions about why he chose to work with Allen, Timmy announced on Instagram he would donate his salary from the film to Time's Up, the LGBTQ Center in New York, and RAINN, an anti-sexual assault nonprofit:
(He also said he couldn't talk about why he made to decision to work with him, despite Farrow's allegations being out in the open for years, because of "contractual obligations," which...okay?)
Whatever happens with the fate of this film, take heart: Timmy will be in many movies going forward because he is a talented young man.
Emma Watson is replacing Emma Stone in Little Women, which makes her Timothée's new costar
No offense to Emma Stone, who is delightful, but I am positively thrilled with the news that Emma Watson is set to replace her (opens in new tab) in Greta Gerwig's highly-anticipated (by me) adaptation of Little Women. Turns out, Stone couldn't get out of promotion for another movie The Favourite.
Here are three reasons I am excited about this news:
Hermione!
Watson isn't in enough movies, if you ask me. Like, Beauty and the Beast was good but where has she really been since?
I love her support of feminist causes (opens in new tab) and I think all celebrities should be as vocal as Watson is. Like, the woman interviewed bell hooks for goodness sake.
Plus, this just adds to the assertion that this movie is going to be really heartwarming bone-structure porn.
A Noah Centineo vs. Timothée Chalamet battle is brewing.
...on Twitter. As we discussed last week, Noah Centineo—breakout star of To All the Boys I've Loved Before and future star of Sierra Burgess Is a Loser (making him the rom-com leading man du jour, a la Tom Hanks in the '90s)—is the internet's new boyfriend.
I'm of the mindset that it's really "the more the merrier" when it comes to having obsessive crushes on celebrity strangers, but apparently Twitter is a bit more hard-nosed and keeps asking people to commit to a heartthrob.
First of all, rude! Second, the data is inconclusive.
Observe the first notable tweet that floated this premise, which asked people to Retweet for Noah Centineo and Like for Timothée Chalamet:
i'm curious.rt for noah centineo.like for timothée chalamet. pic.twitter.com/C2JGzhEZTsAugust 23, 2018
See more
The results showed Timmy with over 700 Likes, to Noah's hundred or so Retweets (at the time of publication). But later that day, there was a twist when a different person posed the same question slightly differently:
let me tryrt for timothée chalametlike for noah centineo pic.twitter.com/AmPAduyg96August 24, 2018
See more
When it came to Retweet for Timmy and Like for Noah, Noah was in the lead.
Does this show one fandom is stronger than the other? Has Noah surpassed Timmy in Internet Boyfriend status? Or is this merely proof that people are way more comfortable Liking a tweet than Retweeting it because we're all inherently commitment-phobic?
I'm gonna go with the latter. But for the record, I have the facts and I'm voting for "They Should Just Kiss Each Other."
And that's that! Have a beautiful Labor Day weekend, you little paintéd buntings.
MORE TIMOTHÉE CHALAMET NEWS
Cady Drell is a writer, editor, researcher and pet enthusiast from Brooklyn.