Dad Twitter Comes for Piers Morgan's Dumb Tweet
And the responses are genuinely terrific.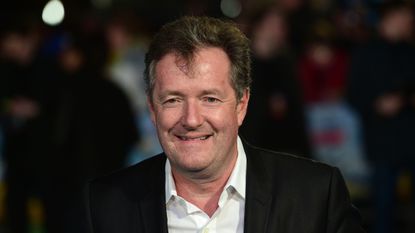 (Image credit: LEON NEAL)
Piers Morgan, the British presenter most noted these days for having relentlessly bad opinions online, drew the ire of the internet Monday night. Typically we would all just ignore him, as Morgan's bread-and-butter is the kind of shame-y Twitter trolling that somehow makes other sexist old white guys look even worse. Like, "Oh, I did not realize this terrible take was also in the elderly white male canon. Yikes."

In fact, the only bright spot in Piers Morgan's social media presence is that most of his attempts at pseudo-intellectual machismo end up being spectacular self-owns. For examples of this, you can look at his thoughts on race, Donald Trump, the history of his own country, or the Women's March, to name a few—but I don't recommend it.
The point is, Piers Morgan attempting to shock people and falling helplessly on his own face wouldn't normally be news, in the same way that a sunset, though beautiful to behold, is not news. Like life itself, Piers Morgan owning himself is what happens when you're busy making other plans. And like the film Life Itself, I'm willing to go out of my way to avoid watching it.
But Tuesday was worth seeing because the tweet that launched a thousand hilarious responses happens to read like braindead Mad-Libs. You see, it all started when Piers Morgan attempted to dad-shame Daniel Craig.
Oh 007.. not you as well?!!! #papoose #emasculatedBond pic.twitter.com/cqWiCRCFt3October 15, 2018
See more
I want to roll my eyes but my brow is too furrowed in confusion to give the mobility for a full circuit. Look, I don't want to spend time thinking of ways to defend Daniel Craig—not because he's a bad person or anything, just because he's so hot that it feels like a waste of energy. Like, he can defend himself. But the notion that carrying your child close to your body somehow makes you less of a man is comically idiotic, bordering on, "Are...are you okay, Piers?"
And Twitter was super ready to point that out, often with adorable dad pictures. See some of the best responses below:
The child's mother carries the child for 40weeks, sometimes more before it enters this world. We as men should be able to carry them afterwards to show our support. There is nothing wrong with carrying and supporting our children this way pic.twitter.com/mlA5q3pLP4October 16, 2018
See more
There are a few simple rules with children. If a 4 year old hands you a plastic toy phone, you answer it. If you're invited to a tea party in a princess castle, you attend it. If you make a child, and are a good father, you carry them to the end of the earth and back. #nuffsaidOctober 15, 2018
See more
Ahaha, Piers, you flaccid old dick. I've seldom been happier in my life than when walking around with my babies strapped to me. What a loss for you that you're too much of a man to be a dad. pic.twitter.com/PE6V5OrXBnOctober 15, 2018
See more
And I'm wearing pink wellies 👊🏻 pic.twitter.com/W4EzzMS1oHOctober 16, 2018
See more
There are a ton of great, heartwarming responses in the comments, so if you want to start your Tuesday off right, you could do worse than checking them out. Don't click on Piers's newer responses though, where he attempts to defend his terrible take and then gets his feelings hurt.
In fact, remember when he took a break from Twitter? Can we, uh, go back to that? Perhaps permanently?
Celebrity news, beauty, fashion advice, and fascinating features, delivered straight to your inbox!
Cady Drell is a writer, editor, researcher and pet enthusiast from Brooklyn.