Prince William Had to Fix Prince George's Hair at Trooping the Colour 2019
The royal family is attending the Queen's annual birthday celebration, Trooping the Colour, and there were some pretty great candid moments, like Prince William fixing George's hair. See the photos here.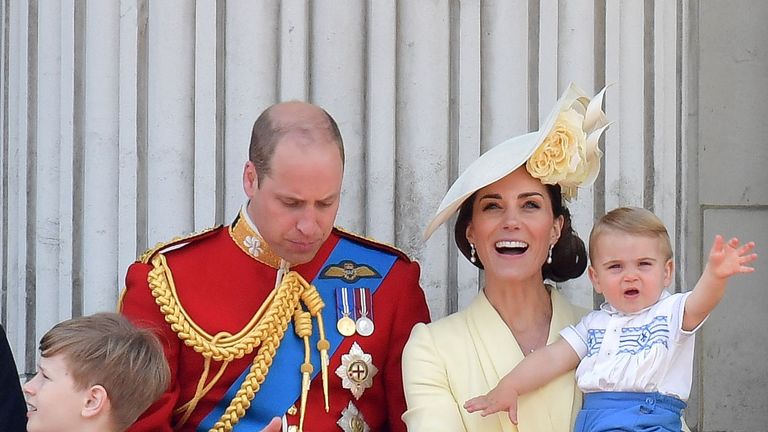 (Image credit: DANIEL LEAL-OLIVAS)
When the royal family gathers on the balcony at Trooping the Colour, there's always some pretty great candid moments, like Prince Louis waving to the crowd and, of course, who could forget last year when Prince George's cousin Savannah Phillips covered his mouth? (FYI, they were separated on the balcony this time around.) The tradition continued this year when Prince William was spotted fixing George's hair in the middle of the fly past.
It was a sweet moment for the father and son. Naturally, George is unbothered.
In case you're unfamiliar, Trooping the Colour is an annual celebration with immediate royal family members honoring the Queen's birthday. Prince William, Kate Middleton, Prince Harry, Meghan Markle, and more participate in the parade and ride around in carriages, meanwhile royal children like Prince George, Princess Charlotte, and Prince Louis make an appearance with their parents on the balcony.
40 Epic Photos of the Royal Family at Trooping the Colour Through the Years
1985
Image 1 of 40
Look at how small Prince Williams and his cousins are!
1985
Image 1 of 40
Look at how small Prince Williams and his cousins are!
1988
Image 2 of 40
Ever the doting mother, Princess Diana hoists a tiny and rebellious-looking Prince Harry on her hip as they watch the parade from the balcony.
2001
Image 3 of 40
Her Royal Highness Queen Elizabeth surveys the crowd that gathered to celebrate her birthday, sporting a smart pea green suit and matching hat.
2001
Image 4 of 40
The Queen is joined by her husband Prince Philip and their son Prince Charles on that iconic balcony.
2002
Image 5 of 40
Prince Michael of Kent is total beard goals at the 2002 Trooping th Colour festivities.
2002
Image 6 of 40
Princess Alexandra, first cousin of the Queen, and the Duchess of Gloucester leave Buckingham Palace for the parade.
2002
Image 7 of 40
Princess Eugenie looks absolutely precious in her baby blue outfit for the big day. Check out that smile!
2003
Image 8 of 40
Just in case you forgot, everyone was in ~love~ with Prince William growing up. This is why.
2003
Image 9 of 40
Fun fact: the hat that Prince Philip is sporting is called a bearskin, and yes, it's really made out of the fur of American black bears. Sad.
2003
Image 10 of 40
Raise your hand if you're feeling personally attacked by Prince Harry's adorably shy smile. So! Precious!
2004
Image 11 of 40
Even former Prime Minister Tony Blair turned up for the festivities, taking in the sights of parade from the stands.
2004
Image 12 of 40
Yellow hat, yellow dress, yellow parasol—Her Majesty pretty much invented monochromatic fashion.
2004
Image 13 of 40
Prince Philip stands at attention in his uniform and offers a formal salute for the occasion.
2005
Image 14 of 40
Princess Anne dresses in a cool military uniform and rides on horseback during each Trooping the Colour because she's one of many royal colonels.
2005
Image 15 of 40
Other royal colonels include her brothers Princes Charles, Andrew, and Edwards as well as the Dukes of Kent and Gloucester.
2006
Image 16 of 40
Princess Anne and the members of her royal regiment gather for a quick photo-op in Hyde Park after the parade.
2006
Image 17 of 40
If anyone knows anything about fascinators, it's the royal family. Just check out the cool headpieces that Princess Beatrice and the Countess of Wessex have on!
2007
Image 18 of 40
Never one to shy away from bold colors, Queen Elizabeth stuns in a lime green outfit for her big day. She's been rocking neon way before it even became trendy—keep up, girls!
2007
Image 19 of 40
Her Majesty can barely contain her approval of her royal guard as she inspects them.
2007
Image 20 of 40
LOL! Caption this:
2008
Image 21 of 40
The Queen is rarely spotted out and about without one of her many antique brooches (including this super shady one), many of which have been in the royal family for centuries.
2008
Image 22 of 40
Daily mood: Prince Harry's disgruntled pout.
2008
Image 23 of 40
Fully obsessed with the Duchess of Cornwall's floral fascinator. One word: Stunning.
2009
Image 24 of 40
Even after 72 years of marriage, Queen Elizabeth still looks at Prince Philip with heart eyes. Couple goals.
2009
Image 25 of 40
10 years before his son Archie Harrison was born, Harry was giving us a glimpse into his future as an amazing dad. *dreamy sigh*
2010
Image 26 of 40
Hey, royal family fans? We need the name and make of the lippie Queen Elizabeth has on—please and thank you!
2011
Image 27 of 40
A few months after her April wedding to Prince William, Kate Middleton made her Trooping the Colour debut as the Duchess of Cambridge.
2011
Image 28 of 40
Lady Louise Windsor is so, so, so CUTE.
2012
Image 29 of 40
Easy, breezy, beautiful Duchess of Cambridge.
2012
Image 30 of 40
Decked out from head to toe in a snazzy military uniform, Prince Harry certainly turned quite a few heads.
2013
Image 31 of 40
Don't let her petite stature fool you; Queen Elizabeth is a force in the royal family.
2013
Image 32 of 40
Mummy-to-be Kate glows on the balcony of the palace.
2014
Image 33 of 40
Prince Edward dons a striking hat to complement his royal colonel uniform while riding in a carriage with his brother Prince Andrew during the parade.
2015
Image 34 of 40
A precocious Prince George makes his Trooping the Colour debut and totally steals the show with this ridiculously cute moment.
2015
Image 35 of 40
More pictures of George because just LOOK at him!!
2016
Image 36 of 40
Mother of two (for now) Kate certainly has her hands full with George and Charlotte.
2016
Image 37 of 40
Invented. Neon.
2017
Image 38 of 40
The royal great-grandbabies are getting bigger and cuter by the day. We're obsessed.
2018
Image 39 of 40
Just one month after wedding to Prince, Meghan attends Trooping the Colour for the first time, actualizing every little girl's dream of becoming a princess.
2018
Image 40 of 40
Nothing to see here, folks. Just Prince William being a dad.
For more stories like this, including celebrity news, beauty and fashion advice, savvy political commentary, and fascinating features, sign up for the Marie Claire newsletter.
RELATED STORIES
Rachel Epstein is an editor at Marie Claire, where she writes and edits culture, politics, and lifestyle stories ranging from op-eds to profiles to ambitious packages. She also manages the site's virtual book club, #ReadWithMC. Offline, she's likely watching a Heat game, finding a new coffee shop, or analyzing your cousin's birth chart—in no particular order.