Cher Delivers an Epic Smackdown on Twitter
Don't mess with the "Believe" singer.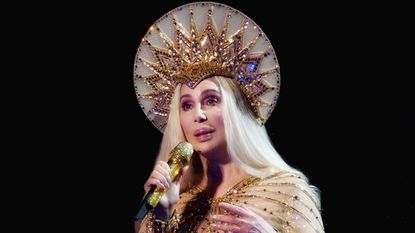 (Image credit: Archives)
Marie Claire newsletter
Celebrity news, beauty, fashion advice, and fascinating features, delivered straight to your inbox!
Thank you for signing up to . You will receive a verification email shortly.
There was a problem. Please refresh the page and try again.
I don't know how to break this news to you so I'm just going to come out and say it: Actual goddess Cher vaporized a random woman into oblivion on Twitter yesterday. Thoughts and prayers to the complete stranger who made the grave mistake of trying to come for the "Strong Enough" singer, even though she wasn't sent for.
Cher, who has long had a colorful online presence (opens in new tab), was tweeting about her displeasure with the Trump administration's decision to rescind DACA. The iconic diva has never been shy about expressing her political opinions (opens in new tab), and, let's just say, the president is not in her good graces.
RELATED STORY
It's important to note that Cher tweets like your aunt who just discovered emojis and is having the time of her life. This is not a read. She has never seen a word that wouldn't work better as a little cartoon image and I'm here for it.
🇺🇸HAS BEEN OUR DREAMERS ONLY HOME‼️HOW CAN WE THROW THEM INTO THE WILDERNESS.TRUMP IS COMPLETE COWARD🙅‍♂️,WHY DIDNT HE END DACA"HIMSELF"ON 📺September 5, 2017
See more
If you had told me 20 years ago that the Twitter feed of one half of "I Got You Babe" was going to be the go-to spot for pleasantly illustrated Resistance hot takes I would have said "Half of those words don't make any sense, but I believe you because you just got out of that Delorean from the future, so what do I know?!"
Anyway, Cher was sitting around the manse, minding her own business, angrily tweeting about a cruel and unnecessary policy (opens in new tab), the epitome of 2017. She wrote "Those Who Can Must Take a DREAMER In2 Their Home & Protect Them. I'm Ready 2 Do This."
Those Who Can Must Take a DREAMER In2 Their Home & Protect Them‼️I'm Ready 2 Do This & 🙏🏻Others in MY BUSINESS WILL DO THE SAME‼️SANCTUARYSeptember 5, 2017
See more
As far as tweets go, this is pretty on-brand for the philanthropic singer. But into the mix comes random Twitter user Brenda and she's got something to say. Brenda, the person from Accounts Payable who always heats up salmon in the break room at work, decides, apropos of nothing, that she doesn't believe Cher's tweet.
"Sure you will Cher," Brenda wrote. "I'll believe it when I see it!"
Cher, who may I remind you, is only a Tony away from an EGOT, replied with the most devastating six words written on the internet yesterday: "Then keep your eyes open bitch."
First of all, I need that cross-stitched into a throw pillow immediately. Second of all, Brenda is now just a scorch mark on the floor, and it's all very awkward.
Brenda! What are you doing, Brenda?! Of course Cher's got your number on a comeback; retiring and coming back is literally her job now. Not to throw salt on the gaping wound here but I'm actually perplexed by Brenda's unbelief. She's just sitting in her house, apparently following a celebrity whom she despises (Brenda! Look at your life, Brenda!) when she sees Cher's DACA tweet and thinks to herself, "Cher is going to house Dreamers in a building paid for with Moonstruck residuals?! Not on my watch! For I, Brenda, am the arbiter of truth on the internet and this will not stand."
We need to come up with a word to express a clapback as epic as this. This is a thunderclapback. This was a clapback that could have tumbled the walls of Jericho. This clapback showed up on the Richter scale. This clapback came to your house, roused you from a peaceful slumber, slapped you across the face and then borrowed $20.
As you continue your week, please remember to welcome a Dreamer into your home, close your mouth when Cher is talking to you and, always, keep your eyes open!
RELATED STORY
Follow Marie Claire on F (opens in new tab)acebook (opens in new tab) for the latest celeb news, beauty tips, fascinating reads, livestream video, and more.
R Eric Thomas is a Senior Staff Writer at ELLE.com, home of his daily humor column "Eric Reads the News," which skewers politics, pop culture, celebrity shade, and schadenfreude. He is also the author of _Here For It: How to Save Your Soul in America, a memoir-in-essays.