Forever Fergie
With a new album out, a world tour under way, her first big role in an Oscar-bait movie, and that covetable marriage, the Black Eyed Peas B-girl is suddenly A-list.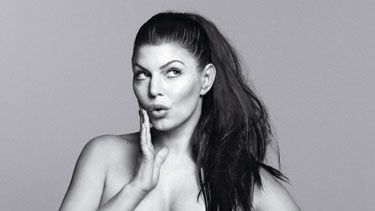 (Image credit: Mark Abrahams)
Fergie has gone to the dogs—literally. On a sunbaked Friday in New York City, the duchess of pop, known for pogo-ing onstage in a ribbed leather catsuit, can be found in a dog park lobbing tennis balls to a slobbering Rottweiler. It's one of Fergie's pleasing contradictions: The 34-year-old juggernaut (who collected three Grammys as the unofficial front woman of the Black Eyed Peas, scored three number-one singles with her debut solo album, The Dutchess, and whose ripped midriff we could identify in a lineup) is suddenly obsessed with life's simpler pleasures, like pets, family, and her new hot-dish husband at home.
I'd suggested this venue after hearing that the 5'4" cardio-sculpted, size-2 chanteuse can't hike near her Brentwood, CA, home without stopping to greet every third pooch she sees. She has two spoiled dachshunds of her own: Meatloaf, an aptly named rescue dog, and a silver dapple called Zoe. "One day I was doing vocal warm-ups, and because Zoe thinks I'm her alpha, she joined in," she says. "I thought it was really funny hearing this little dog howl along with me, but my neighbors thought we were screaming and called the cops on us."
Today, Fergie has ditched the halter tops and cat's-eye liquid liner, opting instead for a Public Myth tracksuit, ink-black shades, and chunky sneakers; on her finger is a 4-carat sparkler and matching band from H.Stern. Her hair, freshly tinted a warm chocolate brown, is loose—blissfully free from the dominatrix braid she tends to wear onstage with the Peas. "It felt like it was time to evolve," she says, sharing a park bench with a snorting pug. "I've always been blonde, but it's a new time in my life. Plus, this album gave me more of a nighttime feel, and I wanted to explore that." When a frustrated woman grouses about the bigger dogs that won't leave her painfully shy Yorkie alone, Fergie commiserates, worrying aloud that Meatloaf could use some lessons in socializing as well.
Also absent from Fergie's new look: the earlobe full of piercings and the silver bar that once punctuated her dramatically arched eyebrows, a daily reminder of a promise she made to herself years ago—to live drug-free. A touch of tangerine gloss sets off her Angelina-like grin, which explodes across her face (round cheeks with a peach glow, flecked hazel-blue eyes, cleft chin) quickly and often. After all the ruffian posturing onstage and in videos, I expected Fergie to be edgier, full of the hump-shaking bravado on display in the bawdy "London Bridge" video. Instead, she's girlish, while remaining sharply aware of the world around her (she's the first to spot a pap with a megazoom lens snapping away).
PHOTO GALLERY: SEE PHOTOS OF FROM FERGIE'S FASHION SHOOT
"She's rugged—hard core," says bandmate Will.i.am, discussing the missing ingredient Fergie provided when she joined the rising rap trio full time in 2003. "She brought sexiness to the Black Eyed Peas." Although the girl herself sees it differently: "The Peas bring out the silly side of me, the tomboy."
With the release of this summer's futuristic, electro-inspired The E.N.D.—the group's first new studio album in four years, which has already spawned their biggest hit to date, the bass-thumping, number-one single "Boom Boom Pow"—Fergie seems braced for chaos. "It's starting to get crazy," she says. "Here we go: tour, tour, tour." But the California girl does what she can to keep the punishing road routine fresh—for instance, loading a laptop with her favorite television shows, like The Office, 30 Rock, and Lost. "That way it's about their drama, not mine," she explains. She also brings self-help books (The Power of Your Subconscious Mind) and keeps her hypnotherapist on speed dial. "I just put on music, get her on speakerphone, and lay back. Balance is something I'll always work on." Out-of-town visitors provide helpful diversions, too. "Well, my boyfriend ..." Fergie starts, referring, presumably, to her swoony new husband, Transformers star Josh Duhamel. "Oh my gosh, my boyfriend? I didn't even say my fiancé! He's going to kill me," she says, doubling over with laughter. "I told you we were newlyweds."
The pair met on the set of Duhamel's guilty-pleasure nighttime soap, Las Vegas, in 2004 (on which the Peas guest-starred), and they fell fast and furious for one another. The two made it official last January in a lavish gardenia-and-crystal-studded ceremony at a Malibu vineyard. To the collective awwws in the room, they danced to the Rolling Stones' "Sweethearts Together"—before succumbing to something like stage fright. "We had a plan," Fergie says. "We were going to do this dip, but we didn't rehearse enough and completely messed it up as soon as we got on the floor." Somewhat less poignant: Among Duhamel's most vivid memories of the day was the helicopter paparazzi. "When the chandeliers started shaking, I thought the tent was going down," he said, while eating strawberries from the catering table at Fergie's MC photo shoot.
Seeing them together, it's obvious that the 6'3" spouse is like a life preserver for Fergie. "It's funny, because at work I have to be a very strong, tough woman. But when I'm with him, I just turn on this baby girl voice because ... he's my big tall man!" she says with a throaty laugh. With heavy personal challenges behind her, including a well-documented meth addiction, Fergie—the former Kids Incorporated child star, onetime straight-A student, and spelling-bee champ—doesn't take the gift of a good man lightly. "I've been in a lot of relationships that were exciting but unhealthy, very Sid-and-Nancy-esque. I wanted somebody I could count on. With all the craziness of this business, I know I can count on my man—and he knows he can count on me."
Continuity, normality ... that seems to be what they're going for—especially on the road, where Duhamel joins Fergie as often as possible. "We order room service and watch our shows," she says. "We love The Daily Show. That's our go-to, before we go to bed—gotta get our Jon Stewart on," she says. "And I love crying at romantic movies like The Notebook. I'm always bawling. Josh is always laughing at me." At home, she says, "I'll lie out by the pool, and Josh hits golf balls to Zoe as we listen to music. In the evening, we'll order Indian or Chinese, turn on the fire pit, and talk about old times—he might tell me what he was doing back in North Dakota when some Phil Collins song came out. We're pretty chill." As for the diaper-wearing elephant in the room, kids, Fergie tells me the couple definitely wants them—"just not during this tour."
Fergie as a mom—the mind boggles a little. But then again, why not? "I wasn't trying to be a role model with The Dutchess," she says, of the stacked-heel seductress she evokes on the album. "But suddenly, seeing little girls in the audience with their moms made me think about what I do onstage a little bit more. I had to watch my mouth, because it can be filthy. It changed things for me." So did learning that "Fergalicious" is Sasha Obama's favorite song. When Fergie performed at this year's White House Easter egg hunt, even the president told her, somewhat surreally, "I can relate to the line 'working on my fitness.'"
That said, Obama's got nothing on Fergie when it comes to the gym. "I've been busting my ass, training," she says, referring to the 17 pounds she gained (and then peeled off) for her role as Saraghina, a buxom prostitute in Rob Marshall's razzmatazzy big-screen spectacle Nine, which premieres this November. "Being around the guys, they're like a fraternity—I know what they look at. I don't want to have a song like 'My Humps' and it be sagging down, so I pay attention to that area. A lot."
After the dog park, Fergie's decidedly not working on her fitness when a personal pizza buffet is spread out in front of her at a yolk-yellow booth in a dive on West 4th Street. "My eyes were bigger than my appetite," she groans, limply pulling the cheese off a second slice, gently poking at the broccoli on the slice to her right. Soon, Duhamel will swoosh by in a black SUV to collect his pop-star wife and the box of leftovers—they're driving to Philly tonight, where the Peas are playing a radio show. Toddling off, the friendliest diva on the planet isn't quite sure what's next, and that's fine. She knows she's a work in progress—"a little rough around the edges," as she describes herself with a sly smile, unlike, say, Beyoncé or Gwen Stefani, who seemingly have it all. "They're the ones who I like to say are on the perfect cruise. Those people who always get it right. I've had a few more scandals."
One thing is certain—Fergie's open. "I've been working straight since 2003, so I might just want to take an improv or theater class," she offers. "That excites me. I can't wait to do different characters—not necessarily the leading chick who gets the guy, but the weird, freaky cousin." Fergie get her freak on? Color us so not surprised.
Celebrity news, beauty, fashion advice, and fascinating features, delivered straight to your inbox!