Get to Know Emilio Vitolo, Katie Holmes' New Boyfriend
He's a chef, actor, and celebrity BFF.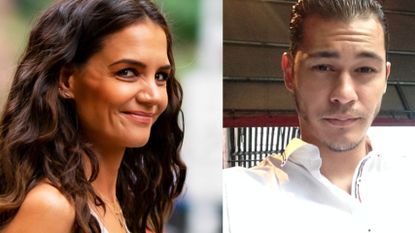 (Image credit: Getty / Instagram)
Katie Holmes has a new man in her life! On Sunday, she was photographed kissing a mystery man, sitting on his lap during a dinner date at Manhattan's Peasant Restaurant (Daily Mail has the photos, and they're steamy!). The man was quickly identified as New York City chef Emilio Vitolo. Things appear to be heating up: Holmes and Vitolo were spotted (again!) participating in a cute PDA sesh outside Emilio's Ballato, a famous Nolita restaurant and also the place where Vitolo works. So, what's up with Holmes' new man? Here's everything we know about him.
Vitolo is a chef!
The 33-year-old works at his family's restaurant Emilio's Ballato in Soho alongside his dad, mom, and three brothers. The eatery has been around since the '90s, serving up meatballs, chicken parmesan, linguine with clams, etc.
"It's a seven-day-a-week commitment," said Vitolo to InStyle in September 2019 on the family business. "If you're going to do a restaurant the right way, you always have to be there. But on Sundays my father was never the cook. My mother, who's from Peru, would make us dishes like chicken and rice instead."
It's a fan favorite for many celebrities, including Justin Bieber, Danny Devito, Rihanna, Bradley Cooper, Whoopi Goldberg, and former President Barack Obama. Lucky for you (if you're in the area), they don't take reservations and are currently open with an outdoor dining area in compliance with NYC's COVID-19 safety restrictions.
Vitolo is also an actor.
Not only can the dude cook, but he acts, too. His IMDB page reveals he's starred in a bunch of TV shows and films, including Royal Pains, a guest spot on Inside Amy Schumer, and a role in the 2019 indie film Tapestry. He just finished filming a mob movie called Birthday Cake that features Penn Badgley, Ashley Benson, Ewan McGregor, and a bunch of other A-listers.
Vitolo is friends with a ton of celebrities.
A quick scroll through Vitolo's Instagram feed shows that he's hanging out with some high profile celebrities when's not busy cooking at his family's restaurant. Everyone from Cuba Gooding Jr. to Lenny Kratiz seems to consider the chef a good friend, but it seems he's especially close with the Jonas brothers.
In 2017, he spent New Year's Eve with Joe Jonas and Sophie Turner and celebrated Joe's 30th birthday last August. He's even appeared on a sketch of The Tonight Show Starring Jimmy Fallon alongside Joe and referred to him as "my brotha from Anotha motha" on IG.
Vitolo and Holmes follow each other on Instagram.
Nothing says, "maybe we're dating" in the 21st century than a mutual social media following. While they haven't publicly come out on the 'gram about their relationship, he did leave a comment back in July: Two dancing women emojis on a photo Holmes posted on set for her movie The Secret.
So, if you wanted a sign, consider this it!
Vitolo was recently engaged.
Alright, so this is when things get interesting. According to the Daily Mail, Vitolo was engaged to an up-and-coming designer, Rachel Emmons, 24, who founded Anna Rachel Studio. They had been dating for around two years. The two reportedly split just days before Vitolo was photographed with Holmes. Even crazier: They apparently lived together, shared a dog, and were reportedly planning their wedding. Vitolo hasn't commented on the Daily Mail report.
Related Stories:
Bianca Rodriguez is the Fashion & Luxury Commerce Manager at Hearst Magazines, covering fashion, beauty, and more for Cosmopolitan, Elle, Esquire, Harper's BAZAAR, and Town & Country. She likes lounging about with a good book and thinks a closet without platform sneakers is a travesty.