Are Marvin and Melinda From 'Too Hot to Handle' Still Together?
The on-off duo left Turks and Caicos a committed couple.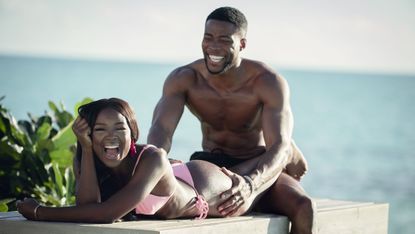 (Image credit: Netflix ¦ Tom Dymond)
Marvin Anthony and Melinda Melrose left Turks and Caicos winners in more ways that one. After Marvin was declared the winner of Too Hot to Handle season two, he walked away with $55,000—and Melinda, his on-off girlfriend during their time at the resort. Before he won, he told Melinda that he wanted to make it work, asking her to be his girlfriend in spite of the distance (Melinda is based in New York, Marvin in Paris). They left the resort blissfully happy—but that was a while ago now, in December of 2020. So, are Marvin and Melinda still together now, in mid-2021?
Until the reunion show on July 5, we were getting major mixed messages from these two. While Cam Holmes and Emily Miller, the other major couple of season two, all but confirmed that they were still together (they shared on the reunion show that they've even moved in together!), Marvin and Melinda remained more tight-lipped, with Marvin saying only, "It's complicated."
Are Marvin and Melinda still together?
No. At the reunion show on July 5, hosted by Chloe Veitch, Marvin and Melinda were the first to take the hot seat. "We were supposed to meet in Tulum, in Mexico...and we fought, and finally I didn't go," Marvin said.
Melinda corrected him: "We were supposed to be in Mexico, that's correct...Of course, Marvin and I did get into an argument, but he could have put his big boy pants on and still came. But he decided to cancel his whole flight the day that he was supposed to come...I was left in the dark. I was pissed. And then he goes to Mexico a month later!...I was just so sad," Melinda added.
"For a long time we didn't talk or anything," Marvin said. "But now we're talking, and we're on good terms...We'll see."
"His favorite line," Melinda said. "'We'll see.'"
"We are not together anymore," Marvin said. "I do miss her a lot."
But even before the reunion show, we had hints that things were not going smoothly for the couple. In an interview with Capital FM, Marvin said: "It's complicated, with Melinda it's always complicated. But we're going to see, because we've been away for a long time. I was stuck in France, so we're going to see how it'll continue."
But last week, Melinda shared on her Instagram Story proof that they'd been speaking for an hour on the phone, writing, "When the conversation is too good and you don't want to hang up."
And when a follower asked whether they were still together, Marvin responded with this:
I am...confused!
Are Melinda and Peter together?
Well, this is interesting. Melinda seemingly confirmed that she's romantically involved with Peter Vigilante, the TikTok-famous original cast member—who, you'll remember, she kissed at the very beginning of the season. Behold:
Caption: "At least this time it wasn't a mosquito bite." (!) Cam commented: "Didn't see this coming but so here for it." And Marvin weighed in, writing: "Congrats."
Cam wrote on Peter's post: "Welcome to the couples gang," whereas Chase wrote: "Wow." and Marvin inexplicably wrote, "Good job buddy." (!)
Even before those photos, fans had suspicions: They'd done a deep dive into an Instagram Story that showed Melinda clinking drinks with someone, and declared that the hand was Peter's. Melinda also re-shared a video Vigilante made of him lusting over her on the show, and they also appear to be working together on something for YouTube? Behold:
Which doesn't necessarily mean anything, obviously. Most likely, they're just friends. But...it's interesting!
What have the rest of the cast said about Marvin and Melinda?
Tabitha told the Radio Times: "I voted for Cam because I had that moment with him and that test with him. I related to him a little bit...I think he was on a bigger journey and he learned more things compared to Marvin. Marvin was really cheeky. My heart just went out to Emily and Cam. I think they were just the more genuine couple at that moment."
And Kayla Carter, another original cast member, told Melinda in a post-show interview that Marvin had been interested in her, too: "I had to share a bed with someone in particular"—that's Marvin—"who would have done things if I wanted to, but I wanted to respect our friendship more. So I didn't."
Celebrity news, beauty, fashion advice, and fascinating features, delivered straight to your inbox!