Christina Aguilera: Drop Dead Diva
Say what you want about her — she's heard it all (and couldn't care less). Now, on the heels of her 31st birthday, the pop icon is finally ready to set the record straight about her divorce, the tabloid rumors, and her new curves. Be sure to check out all of the photos from our exclusive cover shoot with Christina!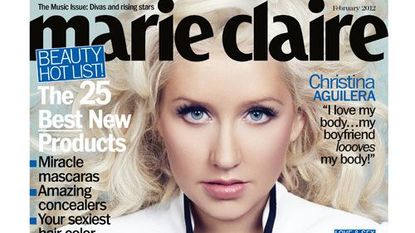 (Image credit: Archives)
Marie Claire Newsletter
Celebrity news, beauty, fashion advice, and fascinating features, delivered straight to your inbox!
Thank you for signing up to Marie Claire. You will receive a verification email shortly.
There was a problem. Please refresh the page and try again.
Christina Aguilera looks every inch the consummate performer, whether working it onstage in front of thousands of fans — or in the midst of a PR crisis. Perched on a white couch after a photoshoot, her white-blonde hair cascading over her shoulders, her eyelids heavy with glitter, the singer appears calm, poised, and ready to answer tough questions. Having interviewed Aguilera several times before, I know that she's an expert at delivering smart, sharp commentary on subjects she wants to discuss — and deft at avoiding those that she doesn't. Recently, there have been a lot of tricky land mines to navigate. In 2010, she filed for divorce from music executive Jordan Bratman, her husband of five years; that same year, her album Bionic proved a critical and commercial disappointment. She didn't fare much better at the box office: Critics lambasted Burlesque, her feature-film debut costarring Cher, as campy froth. Then came last year's infamous Super Bowl incident, in which Aguilera flubbed the lines to the national anthem. A month later, while out with her boyfriend, production assistant Matt Rutler, she was arrested for public intoxication. (Charges were later dropped.)
"That was a rough year," Aguilera admits, shaking her head. "Between my divorce and the other things I went through, a lot happened. It's hard for anyone to go through that in public. But when you're a celebrity and under a microscope, it's 58 million times harder. I grew an even thicker skin after that hard year." The scrutiny seems to have shown no signs of abating: Lately, she's been subjected to cruel tabloid headlines about her fluctuating weight. ("I was never that fat," crowed Kelly Osbourne on E! Fashion Police.) Aguilera's response, she says, is to ignore the static. "I've been through my highs, I've been through my lows; I've been through the gamut of all things in this business. Being too thin. Being bigger. I've been criticized for being on both sides of the scale. It's noise I block out automatically. I love my body. My boyfriend loooves my body. My son is healthy and happy, so that's all that matters to me."
Unlike a lot of Hollywood's size-00 denizens, who obsess with near-OCD fervor over every calorie, Aguilera claims she has never been more at peace with her figure. "I have certain physical features that I favor over others. We all have our areas," she says. "When I worked on Burlesque, I lost so much weight that I was too skinny. I don't weigh myself — it's all about how I feel in my clothes. What looks good on one person might not look good on another body type. I happen to be very confident in my own skin. It takes time to get to that place, but it's all about embracing yourself and your body."
Aguilera doesn't just embrace her new figure so much as tie a ribbon around it and gift it to the world. On NBC's breakout singing competition The Voice, where she holds court as the only woman on a panel of puckish judges including Cee Lo Green, Maroon 5's Adam Levine, and country hottie Blake Shelton, Aguilera favors unapologetic miniskirts, bustiers, and her trademark 6-inch Louboutins. And yet, despite the white-blonde Betty Boop routine ("It is called show business," Aguilera says), The Voice, which has her mentoring a cadre of pop wannabes, spotlights sides of Aguilera we've rarely glimpsed before: nurturing, funny, flirty. The show's choicest moments are the off-set rehearsals that find her alone with a contestant, dispensing advice and inspiration. In these unscripted scenes, Aguilera looks and sounds like a lot of us: a been-there-done-that survivor who's known her share of triumph and pain, yet plows ahead all the same.
Fashion Credits: Blazer, Emporio Armani; bodysuit, Marlies Dekkers; waistbelt, Agent Provocateur; ring, Sydney Evan.
More from Marie Claire:
Hairstyles for Long Hair You'll Love
Short Haircuts to Be Inspired By
2015 / 2016 Fashion, Trends & Style Tips
Celebrity news, beauty, fashion advice, and fascinating features, delivered straight to your inbox!