Project Runway's Lone Wolf
To stand out from the pack of designers in Project Runway's 11th season — the first ever dedicated solely to team challenges — Michelle Lesniak Franklin trusted her own instincts, and won.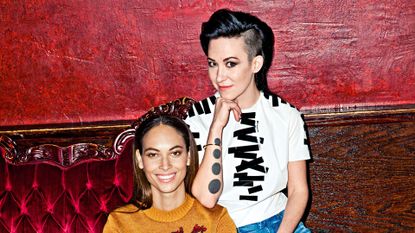 (Image credit: Meredith Jenks)
No one saw it coming. As part of a team, Michelle Lesniak Franklin's individuality and edgy point of view were completely lost on Project Runway's judges. Each week she found herself among the lowest-scoring group. "I couldn't catch a break," she says. "You switch teams, and then that team crashes and burns? It felt like the world was conspiring to not let me win — like I had kicked a bunny in my past life and it was coming back to haunt me." That frustration proved vital to Lesniak Franklin's triumph at Mercedes-Benz Fashion Week last February. "Basically, I was a lone wolf," she says of the inspiration behind her winning collection. "I had one last chance to make a kill, survive the winter, and make it in the industry." Indeed, her bleeding-heart knit sweater slaughtered the competition." Her designs were smart and thoughtful," says judge and MC Creative Director Nina Garcia, who at one point questioned the 34-year-old Portland, Oregon, native's "'80s hair-metal" taste. "Once she was left to work on her own, her perspective as a designer became crystal clear."
Another thing that Lesniak Franklin wants to make clear: "I totally work well with others," she says. Back at home in Portland, her next step is to hire a staff for her clothing line, Au, so-named for the chemical symbol of gold. Her fondest Runway memories: "Late at night when the cameras were off and it was just us girls in our apartment, we'd laugh and make fun of each other and do impersonations. Patricia [Michaels] does an incredible Daniel [Esquivel]. I don't think I've ever giggled so much." Despite being held back by teamwork in the beginning, Lesniak Franklin can't deny the powerful bonds that resulted. "We're definitely a much closer season by far," she says. "We all talk to each other — some of the designers I talk to on a daily basis. We're close, like family." In the end, a leader is nothing without her pack.