Kanye Punches Teen in Response to Racial Slurs Directed at Him and Kim
Slurs and punches are thrown.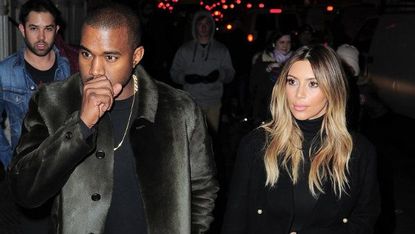 (Image credit: Courtesy of Getty)
Is it ever ok to get physical over words?
Kanye West pulled out all the punches (literally) when it came to coming to Kim Kardashian's defense after she was slammed with racial slurs. Now, Kanye is a suspect in a misdemeanor battery complaint.
According to TMZ (opens in new tab), Kim was swarmed by paparazzi when she entered a Beverly Hills medical building. When a 18-year-old man tried to help Kim enter the building, he simultaneously called the photographers racial slurs (It's 2014, people. Can we stop the racial name calling?).
When Kim told the man that it was not appropriate to use the N-word, the attack turned personal on Kim. Kim then called Kanye, in which the man also threw some racially charged words at the rapper via phone.
Violence doesn't solve anything but honestly who the hell goes around calling people the N-word? It looks like one good deed was also met with some harsh prejudice.
When Kanye arrived to the scene, the duo entered the medical office's waiting room, and Kanye punched the teen. Kim is now claiming that the man allegedly threatened to kill her.
Not a stranger to assault charges, the rapper was under investigation in November for an altercation with a photographer in LAX.
DISCUSS: If you were the brunt of a racially charged verbal attack, would you expect your significant other to use their hands to stop it?