Kate Middleton's St. Patrick's Day Outfit Was Better Than Yours
And she even wore a fist full of clovers likely plucked from her royal garden on her chest.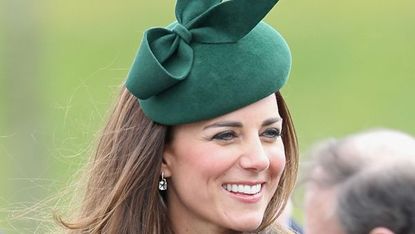 (Image credit: Getty)
It's official: we all need to add a beautifully structured green coat to our wardrobes in the near future.
Kate Middleton and Prince William stepped out on Monday to visit the Aldershot Barracks for the annual St. Patrick's Day parade. The Duchess of Cambridge wore a green Hobbs Persephone coat and gold Cartier shamrock brooch. According to Vanity Fair, the brooch carries some historical significance as it was first worn by Queen Alexandra in 1901, which only further proves that the Duchess of Cambridge should really wear royal jewels at all times and never take them off.
The appearance was the couple's first joint engagement of the year, and comes just weeks before their official trip to Australia, where Middleton will reportedly debut her fancy new wardrobe, courtesy of the Queen. Ah, life as a royal.
More Kate Middleton, Please!

How to Get Kate Middleton's Highlights
How to go Dark a la Kate Middleton
Kate Middleton Reportedy Undergoing a Royal Makeover