Game of Thrones Star Dishes on Cast and Being the Unluckiest Person Alive
"When you play a Game of Thrones, you win or you die."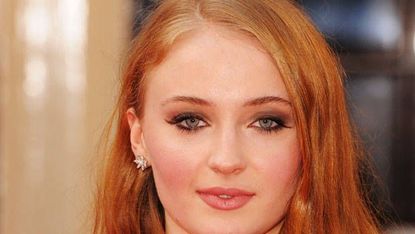 (Image credit: Wireimage)
Just in time for HBO's Game of Thrones buzzy season finale this Sunday, we caught up with the show's own Sansa Stark,18 year-old Sophie Turner for a little sushi (she ate it with a fork a knife, so proper!) and some fun girl talk. Listen in to see what the eldest daughter of House Stark has to say about the life-changing role she landed at 13. We love this girl!
Marie Claire: Game of Thrones was your first professional acting gig – which you landed when the show held auditions at your school. That's what they call a lucky break!

Sophie Turner: I'm the least lucky person actually! Game of Thrones was like the most lucky thing, but normally everything bad that can happen to a person tends to happens to me! If I'm trying to get home, you can guarantee that the tube will have people on strike or the taxi guy will charge me 10 times more. It's so annoying. I'm an unlucky charm…don't go anywhere with me.

Photo Credit: Wireimage
MC: You've spent most of your teen years shooting GOT on crazy cool locations. Is it hard to find a date in Croatia…there has to be some cute extras to flirt with?

ST:I don't get any dates, that's the thing. It's embarrassing because normally the cute guys in Croatia are tan hotties and I sit in my dress sweating! I'm never going to get a date like that.
MC: Are you and Sansa anything alike?

ST:I feel like there is a lot of her in me, and a lot of me in her since we both have grown up together. It's very easy for me to slip into her, but I'm not a method actor. I'm not like one of those people who is like "don't talk to me, I'm in the zone right now."
MC: Who has been your biggest mentor on the show?

ST: Nat Dormer. I can ask her the most stupid embarrassing questions. I'll be like "so what does it feel like to be in love?" and she will tell me and give advice. She's probably my biggest mentor just in general life.
MC. Do you color your hair for the show?

ST: I do. I'm naturally blonde, so [right now] this is like fading auburn. I like the auburn.
MC: What's on your playlist?

ST: London Grammar's "Strong" – they're amazing! George Ezra's "Cassy O'" and "Budapest." Then I like my Beyoncé "Partition." I really like The Vamps. I'm friends with a couple of the guys from the band, so that's fun. I also have oldies like Eddie Grant's "Electric Avenue."
MC: Best gift you've ever received?

ST: When I was fifteen, I got a Tiffany's necklace from the producers of Game of Thrones with my character's name Sansa engraved on it.

Photo Credit: Tracy Shaffer
MC: Favorite place to shop?

ST: There is a huge Topshop next to my village so that's my hub. I also love All Saints and Free People.
MC: What's your favorite go-to item in your closet?

ST: I have a Dalmatian onesie with ears from Top Shop that I wear the most. ALL. THE. TIME. Everyday.
MC: What is on your To-Do-List?

ST: I have the most random to-do-list things because I'm doing what I really want to do. But I want to do little things on the side like work at Starbucks, I just think it would be so fun.
MC: What's on your nightstand?

ST: I have a ton of Kleenex because at night I always get the sneezes, I don't know why. Rosebud lip balm from Sephora. It's like four dollars and the most amazing thing ever. I have a big speaker because I literally can't go five minutes without music.
MC: Is there a quote you live by?

ST: I always have little quotes on my phone. At the moment it's John Lennon "It'll all be okay in the end and if it's not okay, it's not the end." I have a new quote every month. I put them on just as a little reminder that life will all be fine.
MC: How did this quote tradition of yours start?

ST: I think it started when I saw a quote from a basketball player that said "You miss 100% of the shots you don't take" and I was like "Oh my god, I love it!"
MC: How did you make your first dollar? Or, um in your case, pound.

ST: My local theater company [in the UK] was kind of running low on money so my friend and I set up lemonade and cookies and stuff on a mini stool outside of her house. We made like 5 pounds and we kept all of it cause we were like "You know what, that was too much work for 5 pounds."
MC: We're sitting here at the Four Seasons Hotel in Beverly Hills, apparently in the same breathing vicinity of Justin Bieber who (rumor has it) is staying here. You clearly got a little excited at that newsflash!

ST: I mean, he's just so handsome and he's got such a good voice! Recently in an interview I said, "Justin Bieber is kind of like the Joffrey Baratheon of our time." I didn't mean it in a bad way. I meant that all the girls look up to him and admire him. Now I think he will hate me if he read that.
Game of Thrones season finale airs on HBO this Sunday, June 15 at 9:00 p.m. ET/PT.
More Game of Thrones Articles:

18 Shots of the Game of Thrones Cast at Its Photogenic Best


The Emotional Stages of Watching Game of Thrones


14 Game of Thrones Quotes That Turned Us Into Superfans


The Moments That Got Us Hooked on

Game of Thrones


Your Favorite Game of Thrones Ladies As Disney Characters
Marie Claire's Game of Thrones 'Fire & Ice' Cocktail
Which Game of Thrones Character Are You?
The Best Braids in Game of Thrones
Marie Claire email subscribers get intel on fashion and beauty trends, hot-off-the-press celebrity news, and more. Sign up here.