The Dog Breeds Celebrities Own and Love
Because this is the kind of info I Google in my spare time.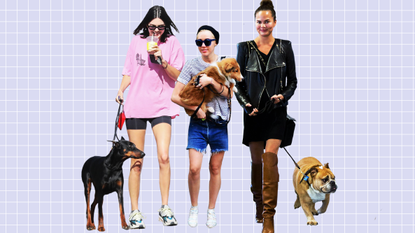 (Image credit: Getty Images ¦ Morgan McMullen)
Marie Claire Newsletter
Celebrity news, beauty, fashion advice, and fascinating features, delivered straight to your inbox!
Thank you for signing up to Marie Claire. You will receive a verification email shortly.
There was a problem. Please refresh the page and try again.
Even more interesting than a celebrity's romantic relationship status: The relationship they have with their dogs. Yes, dogs. Stars have called their pets "fur babies" and created Instagram accounts just for them, which, might I add, have more followers than I'll ever see in a lifetime. There's Amanda Seyfried and her beloved pooch, Finn, Kylie and her skinny dogs, the Obamas with Bo and Sunny, the list goes on. Dog fanatics will be pleased to know that not only have I found 25 cute photos of celebs and their adorable pups, but I've tracked down the specific breeds, too. So now the real question is...what kind of dog will you get?
1/23
The Obamas
After Barack Obama was elected president, he made good on his promise to get his daughters a hypoallergenic dog. Enter Bo (pictured on the right), a male Portuguese Water Dog, gifted to the family by Senator Ted Kennedy in 2009. In 2013, Sunny, a female dog of the same breed, joined the family.
2/23
Joe Jonas and Sophie Turner
The couple adopted an Alaskan Klee Kai together in 2018 and named him Waldo Picasso. He also has his own Instagram account, though there's only one photo posted so far. Waldo Picasso, step up your game because Finn Seyfried's winning.
3/23
Ariana Grande
The singer has nine rescue dogs and a pet pig. Here, she brought one of her pups, a Beagle-Chihuahua mix named Toulouse to The Tonight Show Starring Jimmy Fallon.
4/23
Abel Tesfaye a.k.a The Weeknd
The Weeknd welcomed a Doberman Pinscher into his life in 2017, shortly after his public breakup with Selena Gomez. It was reported he got the new dog after having adopted a puppy with Gomez, who we guess claimed the pup in the split.
5/23
Kylie Jenner
Kylie owns two Italian greyhounds: Norman and Bambi. The pair mated (Norman is the dad) and had two puppies, growing the group to four.
6/23
Taylor Hill
Two things to know about the model's personal life: Her boyfriend's name is Michael Stephen Shank (they're so cute together!) and she loves her Miniature Labradoodle, Tate.
7/23
Amanda Seyfried
The actress loves her Australian Shepard, Finn, so much, she even made him an Instagram account called finnsite. (He currently has 81.1k followers and is more popular than I am.) Finn's pictured here with his owner for a visit to the David Letterman Show.
8/23
Kate Middleton and Prince William
We know, Prince George looks adorable here in this family portrait but look at Lupo (!!). It was reported Prince William originally got the English Cocker Spaniel for his wife to keep her company while he was away in the Falklands Islands.
9/23
Chrissy Teigen
Chrissy Teigen and John Legend own three dogs: Puddy the Bulldog, Pippa the Frenchie, and Penny, a three-legged Frenchie. Here, Chrissy strolls with Puddy through LAX.
10/23
Reese Witherspoon
The Big Little Lies star was spotted walking her chocolate lab Hank (and a second dog) in Los Angeles. Not pictured is Pepper, a blue-gray French Bulldog who joined Witherspoon and her family in 2016.
11/23
Queen Elizabeth
Queen Elizabeth II has owned more than 30 corgis since she became Queen in 1952, most of them a direct descendant of her first dog Susan. Last year, her final royal corgi, Willow, passed away leaving the Queen with two Dorgis (a Corgi-Dachshund mix). Though she soon adopted a Corgi named Whisper after its owner, a former Sandringham gamekeeper, passed away.
12/23
Justin Theroux
The actor adopted a female Pit Bull named Kuma (it means bear in Japanese) in 2018. He was so smitten with her that he wrote an effusive Instagram caption when he got her.
13/23
14/23
Paris Hilton
Who can forget Paris Hilton's beloved dog, Tinkerbell? (#RIP) Staying true to her love for the Chihuahua breed, after Tinkerbell passed away, the star added a new pooch to her animal family: a micro Chihuahua named Diamond Baby. Here's hoping Diamond Baby is loving her two-story doggy home.
15/23
Olivia Palermo
Wherever Olivia Palermo goes, her white Maltese Mr. Butler goes. He's well-mannered (I've personally met him at an event and can vouch for this) and I'm sure his doggy wardrobe is just as stylish as Olivia's. I mean, has anyone ever looked chicer walking a dog?
16/23
Simon Cowell
The Britain's Got Talent judge loves his three Yorkshire Terriers: Freddie, Squiddly, and Diddly. "I love my dogs so much. I take them on holidays, I let them sleep in the bed, and sometimes one gets in the bath with me," he told Us Weekly. He's pictured here holding Squiddly and Diddly during a press event for his show in London.
17/23
Jonah Hill
Like Reese Witherspoon, Jonah Hill is a fan of Frenchies. He has a French bulldog named Carmela and also owns a Golden Retriever (not pictured).
18/23
Jake Gyllenhaal
The heartthrob has two dogs: a German Shepherd rescue (Atticus) and a Puggle (Boo Radley). They're both named after characters in Harper Lee's To Kill a Mockingbird.
19/23
Hugh Jackman
French bulldogs are quite popular with the Hollywood crew. Jackman has one named Dali, who he bought in 2010, and a cute poddle-terrier mix named Allegra, who he welcomed in 2014. Like the good dad he is, the actor makes sure his kids are bundled up before their winter walks.
20/23
Nina Agdal
After breaking up with Leonardo DiCaprio, Nina Agdal got herself a Puggle named Daisy. (Side note: If I had to choose between being BFFs with Leo or Daisy, to be honest, I'd choose Daisy.)
21/23
Julianne Hough
The dancer and actress is a fan of Cavalier King Charles Spaniels. Here, she's pictured walking with Lexi, who she calls her daughter. The star also has another dog of the same breed named Harley.
22/23
Jessica Biel
Biel took her beloved Pit Bull, Tina, out for a stroll around the East Village in New York City.
23/23
Kelly Rutherford
Kelly Rutherford's dog gets a front row seat at the Zadig & Voltaire show during New York Fashion Week. The long haired Dachshund is called Cappuccina.
Celebrity news, beauty, fashion advice, and fascinating features, delivered straight to your inbox!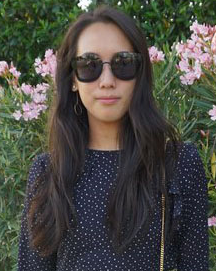 Marina Liao is the former fashion news editor at MarieClaire.com, where she covered celebrity style (from Meghan Markle to Katie Holmes), fashion trends, and shopping advice, plus conducted original interviews with industry insiders. She's also had many opportunities to write content in other areas such as beauty, food, tech, and even home. Her previous fashion stints include POPSUGAR and Cosmopolitan.