The 31 Best Duo Halloween Costumes for 2023
Name a more iconic duo than the ones on this list—I'll wait.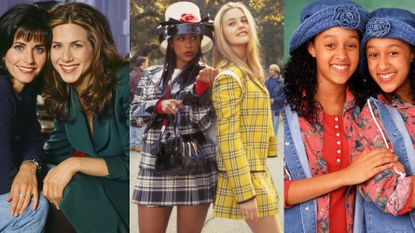 (Image credit: Getty/Everett)
Marie Claire Newsletter
Celebrity news, beauty, fashion advice, and fascinating features, delivered straight to your inbox!
Thank you for signing up to Marie Claire. You will receive a verification email shortly.
There was a problem. Please refresh the page and try again.
Halloween is one of my all-time favorite days of the year. Not only do I love dressing up by myself every year, but I also love planning Halloween costumes for me and my best friend. When has something not been more fun when you do it with the person you're closest to? Luckily, a lot of 2023's trendiest Halloween costumes are actually totally applicable if you're part of a duo.
This list of is chock-full of both new costumes that will feel entirely relevant in 2023 and a few all-time classic Halloween costumes for duos that are bound to please year in and year out. So whether you want to trick-or-treating as Lorelai and Rory Gilmore or as Shania Twain and Harry Styles at Coachella, I promise that there is something on this list for you. Chances are, you probably have a bunch of the pieces to make these costumes come to life already hanging in your closet (a large chunk of them rely on jeans and white T-shirts to work) so consider this a foolproof guide to duo costumes for 2023.
(If you're not really the dressing-up type, Marie Claire also has guides to costumes you can make out of a little black dress that are perennially chic, not to mention easy to master last-minute. Or, if you're the kind of person who lives for an of-the-moment costume, check out our definitive list of costumes inspired by movies and TV shows.)
Ken and Barbie from 'Barbie'
When it comes to the products Marie Claire recommends, we take your faith in us seriously. Every product that we feature comes recommended by a MC writer or editor, or by an expert we've spoken to. Learn more about how we review products.
The Barbie movie is coming, people! Channel your favorite '80s toy icons by copying Margot Robbie and Ryan Gosling's outfits from these on-set photos that debuted earlier this year.
Harry Styles and Shania Twain at Coachella
Consider this your sign to wear your sparkliest costume ever for Halloween 2023. Harry Styles' performance at Coachella gave many of us outfit inspo, but his sparkly jumpsuit paired with Shania's sequined mini is dying to be worn on a Halloweekend night out.
Lizzo and Her Flute at the 2022 Met Gala
To master Lizzo's iconic Met Gala 2022 look, have one person dress up in black and gold (think: an oversized coat and gold jewelry), while the other dresses in full blinged-out gold from head-to-toe as her flute.
The Sharma Sisters from 'Bridgerton'
Bridgerton's sister duo also makes for a killer costume for Halloween 2023. Kate Sharma is known for her bold colors while her sister, Edwina, wears lighter pastels.
Eleven and Max from 'Stranger Things'
Max Mayfield and Eleven became the best of friends of season three of Stranger Things, so channel their '80s energy by copying their looks this Halloween. Max is known for her high-top Vans sneakers and laidback style, whereas Eleven is almost exclusively in bright colors that season.
Steve and Robin from 'Stranger Things'
You have a few options when it comes to Steve and Robin costumes for Halloween this year. There are, of course, the iconic Scoops Ahoy uniforms, plus their later looks at the video store. Either way, this duo is tough to beat.
Drea and Eleanor from 'Do Revenge'
Netflix's new movie Do Revenge is ripe with costume inspiration for besties in 2023. Drea and Eleanor have many (many outfits to copy, but their full-on glam look from the end of the movie is my personal favorite.
Olivia Wilde and Harry Styles at the Venice Film Festival
This also works great as a costume for couples, but Olivia Wilde and Harry Styles were one of the most-watched duos at the Venice Film Festival this year. Really nail their looks by keeping a significant distance between one another in every single one of your Instagrams.
Cher and Dionne from 'Clueless'
Name a more iconic duo to kick off our list, I'll wait. Cher and Dionne's costumes are instantly iconic and there are tons of ways to Clueless-ify your looks. If you're going as Cher, either pick out a plaid mini skirt in yellow, or just wear a yellow skirt suit. For Dionne, feel free to wear black, white, and red. A funky hat is a must!
Peanut Butter and Jelly
There's nothing cuter (or easier) than going as peanut butter and jelly with your bestie this year. There are two ways to make this work: pair black leggings with either a berry or a brown t-shirt (bonus points if you DIY your costume), or shop pre-made costumes.
Tia & Tamera from 'Sister, Sister'
This costume is all about rocking double denim and '90s-inspired prints and colors. The must-buys include a pair of overalls, a deniim bucket hat, and a chunky sweater.
Cassie and Maddy from 'Euphoria'
They might not be besties at this point in time on the show, but that doesn't mean you can't throw it back to season one when they were! Or, for a season two-inspired look, dress up as Cassie in the outfit she wore to specifically match Maddie at the end of the season.
Rachel and Monica from 'Friends'
You know the vibes here: If you're going as Rachel, don a vintage Knicks basketball sweatshirt or, if you're really going for it, a bridal gown. For Monica, wear a retro slip dress, a cropped cardigan with jeans, or a white button-down shirt tucked into some dad jeans.
Megan Rapinoe and Alex Morgan
If you're going as everyone's favorite soccer besties, there's a few easy ways to nail the costume. Pink hair dye is a must, obviously, as are jerseys for both players. Feel free to make them yourself or buy an official set to rep team USA all year long.
Pink Ladies from 'Grease'
It's time to rep your favorite '50s-era girl group. Think: tightly curled hair, pink bandanas, black cat-eye sunglasses, and the iconic pink bomber jackets. If you don't want to buy a lookalike from the movie, wear pink denim jackets instead.
Lizzie and Isabella from 'The Lizzie McGuire Movie'
No singing skills are required for this costume. One of you should dress in a lavender mini dress, while the other wears one in lime green. Easy!
Serena and Blair from 'Gossip Girl'
Serena and Blair are one of TV's most iconic TV duos for a reason. Headbands and patterned tights are key to nailing Blair's look, while Serena normally takes a boho approach with beachy waves and oversize blazers and boyfriend-inspired button-downs.
Thelma and Louise
Maybe one of the easiest costumes on this list to master, going as Thelma and Louise just requires you to wear a white or black tank and high-rise jeans. Don't forget the sunglasses!
Romy and Michele from 'Romy and Michele's High School Reunion'
To get the full Romy and Michelle effect, you need to pick up pink and blue fur-lined mini dresses. However, regular old mini dresses (ones without fur) will work just fine, too.
Minions
Everyone loves to hate on the Minions, but that doesn't mean they don't make a super easy last-minute costume. Yellow tees and turtlenecks layered under blue overalls will make you and your friend (or your entire friend group) look totally on-theme.
Christina Yang and Meredith Grey from 'Grey's Anatomy'
Another easy costume in the books! Blue scrubs and white doctor's lab coats are all you need. Simple!
Mary-Kate and Ashley Olsen
For friends who dream of owning outfits from The Row. Head-to-toe neutrals are required, as are oversized sunglasses and barely-there makeup.
'Wayne's World'
A black trucker hat, oversized square black glasses, and coordinating T-shirts are the key to mastering this cult-classic costume. Don't forget to keep "Bohemian Rhapsody" on repeat all night long.
Lucy and Ethel From 'I Love Lucy'
Matching polka-dot dresses, sheer pantyhose, and low-heeled pumps are perfect for this best friend costume. Bonus points for pincurled hair and red lipstick.
Ghostbusters
This is another time when buying a pre-made Ghostbusters costume might make more sense than making one on your own. If you're feeling especially crafty, a dark green boiler suit will do the trick.
Raven and Chelsea from 'That's So Raven'
Oh snap! I love this duo costume because it lets your personal styles shine. Bright patterns, flared jeans, and frosty eyeshadows are all must-buys.
Max and Caroline from '2 Broke Girls'
Don yellow mini dresses and red aprons to master this duo's look from 2 Broke Girls. This is also perfect if one of you is a redhead and the other is a brunette.
Daphne & Velma from 'Scooby Doo'
Scooby Doo!-inspired costumes never go out of style. Daphne's purple-and-green ensemble is a go-to for a reason. Just make sure you have white knee-high boots. For Velma, all-orange is the way to go, complete with black square glasses. Bonus points for a brown bob wig!
Lewis Hamilton and Max Verstappen
F1 fans, this is for you. Max Verstappen and Lewis Hamilton duked it out for the 2021 championship, so this is still a great costume. If you prefer a different F1 rivalry or team (Leclerc and Sainz! Ricciardo and Norris!) you can easily do it for Halloween by wearing your favorite team's shirts.
Lorelai and Rory Gilmore
Rory and Lorelai Gilmore's outfits are the pinnacle of fall attire. Whether you're rocking Lorelai's first-day-at-Chiton-look (read: Daisy Dukes and cowboy boots) or Rory's classic school uniform, there are plenty of great looks to choose from.
The Contestants from 'Squid Game'
Green light! DIY a Squid Game Halloween costume with your favorite dark green sweatsuits. Don't forget to paint some faux blood on your face, and pick up a pair of new white slip-on-sneakers.
Celebrity news, beauty, fashion advice, and fascinating features, delivered straight to your inbox!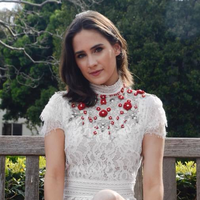 Julia Marzovilla is the E-Commerce Editor at Marie Claire, where she covers everything from the latest beauty and fashion launches and sales to celebrity outfits and news. She also creates shopping guides that span every vertical on the site. Prior to joining the Marie Claire team, she contributed similar shopping stories to sites such as Bustle, InStyle, The Zoe Report, Who What Wear, and STYLECASTER. In her spare time, Julia can be found creating shopping guides for all of her friends, spending too much money on yet another pair of black boots, and cooking in her far-too-small kitchen.