31 Things You Didn't Know About Queen Elizabeth
She does what with her purse now?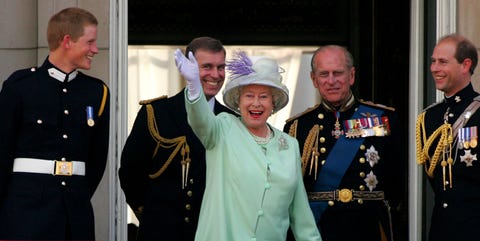 A collection of facts proving Her Majesty has both a love of life and an untouchable sense of humor.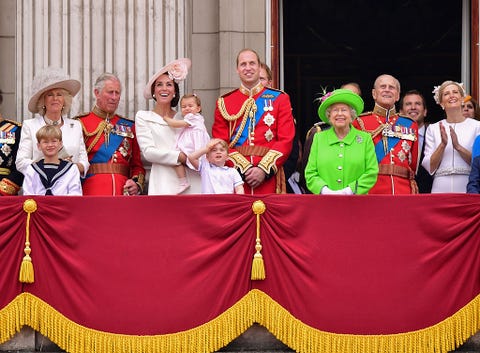 There's a reason she wears neon ensembles.
"You have to be able to see that figure in a lemon coat and hat from far away," Hugo Vickers, the Queen's biographer, told the New York Times. Here she is in a lime green suit for her 90th birthday celebration.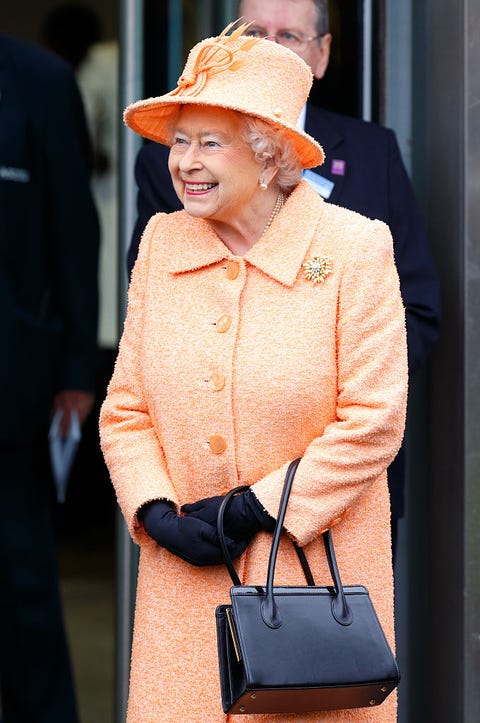 She uses her purse to send signals to her staff.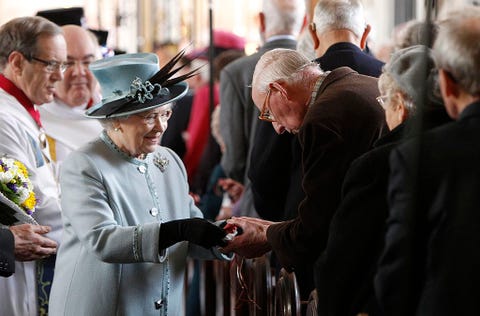 She only carries cash in her purse on Sundays so she can donate money to her church.
Here, she hands out money at the Derby Cathedral in Derby, United Kingdom.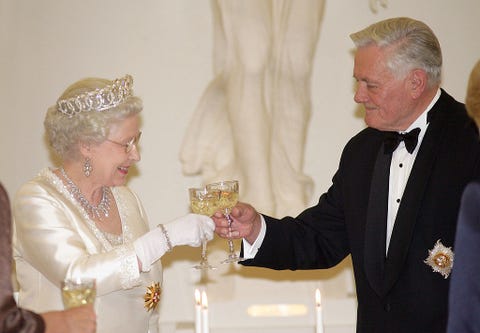 She drinks a glass of champagne every day.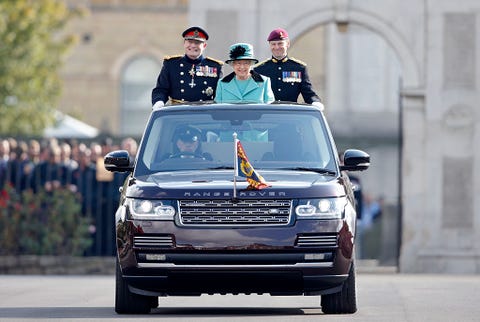 She is the only person in Britain who can drive without a license plate on her car.
She also never needs a passport when traveling around the world.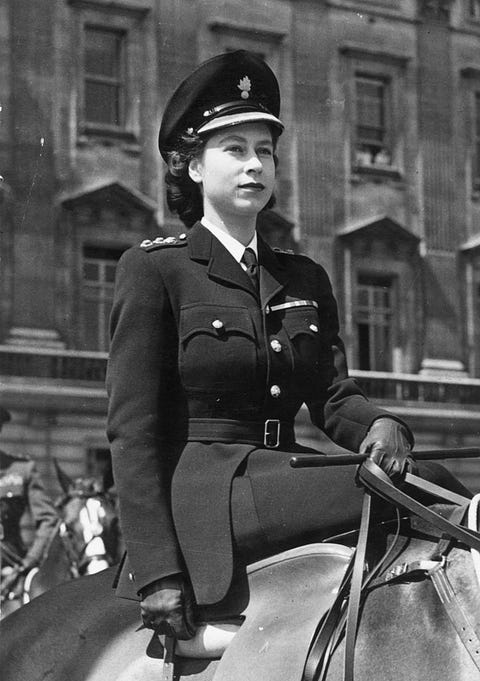 Along with Winston Churchill's daughter, she joined the women's branch of the British army during WWII.
The Queen got behind the wheel of a truck—it's how she learned to drive.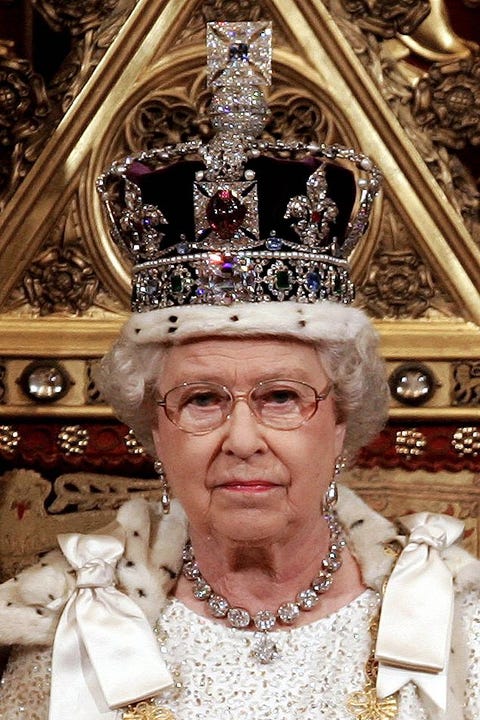 She's the longest-reigning monarch in British history.
The Queen earned that distinction in 2015, when she surpassed Queen Victoria's 63 years, seven months and two days on the throne.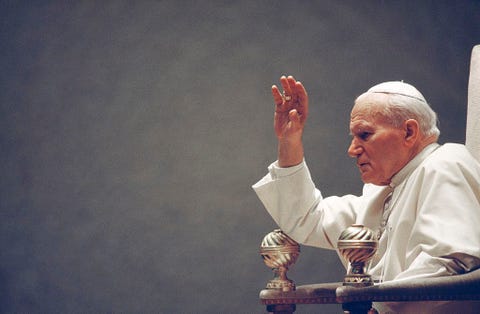 There have been six Roman Catholic Popes during Queen Elizabeth's reign (Pius XII, John XXIII, Paul VI, John Paul I, John Paul II and Benedict XVI).
Another indication of her long reign.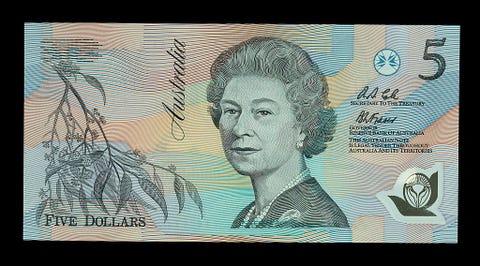 She is the face of Australian currency.
She has also visited Australia 16 times.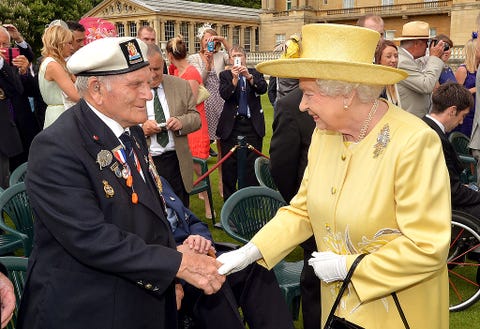 She backs over 600 charities and organizations.
Here she shakes the hand of a war veteran at her "Not Forgotten" Garden Party, a charity event to support ex service personnel.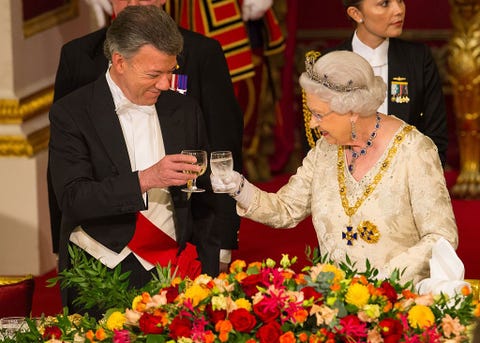 She hosts an average of 50,000 people every year at receptions, banquets, lunches, dinners, and garden parties at Buckingham Palace.
Seen here toasting Colombia's President Juan Manuel Santos.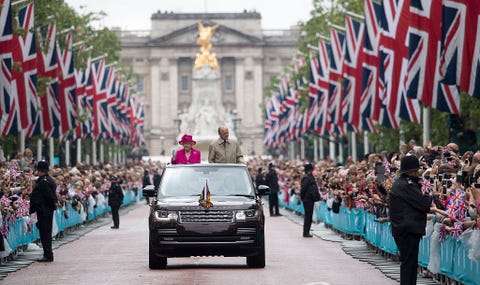 Although her birthday is April 21, it's celebrated in June.
The event is known as Trooping the Colour, and famously features the royal family taking part in a procession through London and waving from the Buckingham Palace balcony.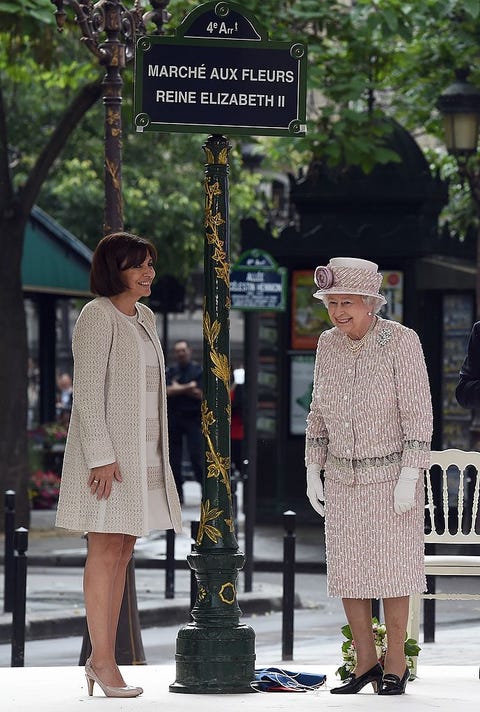 She speaks fluent French.
At the unveiling of the new street sign, "Marché aux Fleurs Reine Elizabeth II."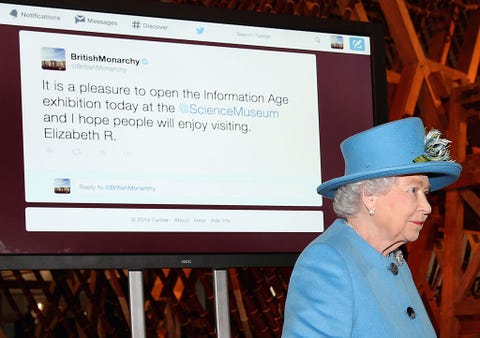 She joined Facebook in 2010, through a page called "The British Monarchy."
She is also on Twitter and Instagram, represented by @theroyalfamily, an account run by palace staffers.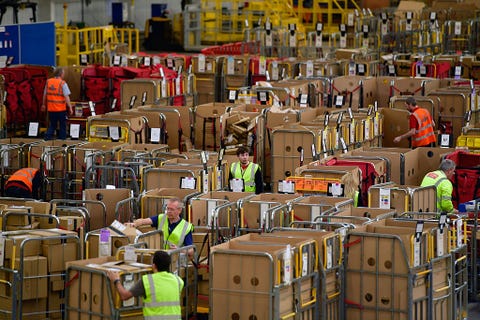 She and the Duke of Edinburgh have sent out over 37,500 Christmas cards throughout her reign.
And you thought you sent out a lot of holiday well-wishes.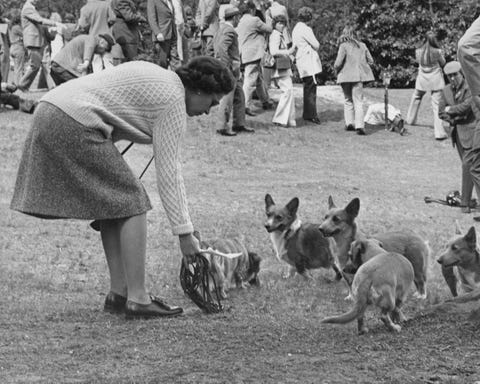 She loves corgis, and has owned over 30 during her reign.
Her first corgi, Susan, was a gift for her 18th birthday in 1944. Her last corgi, Whisper, died in 2018; she currently cares for two dorgis (corgi- dachshund mixes), Candy and Vulcan.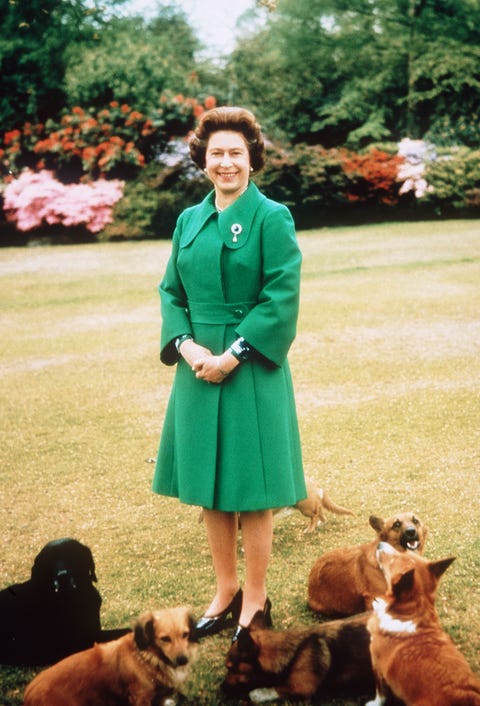 She got her first dorgi by accident.
When one of her corgis mated with Princess Margaret's dachshund, Pipkin, she found herself the proud owner of a dorgi.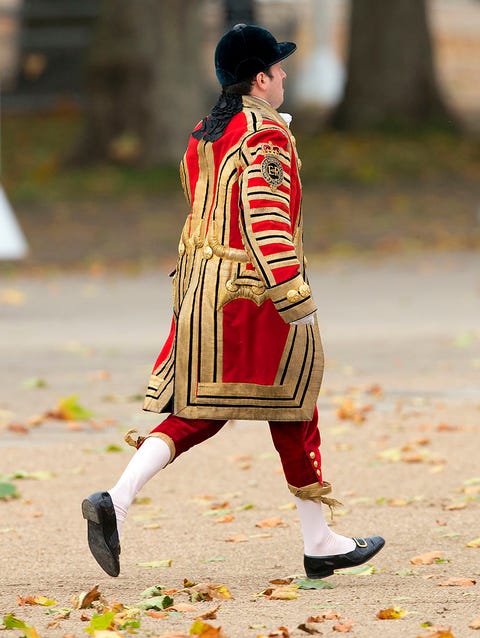 She once demoted a footman for giving whiskey to her corgis.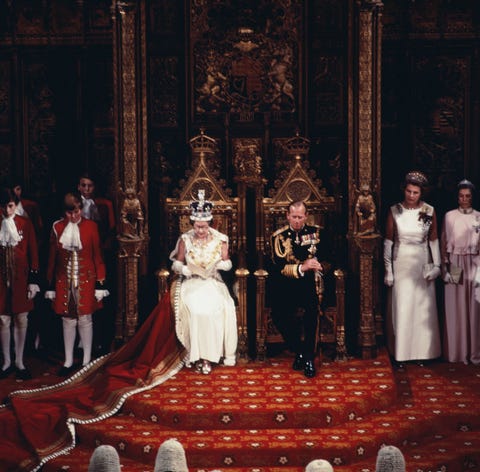 She has opened Parliament every year except 1959, for Prince Andrew's birth, and 1963, for Prince Edward's birth.
The Queen and Prince Philip at the state opening of the British Parliament in 1977.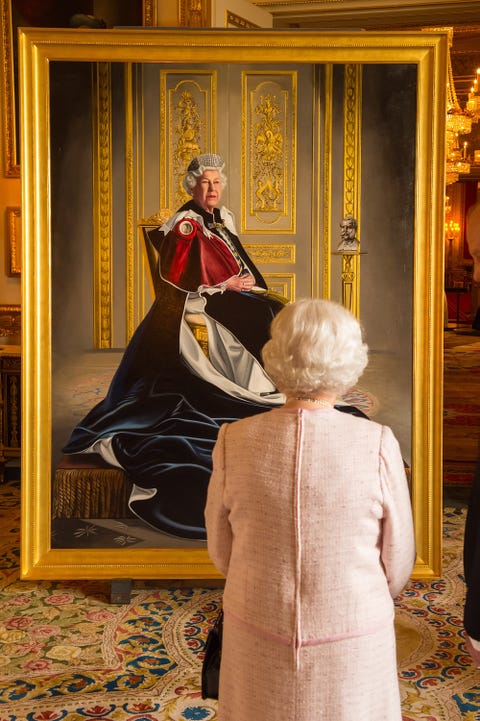 The Queen is one of the most depicted women in the world.
A Royal Collection Trust exhibition explored the monarch's visual legacy, placing official portraits by the likes of Cecil Beaton and Lucian Freud alongside Andy Warhol screenprints.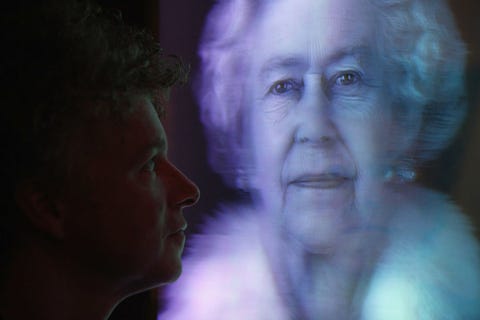 In 2004, the Queen sat for a hologram portrait, made up of 10,000 layered images.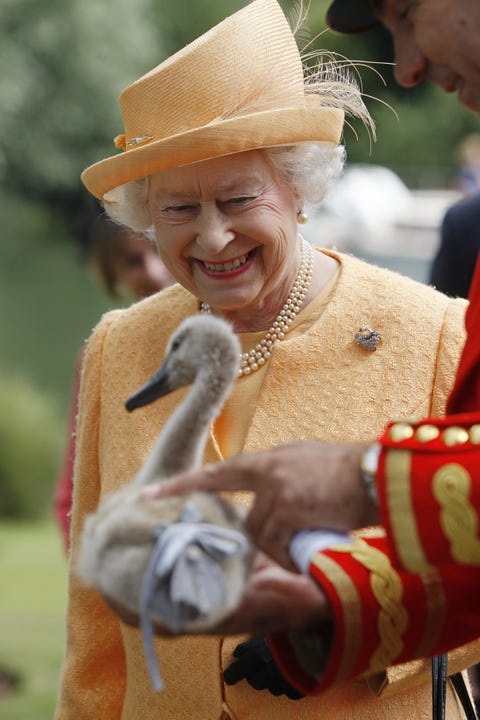 The Queen technically owns all the unmarked swans in the UK.
According to laws set forth over eight centuries ago, the reigning monarch holds "the right to claim ownership" over all "unmarked mute swans swimming in open waters." These days the monarch doesn't really go around claiming swans, but the Queen does celebrate an annual "Swan Upping," in which the Queen's official Swan Marker counts all the swans in a portion of the River Thames.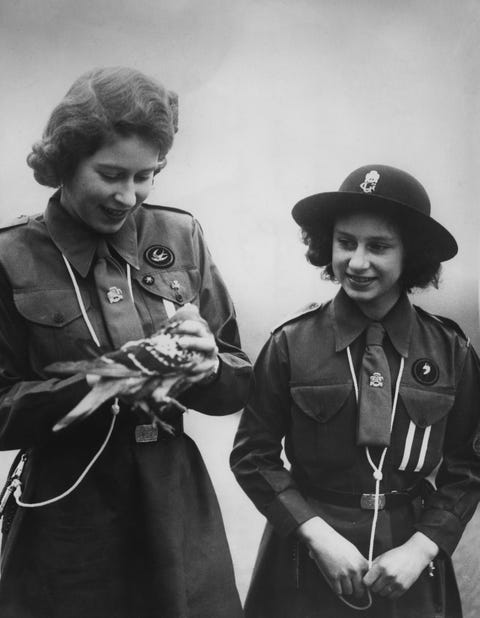 She also owns around 200 racing pigeons.
Princess Elizabeth with her younger sister, Princess Margaret Rose, holding a pigeon.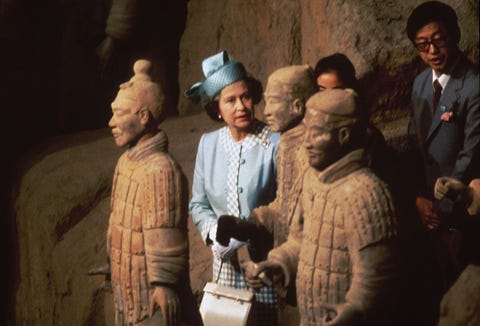 She was the first British monarch to visit China, in 1986.
She also saw the Terracotta Army soldier statues during her stay.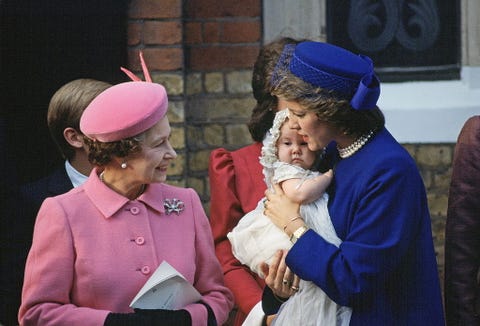 Queen Elizabeth has 30 godchildren.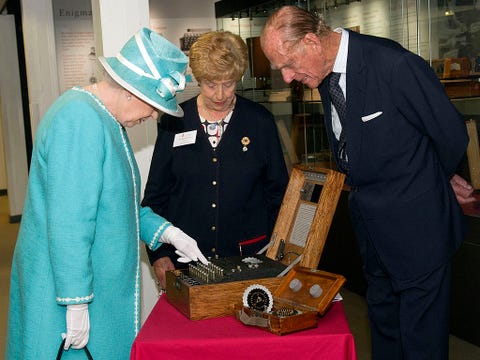 She sent her first email in 1976 from a British army base.
Here, she presses the button to start the Enigma Code Breaking Machine, which was used at Bletchley Park during WWII, and was a forerunner to modern computers.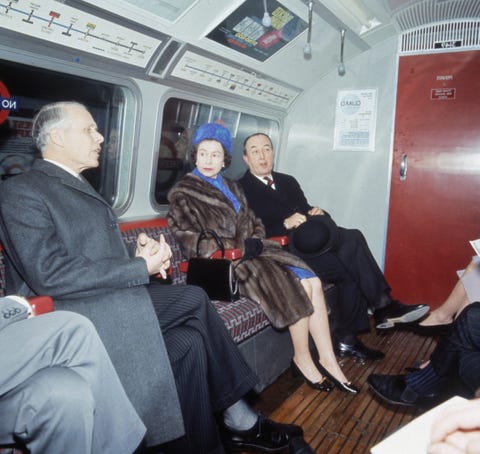 She used the London Tube for the first time in May 1939, accompanied by her sister Princess Margaret and her governess Marion Crawford.
She visits the tube again in 1969 (pictured here) for the opening of the Victoria Line.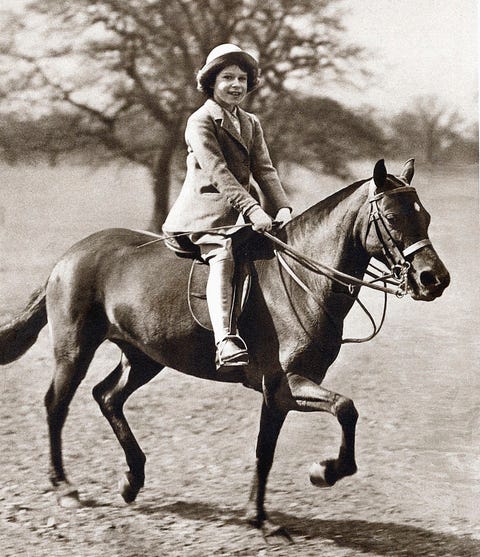 Her love of horses began at age four.
She received her first pony, a Shetland named Peggy, from her grandfather King George V, when she was four years old.
She still rides at Windsor, Sandringham, and Balmoral.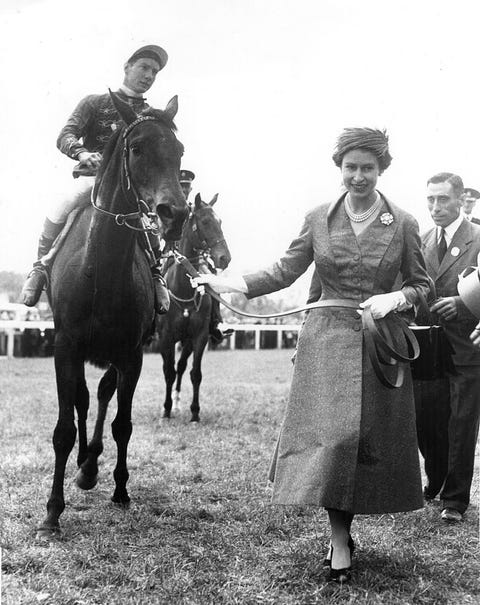 The Queen breeds horses, and has about 25 horses training at the royal studs every season.
Here she leads her first classic winner, a filly named Carrozza, at the Oaks in Epsom.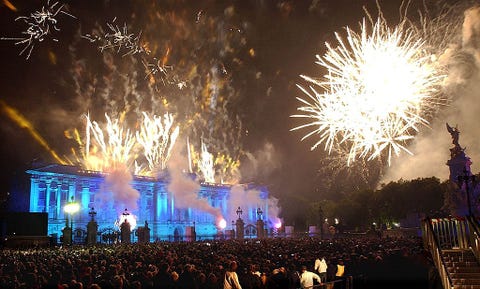 To celebrate her Golden Jubilee in 2002, the Queen hosted the first-ever public concerts in the Buckingham Palace gardens.
The show, Party and the Palace, was one of the most-watched pop concerts in history, attracting over 200 million viewers. At the second concert, a crowd of around one million gathered to listen to the music.
This content is created and maintained by a third party, and imported onto this page to help users provide their email addresses. You may be able to find more information about this and similar content at piano.io