Side-by-Side Photos of Real People and the Celebs Who Played Them On-Screen
Emma Stone or Billie Jean King? (We can't tell either.)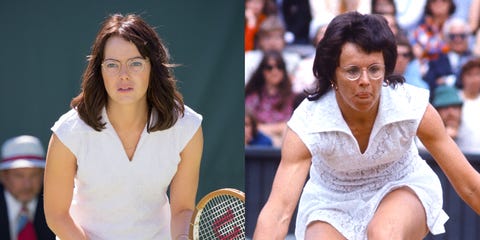 Films based on true stories always seem like the hardest to make. Amongst a roster of things to consider, you have to make sure the story is spot on, and actors are ready to face some kind of backlash with family members claiming it put them in a "bad light." But the one major challenge of making a biopic? Finding the right actor to play the real-life subject. Some movies are scarily accurate, casting true doppelgängers. And others are just like, "Are these supposed to be the same person?"
Half the time, the movie portrayal of the story is the first time people can get a really good image of what that character would've looked like IRL. I mean, who could forget when Zac Efron played the infamous serial killer Ted Bundy? (I feel like the casting was a little too nice on that pick.) Either way, imagine being cool enough to have a movie made about you and an A-lister live out your life on screen. Ahead, 41 photos of real people next to the actors who played them in films. Spot-on casting? You be the judge.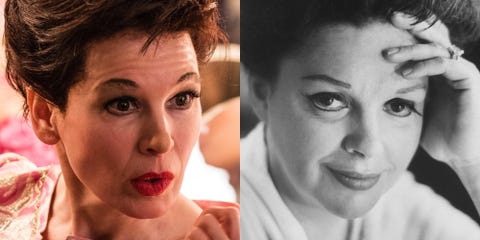 Roadside Attractions + Getty Images
Renée Zellweger and Judy Garland
Renée Zellweger earned her second Oscar for portraying the old Hollywood icon Judy Garland. The actress went through hours of voice lessons to channel Garland's iconic voice and even wore fake teeth. Sometimes, she would "flash them on set before romantic scenes, like Shrek."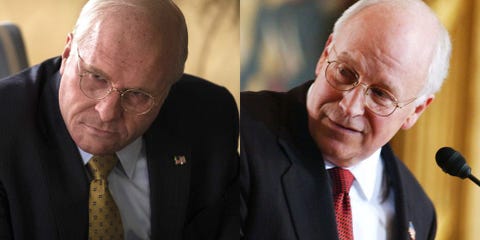 Christian Bale and Dick Cheney
Christian Bale has been known to shape-shift for his roles. Who could forget when he dropped 60 pounds for the 2004 film, The Machinist? So it was no surprise that it was hard to tell who was who in the 2018 film Vice about former Vice President Dick Cheney.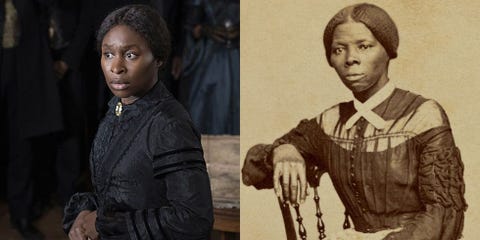 Focus Features + Getty Images
Cynthia Erivo and Harriet Tubman
The Tony-winning actress got very into character to channel the historical figure. "There were definitely days that I know it wasn't just me," said Erivo in an interview with ABC News. "It felt like she was there."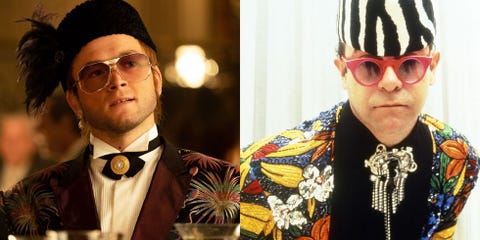 Taron Egerton and Elton John
Taron Egerton won a Golden Globe for his portrayal of the "Your Song" singer, and even provided his own voice to sing all the songs in the movie. The two got so close on the set of the film that Egerton revealed to Parade they talk at least once a month now.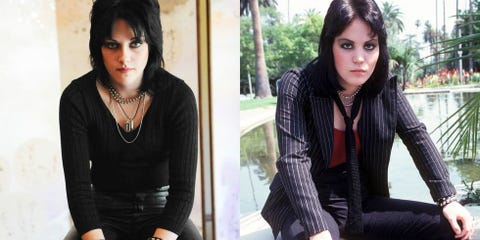 Kristen Stewart and Joan Jett
In The Runaways, Kristen Stewart nailed Joan Jett's rock star cool from her shaggy haircut to her singing voice. Talking to Rolling Stone, Stewart said she flew out to Seattle to meet with the famous singer where she borrowed tape-recorded letters to really nail down her sound. "Getting her voice down at that age was really important to me," said Stewart.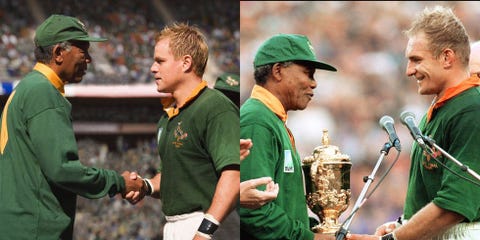 Shutterstock + Getty Images
Morgan Freeman and Nelson Mandela / Matt Damon and Francois Pienaar
Invictus told the story of how Nelson Mandela and rugby captain, Francois Pienaar (played by Damon), came together for a life-changing sporting event. According to The Telegraph, Mandela had once said that if anyone was to portray him in a movie, it should be Freeman.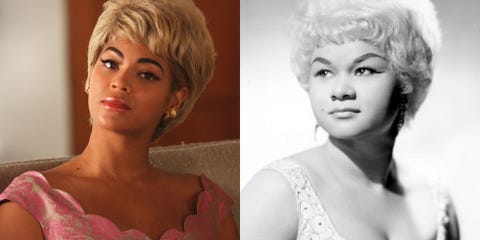 Shutterstock + Getty Images
Beyoncé and Etta James
When Bey took on the role of the legendary singer Etta James in Cadillac Records, it changed how she saw music. "The music I made before and after the movie were very different," she said to The New York Times in 2008. "I was a lot more bold and fearless after I played Etta James, because of course some of the character stays with you. Some of the music I would have been afraid to make, I wasn't."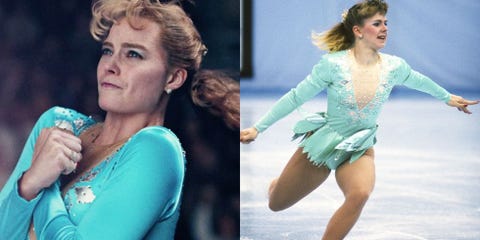 Margot Robbie and Tonya Harding
When you're playing one of the most famous ice skating figures in the world, Tonya Harding, you do more than just research. To prepare for I, Tonya, Margot Robbie spent four hours a day, five days a week learning to ice skate per The Hollywood Reporter.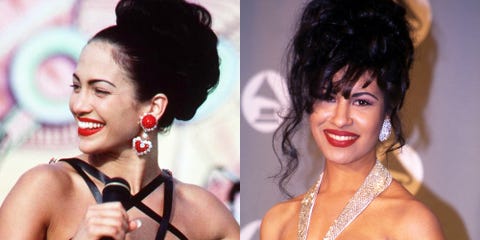 Jennifer Lopez and Selena Quintanilla-Pérez
"I just soaked up everything, I watched every interview that I could," Lopez said in an interview with Beats 1 on Apple Music about how she prepared for the role of the famous Tejano singer. "I slept in her bed at home. I slept at her sister's house. I talked to the whole family. I spent time with them. It can be melancholy and beautiful at the same time."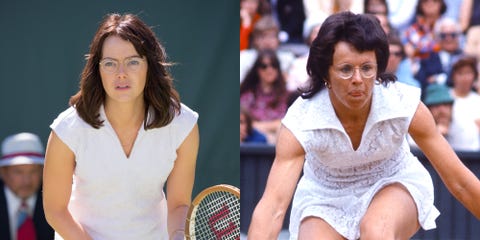 Fox Searchlight + Getty Images
Emma Stone and Billie Jean King
Stone portrays legendary tennis star Billie Jean King in the 2017 movie Battle of the Sexes. "Playing Billie Jean was a bit of a game changer," she tells Marie Claire. She also gained 15 pounds of muscle for the role. Fifteen. Pounds.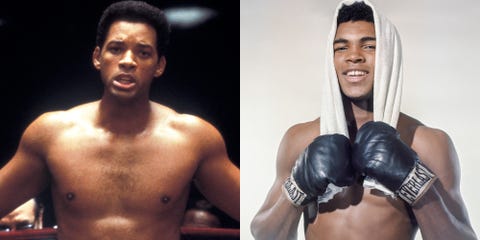 Shutterstock + Getty Images
Will Smith and Muhammad Ali
Will Smith in his prime. Smith played Muhammad Ali in the 2001 film—wait for it—Ali.
Selma Blair and Kris Jenner
Blair played Jenner as her pre-Keeping Up with the Kardashians self in The People v. O. J. Simpson: American Crime Story, which also starred David Schwimmer as her husband, Rob, and Cuba Gooding, Jr., as the acquitted murderer.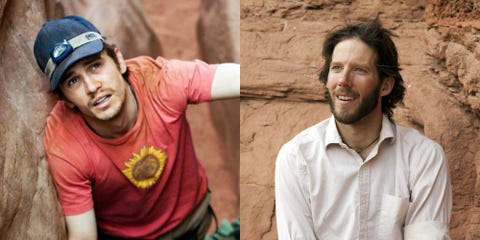 Fox Searchlight + Getty Images
James Franco and Aron Ralston
Franco played daredevil Aron Ralston in the 2010 thriller 127 Hours, which tells the story of how Ralston was trapped in a canyon after a boulder fell on his arm. The portrayal earned Franco an Oscar nomination.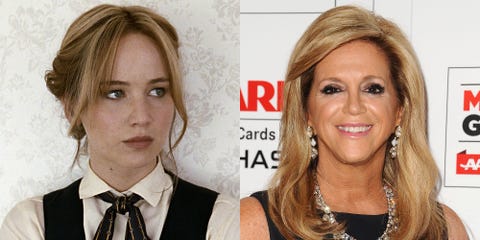 20th Century Fox Television + Getty Images
Jennifer Lawrence and Joy Mangano
They could be related, right? On the right is Joy Mangano, inventor of the Miracle Mop, whose story is featured in the 2015 film Joy.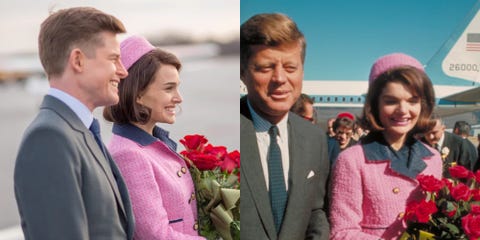 Fox Searchlight + Getty Images
Natalie Portman and Jackie Kennedy
Portman played Jackie in the 2016 film of the same name, which recounts the former First Lady's life after her husband's assassination.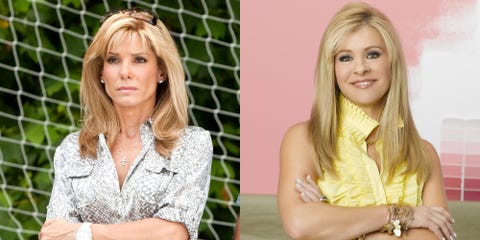 Warner Bros. + Getty Images
Sandra Bullock and Leigh Anne Tuohy
Michael Oher, the once-homeless teen and subject of the 2009 film The Blind Side, admits the movie has negatively affected his football career. On the other hand, Bullock totally nails the role of his real-life adoptive mother, Leigh Anne Tuohy.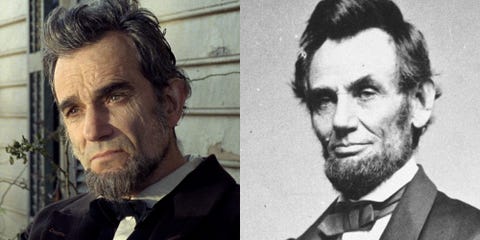 20th Century Fox Television + Getty Images
Daniel Day Lewis and Abraham Lincoln
We're really not sure if Abraham Lincoln was actually raised from the dead for this film. In any case, the credits state that Daniel Day Lewis doubles as the former president in the 2012 drama, Lincoln.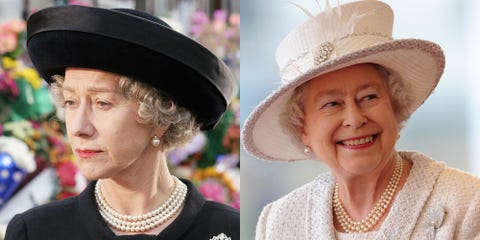 Helen Mirren and Queen Elizabeth II
None other than Dame Helen Mirren played Queen Elizabeth II in the 2006 drama, The Queen.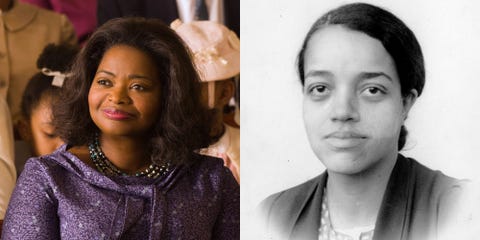 20th Century Fox + Getty Images
Octavia Spencer and Dorothy Vaughn
Dorothy Vaughn was NASA's first African-American manager. Vaughn is one of the three main women whose stories are told in the 2017 film Hidden Figures, in which she was played by award-winning actress Octavia Spencer.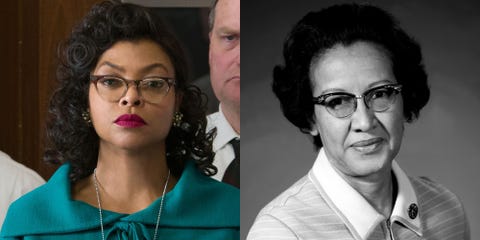 20th Century Fox + Getty Images
Taraji P. Henson and Katherine Johnson
Taraji P. Henson also starred in the movie, playing the iconic yet often forgotten NASA mathematician Katherine Johnson. The entire cast was nominated for a SAG award.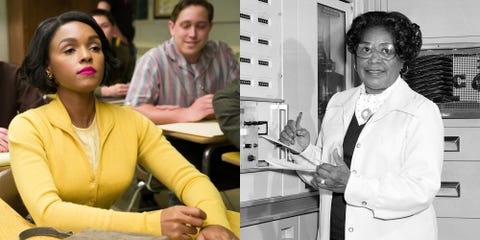 20th Century Fox + Getty Images
Janelle Monáe and Mary Jackson
Jackson, known for her impeccable engineering skills at NASA, is the third women featured in Hidden Figures. Monáe says she was "honored" to play the role of Jackson.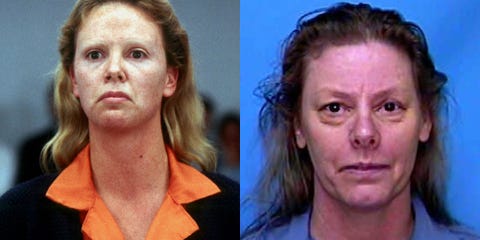 NewMarket Films + Getty Images
Charlize Theron and Aileen Wuornos
Theron plays serial killer prostitute Aileen Wuornos in the 2003 biographical drama film Monster. Wuornos was executed in Florida in 2002 after being convicted of killing six men. Theron won the Academy Award for Best Actress for her performance.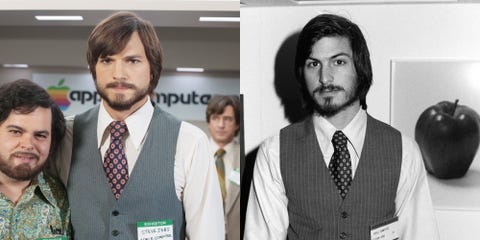 Ashton Kutcher and Steve Jobs
Kutcher is the ultimate doppelgänger of former Apple CEO Steve Jobs, whom he played in the 2013 film Jobs.
The Weinstein Co. + Getty Images
Dev Patel and Saroo Brierley
Based on a true story, Lion details the life of 5-year-old Saroo Brierley, who falls asleep on a train and loses his family. Patel plays Brierley and even met him IRL.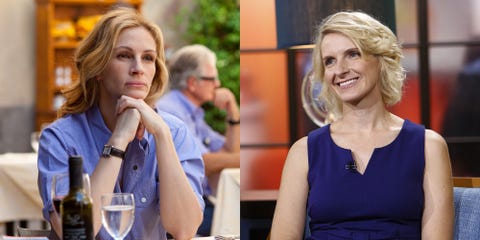 Columbia Pictures + Getty Images
Julia Roberts and Elizabeth Gilbert
Julia Roberts plays Gilbert in the 2010 film Eat Pray Love, based on Gilbert's best-selling novel. It wasn't the actress' first time playing a real person (more on that, ahead).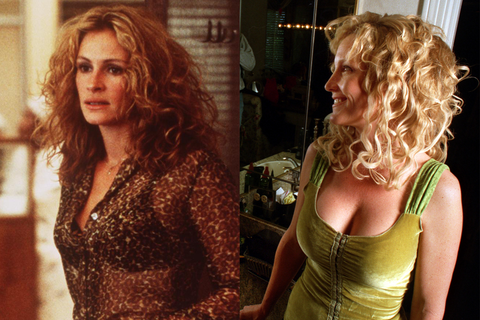 Julia Roberts and Erin Brockovich
Roberts won an Academy Award for her portrayal of the real-life, loudly dressed legal clerk Erin Brockovich in the 2000 film that bears her name. Brockovich became famous when her firm took on PG&E.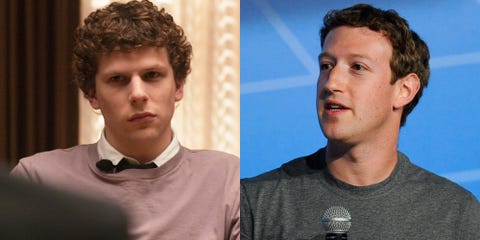 Columbia Pictures + Getty Images
Jesse Eisenberg and Mark Zuckerberg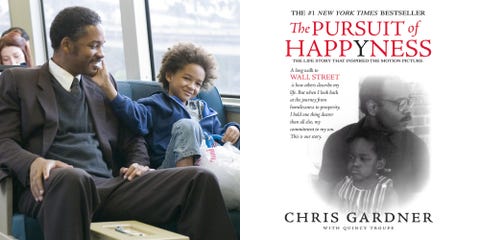 Will Smith and Chris Gardner
We're not crying, you're crying. Will Smith played real-life single father Chris Gardner in 2006's The Pursuit of Happyness. Smith's own son, Jaden Smith, played Gardner's son in the movie.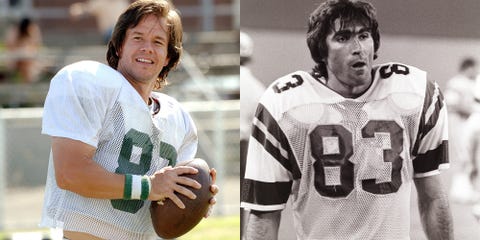 Mark Wahlberg and Vince Papale
Wahlberg portrayed Eagles football player Vince Papale in the 2006 film Invincible, about the 30-year-old NFL rookie.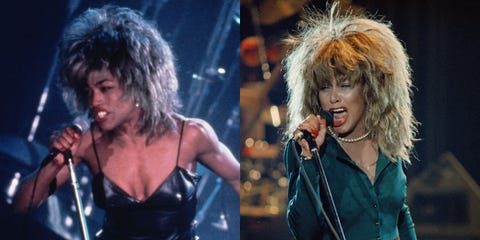 Getty Images + Shutterstock
Angela Bassett and Tina Turner
Bassett's stunning depiction of real-life music legend Tina Turner in What's Love Got to Do with It (1993) solidified the actress' status as a Hollywood heavyweight.
This content is created and maintained by a third party, and imported onto this page to help users provide their email addresses. You may be able to find more information about this and similar content at piano.io