Jay Z's Alleged Mistress Disses Beyoncé in New Video
Uh oh, uh oh.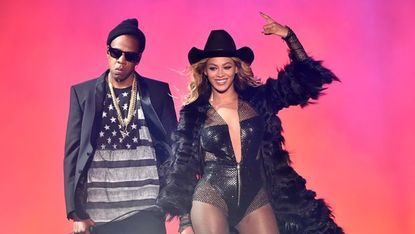 (Image credit: Archives)
A female rapper linked with Jay Z has capitalized on the recent Beyoncé and Jay Z divorce rumors and dropped a video committing one of the most risky feats of all time — attacking Queen Bey.
In a song entitled "Sorry Ms Carter," Olivia McFallar (a.k.a. Yes LIV Can) raps an open letter to Beyoncé over the beat of Outkast's hit "Ms. Jackson." McFaller claims she almost became Jay Z's mistress, but she stopped it before things got physical, adding that they "never screwed" and instead "connected on some hip-hop shit."
While hanging out in a bikini and drinking wine, McFallar borrows some lyrical inspiration from the stars she's apparently trying to diss — she says, "You got 99 problems but I ain't tryin' to be one," and mentions that Jay Z likes "naturally flawless model chicks" like herself. She even advises Beyoncé to start telling girls how she became a wife, instead of singing about things like "surfbort." Watch out, girlfriend.
Beyoncé and Jay Z haven't commented on the video, likely because they're busy selling out stadiums around the world on their massively successful On the Run tour.
Check out the video, below:
Related:
25 Stunningly Gorgeous Photos of Beyoncé
Beyoncé and Blue Ivy Are Officially Twins
Beyoncé Knowles: She Is Legend
Photo Credit: Getty Images