You Won't Believe These Complaint Letters About Miley Cyrus' TV Special
"Very graphic and disturbing for a Sunday evening."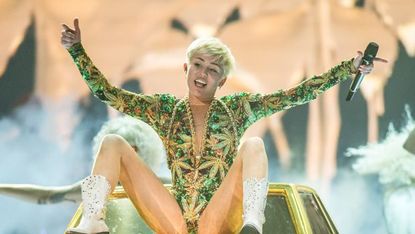 (Image credit: Archive)
After NBC aired the TV concert special Miley Cyrus: Bangerz Tour over the July 4th weekend, TMZ reported that the FCC received a "slew" of complaints. The show was filmed on the Bangerz tour stops in Barcelona and Lisbon, but was actually toned down a bit from Cyrus' usual performance antics that we all expect nowadays.
The FCC, however, has now told Rolling Stone that they only received four complaints — and thanks to the Freedom of Information act, they were able to post three of which online. The letters are way intense, and the homophobia and slut-shaming are so ridiculous that it's kind of hilarious. Read them below:
Complaint one:

"They aired a program called 'Miley Cyrus: Bangerz Tour.' Now, during the summer evenings when the kids get to stay up late, why would they choose to air a highly controversial 'pop star' who freely advertises that her songs are all about sex and drugs, who wears costumes that would perhaps be more appropriate if she were dancing on a pole in some club somewhere?
"This was jokingly rated as PG-13/TV-14 and that simply cannot be correct. Miley Cyrus these days needs to be rated either MA or XXX, and nothing of hers should now or ever be aired during any time prior to 12:00 am in whatever time zone her smut is scheduled to air.
"Since it made it past my parental control lock given the ridiculous rating, I made sure to watch some of it to see if I would allow my kids to watch it. My answer is a resounding NO! No just H-No, either. But a loud and resounding F-No!
I am offended, appalled and ready to start taking public action to remove this garbage from our televisions. You MUST severely fine and censure both the 'artist' and the television station IMMEDIATELY!"
Complaint two:

"Macy's/NBC aired a performance on the Macy's 4th Of July Fireworks featuring Miley Cyrus, she was dressed more in line with a video geared towards MTV, her performance was impropriate for broadcast tv, as she grinded along there was a costumed performer depicting President Lincoln following behind her and alongside her and the character acted quite lecherous even patting her on the backside. Very patriotic for the 4th ya think? This is a show geared for family I thought? What happened to NBC standards dept?"
Complaint three:

"The live Miley Cyrus concert program was borderline pornographic in images and the lyrics to the songs. Open sexuality on a stage bed male/male female/female homosexuality. Very graphic and disturbing for a Sunday evening 9pm summertime broadcast. Please investigate this and prevent it from ever being shown again."
Related:
Miley Cyrus and Flaming Lips' New Video Is Even Trippier Than You'd Imagine
Shailene Woodley Fiercely Defends Miley Cyrus
Lily Allen Defends Miley Cyrus, Makes a Shocking Comparison
Miley Cyrus Takes Us Behind The Scenes of Her European Travels (VIDEO)
Photo Credit: Getty Images
Celebrity news, beauty, fashion advice, and fascinating features, delivered straight to your inbox!