Go, Go Belinda!
Belinda Carlisle, best known as the lead singer of the Go Go's, debuts a home collection for Bergdorf Goodman.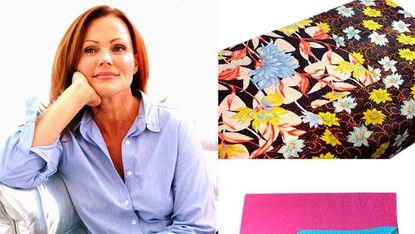 (Image credit: Archives)
I confess: I still sing "Heaven is a Place on Earth" in the shower — okay, and at karaoke. And I cheer a little when it comes on during a party, so I was thrilled to hear that Belinda Carlisle, the singer behind the pop classic is back on the scene. Carlisle, who was also the lead vocalist of the Go-Go's, has launched Belindia, a home collection now available at Bergdorf Goodman.
The '80s girl-power icon looked to some of her favorite places for inspiration for the line, and consequently, each piece is inscribed with "Delhi, Nice, Malibu." The collection features blankets, throws, pillows and table top items such as place mats, runners and napkins in florals and two-tone color blocks.
Belindia's blankets and throws are produced in association with — and a portion of the proceeds go to — Shuktara Project (opens in new tab), a Calcutta-based charity that offers care to abandoned children with disabilities. Now, that's fashion that brings heaven a little closer to earth.